Recently, six startups were selected as winners of the inaugural Care In Space (CIS) Challenge — a challenge hosted by Boryung, an investment and management company, in collaboration with Axiom Space, "the world's leading commercial space station company", and Starburst Aerospace, a leading global aerospace and defence startup accelerator. Of the six winners, Advanced TeleSensors is spearheaded by Kolkata-born and US-based Sajol Ghoshal. The others were Deep Space Biology, Myelin-H, Nano PharmaSolutions, ViBo Health and Xtory. 
A true-blue Kolkatan, Ghoshal is nostalgic about the city's food and music. "What I remember the most is the food… eating a lot of Mughlai parathas and I still crave the kathi rolls from Nizam's! Music, of course, is essential when growing up in Kolkata. I still have the same old rock collection — it never grows old," says the St Xavier's school and IIT Kharagpur passout. Ghosal moved to the United States (US) to complete his Masters at the University of Notre Dame in 1997 and that got the ball rolling on his career as an entrepreneur. 
My Kolkata caught up with the tech guru in Texas, over a call, to know more about Advanced TeleSensors, the device developed and health challenges in space…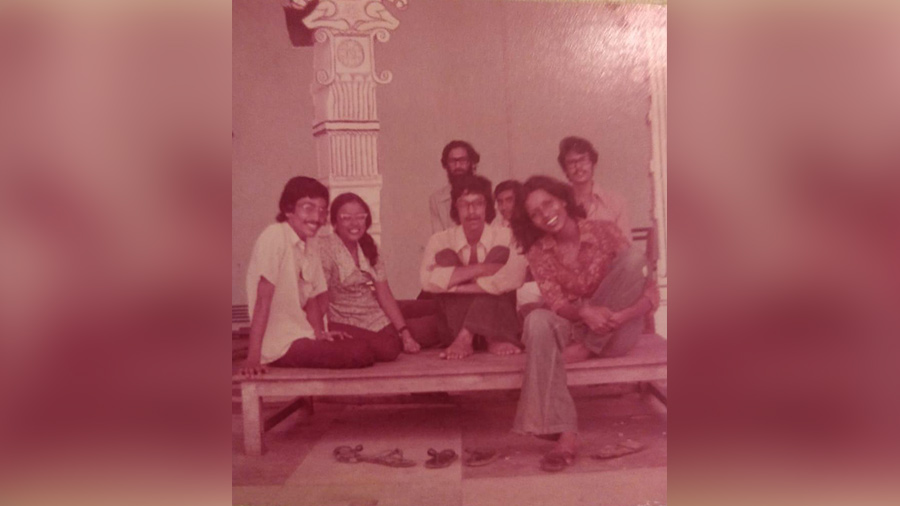 An old pic of Sajol during his IIT, Kharagpur, days
Tell us more about Sajol Ghoshal. Who is he behind the entrepreneurial shell?
Well, in my heart of hearts, I'm an entrepreneur! I was born in Kolkata and spent a fair amount of time there even though it was mostly for my education. I'd say I'm a curious soul, always looking to learn something more. 
A tidbit from good ol' Cal that reiterates this: When I was finishing high school, I used to spend my afternoons at The British Council library on Shakespeare Sarani. They wouldn't give me a library card as I was underage so I had to get my father to come over every day so I could use his card to go in and read. Now, my wife says that my hobby is my work — so it's always been this way. 
The other thing I really like to do is travel. When I travel, I travel for months. So, I'll pick a month, pick a country and spend all 30 days exploring its culture.
Tell us about your company Advanced TeleSensors…
The company revolves around the product. Advanced TeleSensors (ATS) was originally developed at NASA's Jet Propulsion Labs in Pasadena, California, and was funded by the government to detect signs of life for military applications. Now, the team that developed it was from NASA's Mars mission so a lot of the Mars Rover technology was used to produce this particular technology of detecting heart rates and signs of life. So, after they developed it and it became available for commercial development, the California Institute of Technology — which is kind of the owner of all these devices — had the patents and the design know-how to take it further. The engineers who originally worked on the project — there were seven of them — started this company with all the patents exclusively. Since the technology was used originally for the military, they could not use any of the same software or take any hardware, so they had to build everything from scratch with commercial components. When they finally built a prototype was when I met them and they absorbed me as their CEO.
Advanced TeleSensors
Advanced TeleSensors are one of the six start-up winners of the inaugural Care in Space Challenge programme. Tell us more about how this unfolded and the device that was built…
When we began in 2017, the device (Non-Intrusive Cardiac Monitor) was as big as a bread box — it was about a foot-and-a-half by a foot, and relatively expensive so it was good for broad-base applications. I spent about a year working in tandem with the team, helping them raise money and understanding the technology. In 2018, we raised $2 million as the first round after their seed and then we were able to start funding the company. We then took the technology, which was running on a PC, and converted it into what's called an embedded processor — an ARM processor. And we finally had a device that would sell for less than $250 and we entered the consumer market. We spent two years bringing the size down and now you can just mount it on the wall, or you can put her on your desk and it will read your heart rate, respiratory rate, heart rate variability and motion. It's very cool. We entered this device into the Care in Space Challenge and now we're going from there! The Care in Space Challenge was hosted by Boryung, in collaboration with Axiom Space and Starburst Aerospace, which are big names in the industry so we're lucky to be a part of this.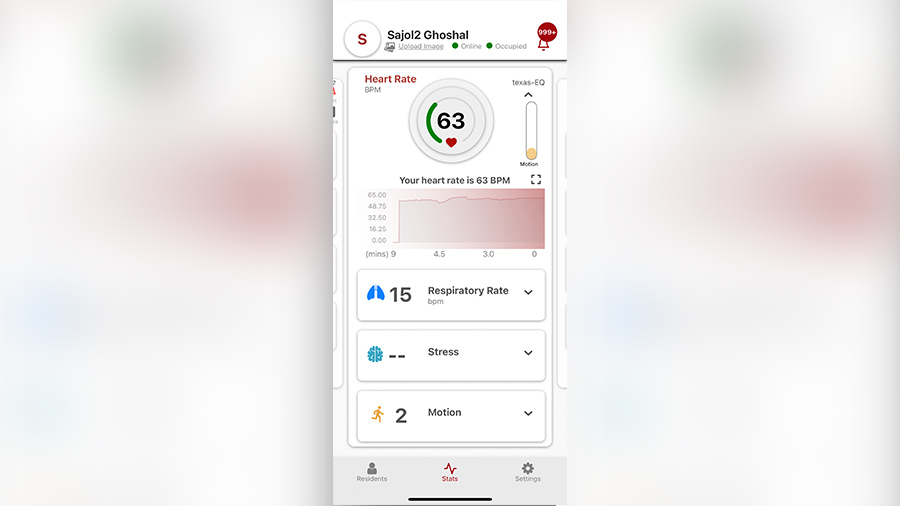 Cardio monitor
What role will ATS' cardio-respiratory sensors play in space healthcare? 
The reason the people in space got really interested in us is because we can help with one of the major challenges of space — functioning in zero microgravity. So, what microgravity does is pull all the blood that is normally in your body way up to your head because there's no more gravity pulling into your feet. There are changes in your cardiovascular system due to microgravity. What essentially happens is the efficiency of the heartbeat decreases by about 30 percent, in addition to some other things like accelerated ageing and edemas in the brain. Moving forward, hundreds of people will be going into space and they will be in space for days. So, the ability to monitor people continuously has become very important. And our device allows you to do that.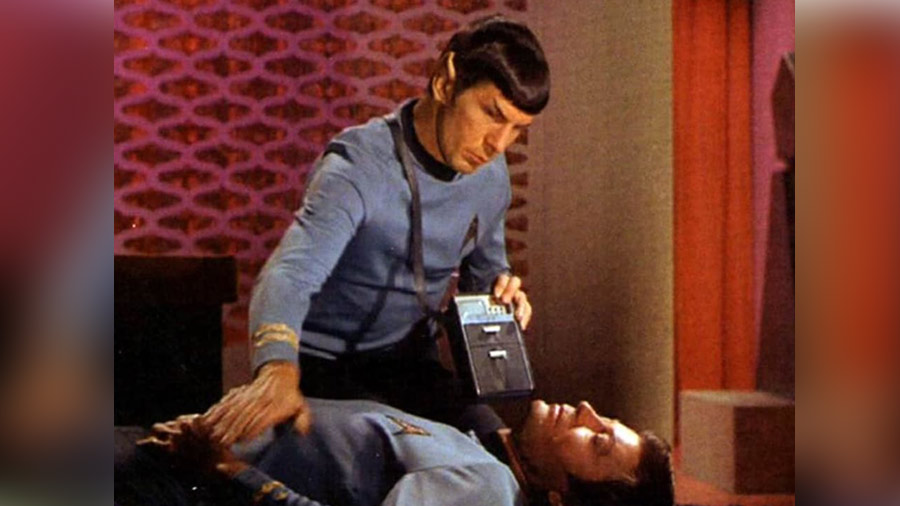 A scene from Star Trek
What are the long-term plans for the device?
If you're familiar with Star Trek and you've seen the triple medical tricorder — that's probably what we're aiming for. That was, you know, science fiction, but is now a reality. 
We can show you that a few vital signs can be detected and with artificial intelligence and machine learning, we can actually start to give you information about possible problems by looking at comparative data sets from the entire world. So, in five or 10 years, we see non-intrusive medical monitoring becoming a key element. And because we managed to get the price of these devices down, we see that entering a much broader consumer space, which will help us get so much more data.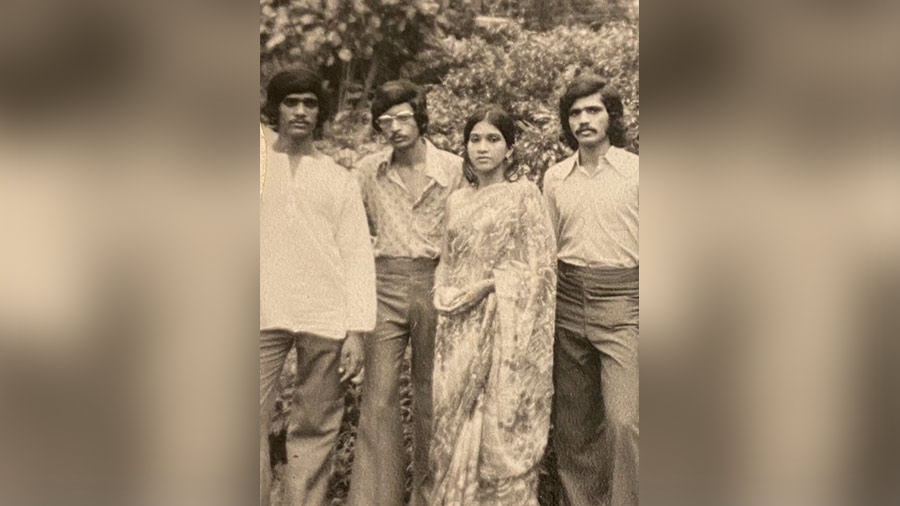 Sajol with his brothers and sister in Kolkata
Do you have a favourite memory from Kolkata?
My best memory of Kolkata is the early winter mornings I spent at Victoria Memorial playing cricket and then picking up dalpuris on the way back.