Shopping or pandal-hopping at Hindustan Park? What about a glass of refreshing and healthy juice? What The Fruit, a juice cafe that promises health and taste with every sip, is surely a must stop.
My Kolkata catches up with the man behind the venture, Sajid Ahmad Khan, and finds out what made him give flight to his entrepreneurial dream after serving for years in the aviation industry.
A lockdown baby
Khan, who has been working with the airline and aviation industry for more than 25 years, came up with the idea for a healthy and hygienic juice bar when he was stuck at home during the lockdown. "I wanted the people of Kolkata to have something healthy to drink during the day, something that is hygienic and also served in a nice ambience. So, I started off with healthy beverages, detox and fresh vegetable juices," said Khan, who opened his café in Hindustan Park on July 15, 2022.  
But serving smoothies was not a smooth journey. "Kolkata has few options for fresh juices. Most of the time, juice is sold in markets or in open areas where it's likely to be not very hygienic. The fear of contaminated water keeps many people away from these juice stalls," Khan said. "I saw people launching restaurants and cafes, but no one giving a healthy option; so I began my start-up journey with healthy juices," he said.
"When I discussed the idea with friends, they said I should start a biryani or a Mughlai joint. That would have been easy compared to the concept of serving healthy beverages in Kolkata and encouraging people to shift from what they were already consuming. That has been my biggest challenge and a very bold step," Khan said.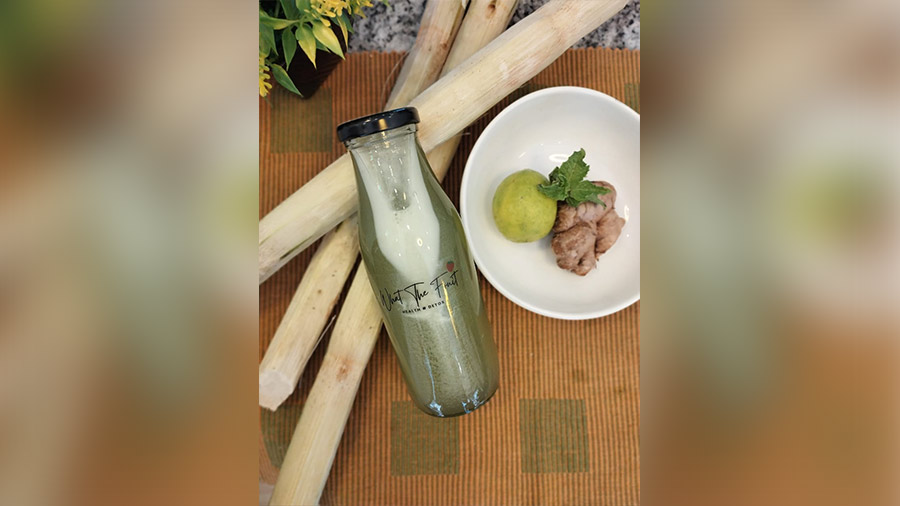 Fresh sugarcane juice and hygienic too
Courtesy What The Fruit
Sugarcane juice to Gondhoraj Mojito
What The Fruit, run by Khan and his wife Leeba, serves fresh fruit and vegetable juices. "I surveyed the market and planned the menu myself," Khan said.
Always a fan of fresh sugarcane juice, Khan wanted to give his customers a taste of the best and procured a machine from north India.
"For children and those who love to try different varieties, we have smoothies, milkshakes and lassi. The menu will be updated and changed in keeping with the availability of seasonal fruits and vegetables," Khan said. " I wanted to do something unique. So, I introduced Perrier Sparkling Water Mojito with Gondhoraj Lemon, which I serve in champagne tulip glasses," he added.
Kolkata, a city where food can never go wrong
The entrepreneurial scope in Kolkata, according to Khan, is very promising. "Food can never go wrong here," he said.
Khan chose Hindustan Park because of its greenery. "It's a nice and quiet neighbourhood with clean streets. Customers who have visited us have had a very positive and encouraging experience. I now feel that I should have started this venture five years back.''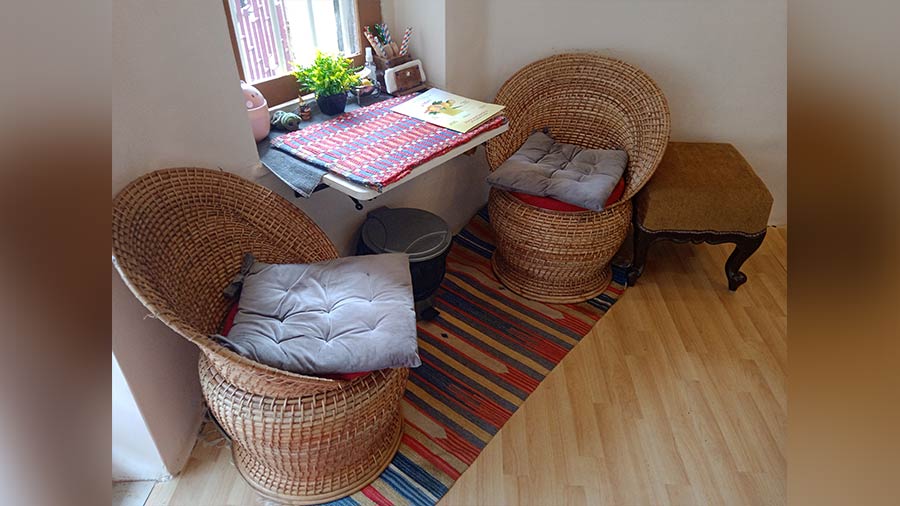 Tucked away in the quiet but happening neighbourhood of Hindustan Park, What The Fruit is the perfect place to stop by to refresh yourself
Subhadrika Sen
Juggling roles
Born and raised in Rourkela, Odisha, Khan did his schooling at Ispat English Medium School and Deepika English Medium School, but always "wanted to move out of the small town and come to a big city". He came to Kolkata in 1993 and studied Hotel Management at the Institute of Advanced Management in Salt Lake.'Even while he was studying, he discovered his knack for sales and marketing.
At 49, Khan is the regional head - east, of Thai Smile and owner of What The Fruit. "COVID has taught us to work from home or cafés. I go to the airline office twice a week. Following the pandemic, it doesn't matter where you are operating from as long as you have access to your system, laptop and mobile. Having worked with the aviation sector since 1996, I know my trade partners and I know I can give them the support they need from anywhere. Rest of the time, I work for my cafe," he said.
Travel and Inspiration
Khan's experience in aviation helped him connect with people. "Even while I was working in aviation, I was always fascinated with people running restaurants. I would keenly watch how they served, how the menu looked, the ingredients used in recipes etc. I was always interested in the hotel industry,'' he said.
Being in the aviation industry, Khan travelled extensively and that inspired him to open his own brand. "I have been to countries like Thailand, the United States, China and Singapore. They take healthy eating and beverages very seriously. I have seen people picking up juice from their nearest juice bars and carrying it to their workplace. I have seen a lot of health cafes in Bangkok. They are in every corner, near offices, tourist areas and shopping malls."
What the future holds…
Khan plans to expand What The Fruit to other parts of the city. "I want to set this place [Hindustan Park] as my flagship store. We have already tied up with food delivery apps and plan to open more outlets in Kolkata soon.''
"This will be our first Puja season. Keeping in mind that people will be out the entire day and they need to remain hydrated, I would like to serve fresh juices all day long during the festive season at a particular offer, which I am still finalising," Khan said.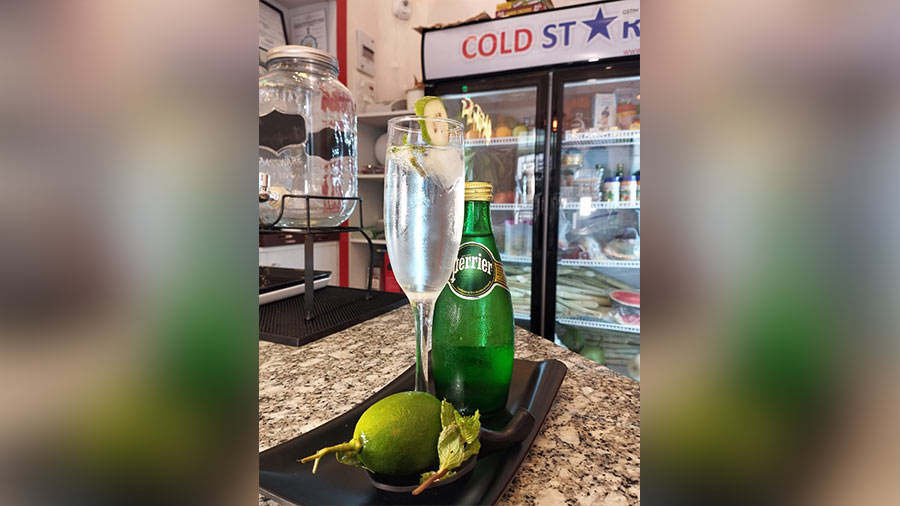 Perrier Sparkling Water Mojito with Gondhoraj Lemon, which is served in tulip champagne glasses
Courtesy What The Fruit
One must-order item
Sugarcane Juice, without doubt. "It's freshly made. I personally go to the market to choose the sugarcane. It's very healthy, good for the liver, provides instant energy and can be consumed by the diabetic as well."