Question: What do you get when you mix history, mystery and crime in the right proportions? Answer: A heady concoction that satiates your heart as you taste it and makes you long for more!
An experience no less fascinating is in store for readers with Aasma-i-Noor: The Cursed Jewel, Sudipta Sen Gupta's debut novel, launched last month. A crime thriller set against a historical background, it tells the tale of the world's largest diamond, its violent history and mysterious disappearance. The plot, designed along the lines of a treasure hunt, weaves its way seamlessly between the past and the present. It also criss-crosses across continents, in a modern-day search for the lost diamond involving a British scholar in London and an Indian historian in Kolkata.
Born and raised in the city, the author, who now lives in Gurgaon, was in town recently for a book-signing and interaction session with readers at an event hosted by Oxford Bookstore, in association with Rupa Publications. Excerpts from a post-event freewheeling The Telegraph chat with the author.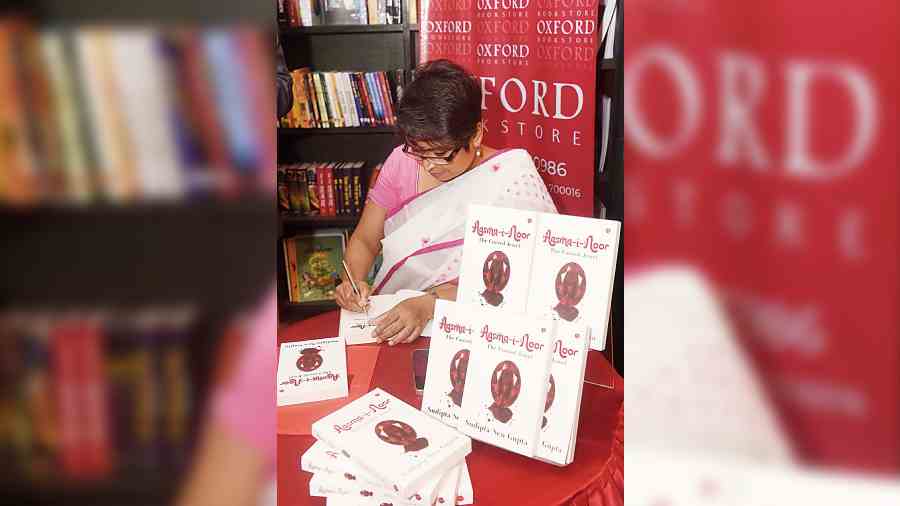 The author is all smiles as she poses with her fans at the book-signing and interaction session. "My story is suitable for readers of all ages. Its mix of action, crime, history and conspiracy will appeal to young and old alike," she later said.
Any particular reason why you chose your first novel to be a historical crime thriller set in Bengal?
Though I studied Physics in college, did my MBA and worked for two decades in the corporate sector, history has been my passion since childhood. After quitting the corporate world and entering academics, I have again been able to read up on history extensively, especially the history of Bengal. And among fiction, thrillers and mystery novels are my absolute favourites. So when it came to writing my own novel, this genre was a natural choice for me.
You held important positions in the corporate world and are now an academic in a reputable university. How did you become a novelist?
The urge to write had always been there but had to be put on hold because of my professional commitments. I found more time to read after I entered the academic world, and that boosted my desire to write. Later, when we were stuck at home together during the Covid lockdown, I would make up stories and tell them to my husband and daughters. When I narrated this story to my husband, he suggested that I write it down.
What kind of research did you need to do for this novel?
Fortunately, we live in a digital age where I have all the resources I need at my fingertips. Besides, I have a personal library with a collection of nearly 1,500 books comprising mainly history books and some fiction as well. In fact, the more I read, the more my story began taking shape in my head, and it became rather easy for me to write it. It was really a wonderful experience and I enjoyed it thoroughly.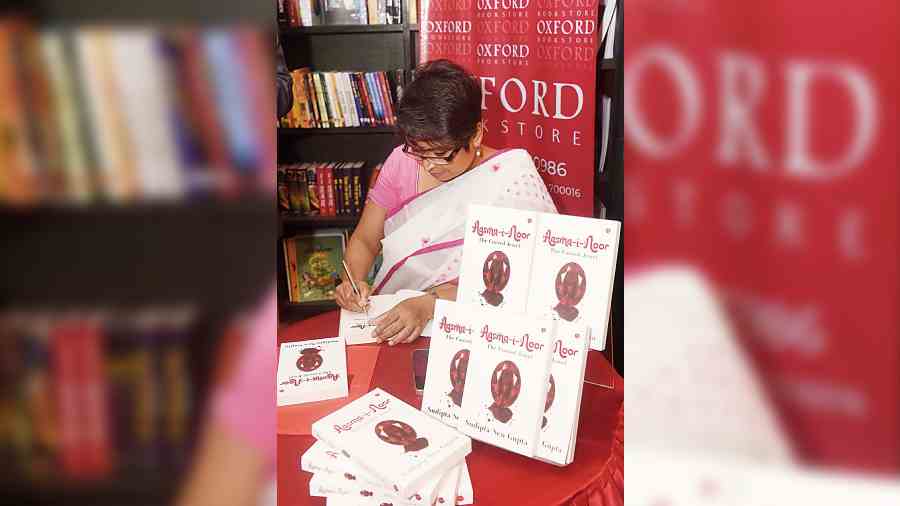 The author signed each copy of her book with a personalised message for her readers
The plot of the novel is very exciting, with historical references and many interesting characters. Have you considered getting it made into a film?
Yes, you're right. The story does have many elements that can easily be adapted on celluloid. It is a fast-paced novel, full of action, with a picturesque setting and intriguing characters. Some of it almost reads like a screenplay. And yes, I have had people asking me about it. But, it's early days yet. My novel was published just a month ago, and I would like my readers to savour it first as a book. A film adaptation would be great but I am in no hurry right now.
Your readers must already be waiting for your next novel.…
My first novel has only just been published and I am still a newcomer to the trade. So I feel it is too early to discuss my second. At the moment, all I can say is that it belongs to the same genre. I leave it completely to my publisher to decide upon the right time to release my next.
Pictures: Pabitra Das