She has impressed us on the big screen many a times, right from the vivacious young girl in Rituparno Ghosh's Utsab to her most recent performance as a lonely homemaker in Arjunn Dutta's Guldasta. But the audience got to experience a completely different side of actress Arpita as she performed a solo act as the legendary singer Gauhar Jaan, in the musical My Name is Jaan, presented by Lotus Make-up. Premiering at GD Birla Sabhagar on September 18 and 19, the solo musical act revealed to the audience what a brilliant singer Arpita is, rendering one classical-based song after another. We also got glimpses of her dancing talent, as she started the play with a Kathak performance.
Starting right from her childhood, the musical took us through the life of Gauhar Jaan — the highs and lows, the joys and sorrows, the rise to fame and the fall and despair.
The first Indian voice recorded on gramophone — about 600 songs in seven languages — Gauhar Jaan's story was one of women empowerment and how talented women have faced impediments, for centuries.
The musical solo on stage was a rare act, where Arpita sang Thumri, Drut Khayal, Kirtan, Chati, popular old Bengali songs, Punjabi tappa, Rabindrasangeet and a Gujarati classical — live on stage.
A captivating mise en scene was used in the production and the stage background took us through the different places Gauhar Jaan has spent different phases of her life in — from Benaras to Chitpore in Old Calcutta to Old Bombay.
Abanti Chakraborty as director, Joy Sarkar as music composer and Raktim Goswami as the choreographer have excelled in every bit of the production. Arpita has been training with Rajyashree Ghosh in music for over a year and thus brought out the melodies on stage.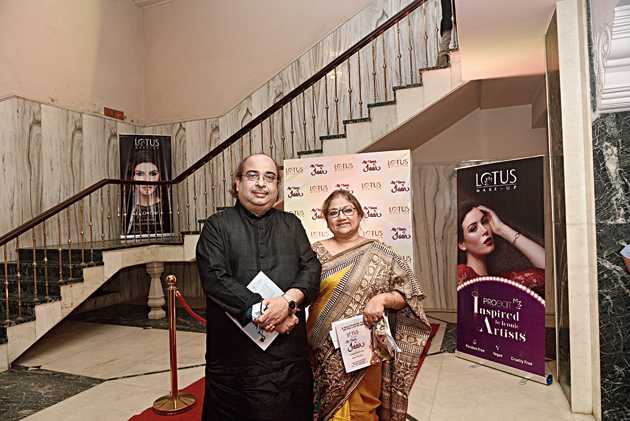 Pandit Tejendra Narayan Majumdar with his wife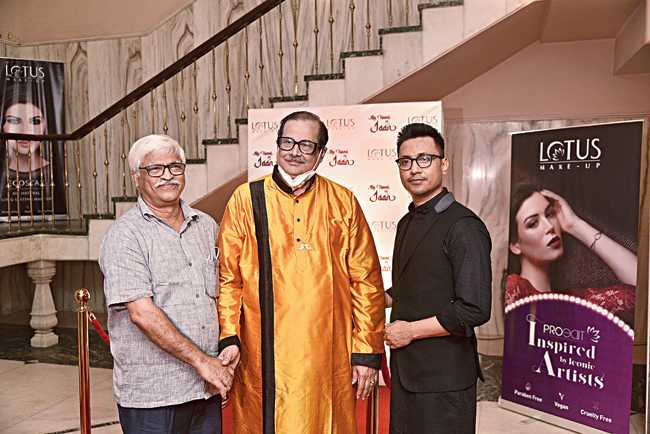 Pandit Ajoy Chakrabarty and Barun Das, creative producer of My Name is Jaan and CEO of the TV9 Group
The journey of the iconic personality presented by Arpita won the hearts of the audience, who went back home with a mesmerising and memorable experience.
Abanti Chakraborty said: "I wanted to bring Gauhar Jaan to life, when I first read about her in 2015. After meeting Arpita, I culminated my idea of staging Gauhar."
"We are honoured to be associated with My Name is Jaan. I wish the endeavour shines bright on the stage like a star," said Nitin Passi, joint managing director, Lotus Herbals Pvt. Ltd. and managing director, Vedicare Ayurveda Pvt. Ltd., Soul Tree.
Barun Das, the creative producer, who has played a major role for the script and concept, said: "The act tried to depict the age-old struggles of women in India, who faced impediments in the patriarchal society whenever they tried to carve a niche with their own talent. A solo act of one hour and 45 minutes was indeed challenging to keep the audience hooked but we succeeded through multiple genres of songs and dancing at the same time. We would take it to the international level as people deserve to know the legacy of the rich cultural heritage of Bengal."
The gorgeous looks that Arpita sported — aptly representing Gauhar Jaan at different stages of her life — were created by Aniruddha Chakladar.