Twice Michelin-starred chef Atul Kochhar recently launched his newest cookbook Curry Everyday. The book has a collection of 100 vegan and vegetarian curries from around the world – from his native India and the Far East via Africa to the Middle East and beyond. 
Published by Bloomsbury, it took Kochhar two years to put the book together, which is available on Amazon. It features some Kolkata special recipes too, like ghugni, a Kolkata vegetable biryani that he calls Kolkata Tarkari Pulao, Chholar Dal, and Lauki (lau) Curry. "How could I write a book and not mention Kolkata?" laughed Kochhar from London over a Zoom interview with My Kolkata.
Nuggets from a conversation with the chef best known for inventing modern Indian food and the way it is plated… 
'In 'Curry Everyday', we tried to give a different perspective to simple vegetables that we cook every day'
Vegetables like a cauliflower can be used time and again, but with a different effect everytime. I think that's what people are finding refreshing – the most humble vegetables put to good use. Spices are used the world over… look at Korean spice mix, Japanese spice mix, and spices in the entire south-east Asia and even Africa. The book covers the journey of spices through all the continents. 
'How could I write a book and not mention Kolkata?'
There is a ghugni recipe in the book, which I grew up on. My dad was a great lover of Bengali food and after eating so many ghugnis around the globe, I still fancy his. Dad also grew up in Jamshedpur, so we all have a huge Bengali strand in our upbringing. 
My wife Dipti made some ghugni at home recently and she used my recipe, so I have to say it was very good (laughs). I had it like I always do – with bread and chopped onions on top.
'There's a Kolkata Vegetable Biryani, which I've called Kolkata Tarkari Pulao'
Some of the other recipes featuring from east India and Bengal are Chholar Dal, and Lauki (lau) Curry though lauki is hard to find here, so I used a vegetable from the same gourd family. There's a Kolkata Vegetable Biryani, which I've called Kolkata Tarkari Pulao. And a kathal recipe, which is from east India rather than Bengal. Touching on Orissa, there's Dalma because I spent a year working at The Oberoi Bhubaneswar and I have fond memories from there.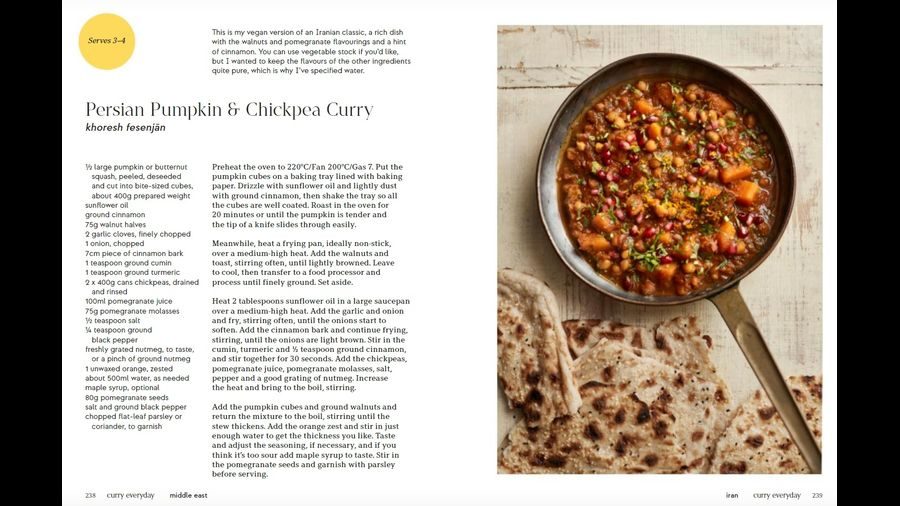 Bloomsbury Publishing
'Why did I write a vegetarian/ vegan cookbook?'
It's because the world has changed around us in a big way. Covid has put more focus on how we should look after ourselves through food.
People in the UK have always been about more meat than veg. Until five-seven years ago, if you walked into a 3-Michelin star restaurant here and asked for a vegetarian meal, you'd get a salad or boiled vegetables. But now, there are proper seven/nine/12 vegetarian and vegan menus in Michelin star restaurants here.
When someone like Daniel Humm (of Eleven Madison Park in America) threw the entire carnivore basket out of his kitchen and said it would be a vegetarian kitchen, it was a big move. And he maintained his Michelin star and got a green star, too. 
So, it's amazing how the world has started looking at vegetarian food very differently whereas we Indians have always been very focused on vegetarian food. 
'My roommate was a Bengali'
When I was at The Oberoi, New Delhi, my roommate was a Bengali – Avijit Ghosh, who is a great pastry chef today. He could cook Bong food really well, so I used to say, 'I'll cook the whole week for you, but you must cook one Bengali dinner for me'. I sent him a copy of the book saying, 'Avijit, not your recipes but inspired by your cooking'.
'You go to a Michelin star restaurant, you get a beautiful amuse bouche, but you go to a Bengali home and you're given bitter shukto'
There's such a beautiful science behind it because it gets your palette and gastric juices going, and you enjoy the rest of the food that follows. Bitter is something the western world doesn't understand, but eastern India understands really well. A Punjabi would eat karela (bitter gourd), but he would peel it, put it in salt, take the seeds out, fill it with meat… it's not karela anymore. In its true form, you eat it as crisps or as shukto. I love cooking karela for my English friends and they hate it! I wish I could record their faces when they eat it (laughs). 
'It took me two years to put the book together'
I commissioned the book during the lockdown. I was growing a lot of vegetables in my home garden at the time, so I really enjoyed cooking. Some of the recipes are already in my restaurants and I'm hoping that by August-September, in at least six out of my nine restaurants, I'll have a vegetarian tasting menu with a copy of Curry Everyday. I hope it will be a book that people can cook from again and again.