Photographs shot by 33 students on a six-day training and conservation programme are on display at the Victoria Memorial Hall, Kolkata. The exhibition titled 'Young Minds for a Compassionate World' is being organised by Natural History Museum London (NHM) and the British Council.
The outcome of a youth outreach programme executed collaboratively by the Victoria Memorial Hall in Kolkata and the Natural History Museum (NHM) in London for students aged 15 to 22, the exhibition has on display 115 photographs taken by them.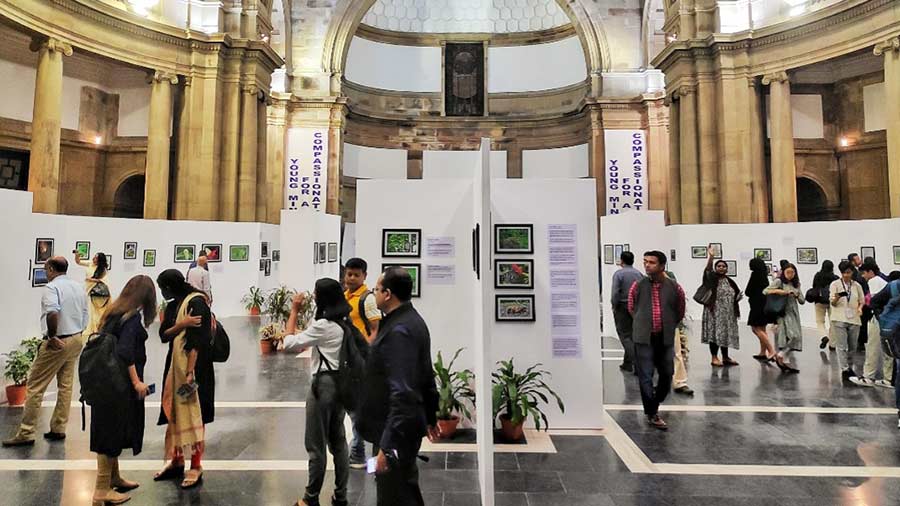 Visitors take a glance at the photographs by the students and mentors
Soumyajit Dey
Participants in the programme had an opportunity to work with alumni of the Natural History Museum's iconic Wildlife Photographer of the Year competition, conservationists, and filmmakers, and engage in dialogue and training on nature conservation, ecology, climate change, how these issues affect their communities, and how to effect change.
Among the mentors were Ripan Biswas from Cooch Behar, Indian wildlife photographer and winner of NHM's Wildlife Photographer of the Year award twice; Ashwika Kapur, wildlife filmmaker and Green Oscar winner; Shekhar Dattatri, wildlife conservation filmmaker from Chennai; Nayan Khanolker, nature photographer from Mumbai; and Dhritiman Mukherjee, wildlife photographer.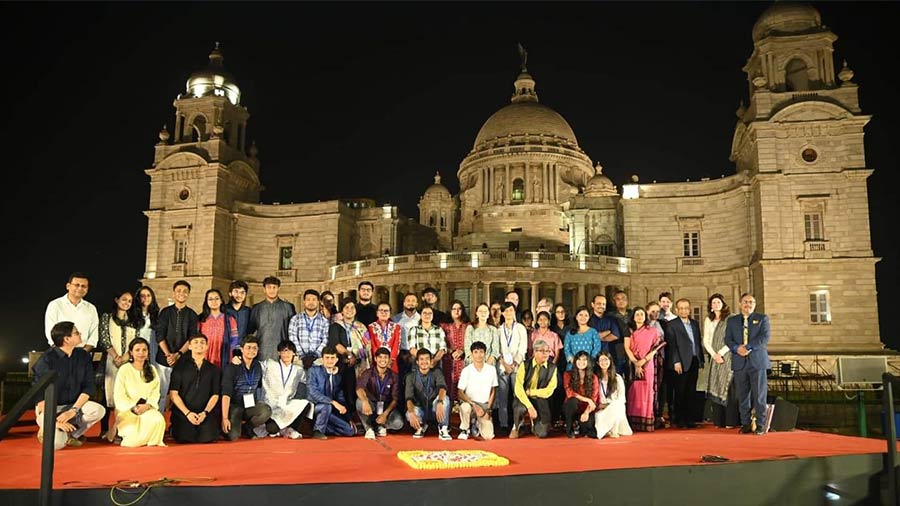 The 32 students who participated in the workshop with mentors and other dignitaries
Victoria Memorial
"It was a thrilling experience. We went around the city to places like Botanic Garden, Victoria Memorial and Eco Park for shooting. It was a great opportunity to learn from the best mentors," said Dhwani Bachhawat, a Class XI student of Modern High School for Girls and one of the participants..
Dipanjan Sharma, second year, Mass Communication and Videography, St. Xavier's College, joined the workshop with the aim to learn more and was not disappointed. "I learnt a lot of technicalities that I didn't know about earlier. I am highly inspired by all the mentors and we had fun learning from them."
The programme included indoor and outdoor sessions ranging from nature observation skills and field craft, storytelling to the basics of wildlife photography and photography editing skills for conservation purposes.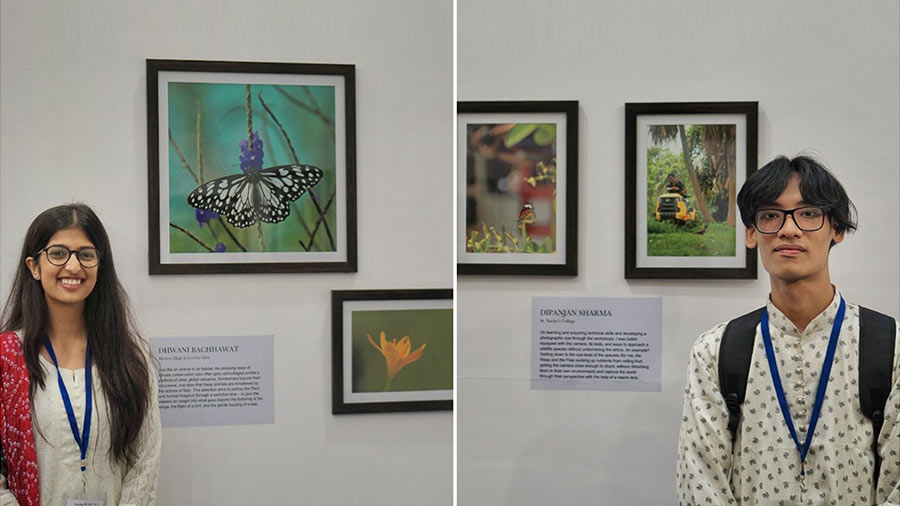 (L-R) Dhwani Bachhawat and Dipanjan Sharma
Soumyajit Dey
The exhibition was inaugurated by Scott McDonald, chief executive, British Council; and Alex Ellis, high commissioner, British High Commission in India, in the presence of Jayanta Sengupta, secretary and curator (director), Victoria Memorial Hall, and Gemma Ward, Wildlife Photographer of the Year Competition manager, Natural History Museum, London.
"In this critical time of climate change, biodiversity loss, habitat destruction and disease outbreak, it has never been more important to work together internationally to find solutions that work for all. As part of the India/UK Together Season of Culture, this project brought together young artists and museums to join a vital global conversation," McDonald said.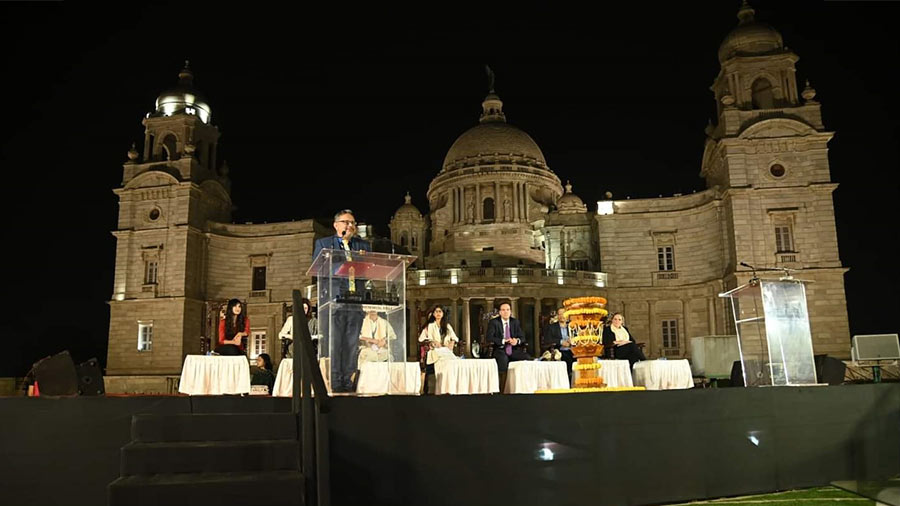 Debanjan Chakrabarti, director, British Council East and Northeast India compered the inauguration ceremony
Victoria Memorial
Sengupta said the idea behind the programme was to train young people as climate ambassadors. "It is more crucial than ever that we collaborate internationally to discover answers that benefit everyone in this period of climate change, biodiversity loss, habitat devastation, and disease epidemic. And there is no one better equipped to effect long lasting change than the youth."
The audience got a glimpse of the India-UK artistic collaboration as the iconic Victoria Memorial Hall was transformed into a live green structure through an experiential and immersive sound and light projection. The grass, trees and forests projected on the eastern façade of the building, and the complementary music, brought to life the theme of compassion towards nature.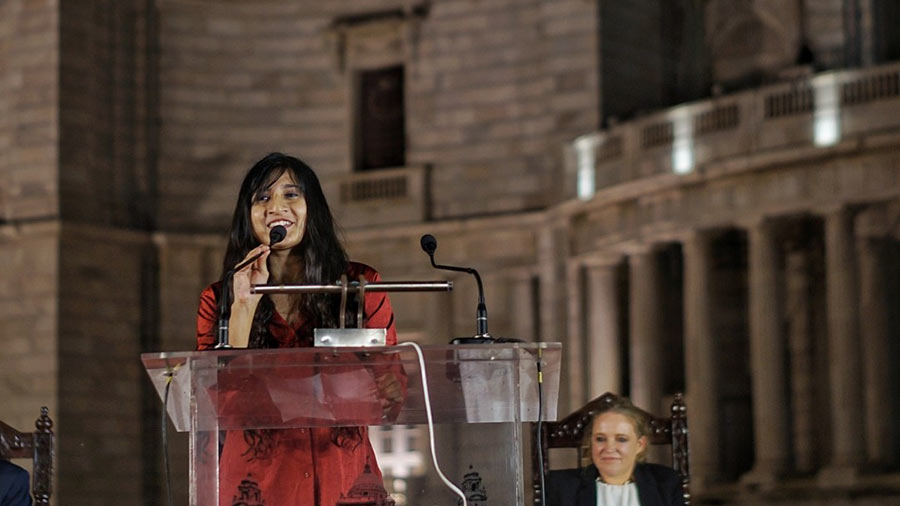 Ashwika Kapur, wildlife filmmaker and Green Oscar winner was one of the five mentors
Soumyajit Dey
"We wanted to create a platform for young people where they would work closely with our awarded photographers and learn from some of the best artistic minds. Wildlife Photographer of the Year goes far beyond an annual competition. It is a growing, global community working to inspire and engage young photographers, and connect them to local nature through wildlife photography," Ward said.
The exhibition also includes 15 photographs taken by the mentors and alumni of the NHM's Wildlife Photographer of the Year competition.