Most pedestrian subways along VIP Road in northeast Kolkata are not equipped with escalators or wheelchair ramps, making it next to impossible for the elderly and people with special needs to use them. 
VIP Road is one of the arteries that connects the airport with the rest of the city.
Almost throughout the day the road witnesses a high volume of traffic, and accidents involving pedestrians trying to cross the six-lane road with cars zipping past are common.
Last week, an elderly man was killed after being hit by a bus that was making a U-turn. The victim was walking across the road near the Baguiati market when the accident happened. 
Important bus stops along VIP Road — at Lake Town, Bangur, Sreebhumi, Dum Dum Park, Kestopur, Baguiati Joramandir and Teghoria — have pedestrian underpasses.
On Sunday, The Telegraph visited the subways and found that only two of them — at Lake Town and Dum Dum Park — had escalators. One has to climb steep stairs to use the other subways.
A 78-year-old man, a resident of Teghoria, off VIP Road, said the underpasses were not for people like him.
"At my age it is impossible to climb up and down the stairs at the underpasses. An escalator or a ramp would have been useful. I now have to take public transport and make a detour to reach a place which is across the road from my house," he said. 
For individuals on wheelchairs, even escalators are not an option. They need elevators or ramps. 
"Pedestrian subways must have concrete ramps with a gentle gradient for individuals on wheelchairs, crutches and walkers, or the aged. The surface should be slip-resistant," said Reena Sen, honorary secretary, Indian Institute of Cerebral Palsy.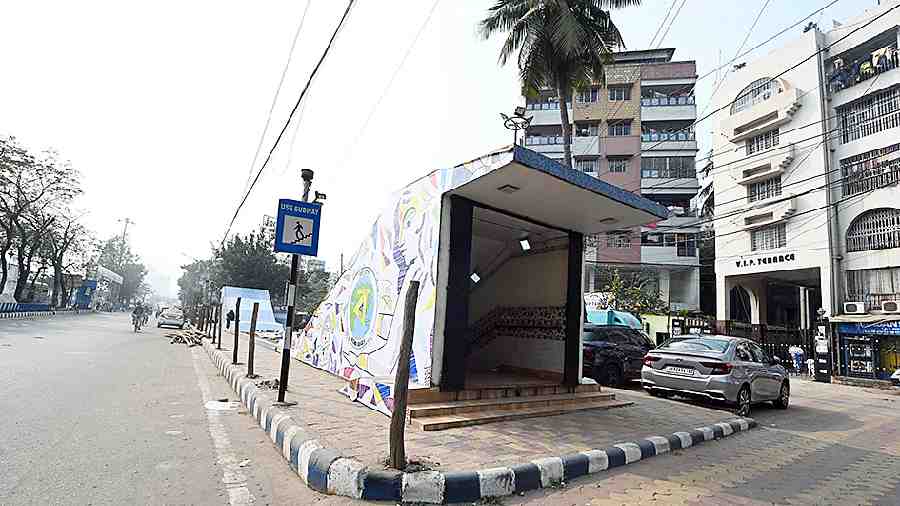 The gate of the subway along VIP Road at Sreebhumi
"It (the absence of ramps) shows a lack of sensibility, lack of advocacy and lack of care from civil society towards anybody who is in minority," said Sen.
People with special needs, she said, should come together and form a front to demand their entitlement.
On Sunday, many pedestrians were spotted at Baguiati and Teghoria who were avoiding subways and choosing to cross the busy carriageway.
One of them, Teghoria resident Chaitali Bhattacharya, 57, said: "I don't use the subway here because it does not have an escalator. The stairs in the subway are too steep for me. Hence, I have no option but to walk across VIP Road."
An engineer of the PWD, which is in charge of maintaining the subways, said escalators could not be built in subways because of space and cost constraints.
Bidhannagar MLA Sujit Bose, who was instrumental in setting up the subways, said escalators had been set up wherever possible.
"We wanted to create safe crossover points for pedestrians and over the years several subways have been commissioned. Only the Lake Town and Dum Dum Park subways had adequate space for escalators," Bose said.