Pipes will be laid and a pumping station built as part of a project to create an underground drainage system in Mukundapur, officials of Kolkata Municipal Corporation (KMC) said.
"It will take at least two years to complete the project. After that residents of the area will get reprieve from waterlogging," said a KMC official.
The Rs 125-crore project, with funds from the Asian Development Bank, is one of the biggest schemes the civic body has taken up in recent past to improve the drainage network across Mukundapur and New Garia, engineers of the KMC's drainage department said.
Mukundapur, off EM Bypass, is spread across 4 square kilometres and remains waterlogged for several days every monsoon.
The area has a number of hospitals such as the RN Tagore International Institute of Cardiac Sciences, AMRI and Medica Superspecialty Hospital.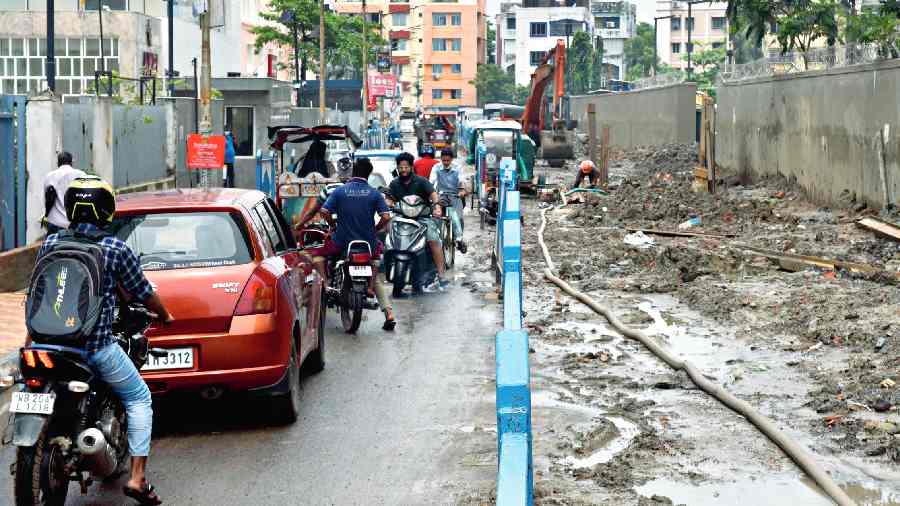 Dug-up stretches outside AMRI Hospitals Mukundapur on Wednesday.
Picture by Sanat Kr Sinha
Large housing complexes like Utalika and Avidipta are located in the area. New housing complexes of similar scale are coming up, along with a number of big schools.
The Telegraph has reported several times the problems faced by residents as well as those who work at or visit the hospitals after every spell of heavy rain.
This week also, brief spells of rain caused by Cyclone Asani led to waterlogging in some parts of the area, such as the stretch in front of AMRI.
The pumping station, which is coming up on a plot adjoining Lok Sanskriti Mancha at Purbalok in Mukundapur, will have high-powered pumps.
"The problem of waterlogging across Mukundapur, where the population has more than doubled in seven years, will not be there for at least over a decade once this project is completed," said local councillor Ananya Banerjee.
"Since a pumping station can't come up overnight, residents will have to bear with the pain for some time."
Once completed, rainwater from these areas will flow out into five canals, including Suti, Guniagachi and Tollygunge-Panchannagram canals, through the newly laid large-diameter pipes.
With work of laying underground pipes on, a part of the road in front of AMRI Hospitals has been dug up and cordoned off. As the rest of the road was waterlogged, vehicles were forced to move slowly on Wednesday.
Last July, a resident of a housing complex opposite the hospital had said flood water had entered their reservoir and the elevator, forcing them to switch off electricity for a couple of days.
"We have discussed with hospitals and other business establishments in the area how best to tackle the problems resulting from pipe-laying work," said a senior police officer.