Trucks ply throughout the day on Major Arterial Road (MAR) that connects New Town with Salt Lake on one side and the airport on the other end flouting traffic rules.
Trucks are allowed to ply on and lanes under the airport, Lake Town, Baguiati, New Town, Rajarhat, Electronics Complex and Bidhannagar south, north and east police stations between and 9pm and 6am.
The Telegraph drove down several roads of New Town and spotted multiple trucks driving at high speed on the MAR, the 10.5km six-lane artery of New Town.
At least three trucks were spotted driving along the artery near the New Town bus stand. Six more sand-laden trucks were spotted heading towards the Unitech intersection.
A vegetable truck cut off a sedan while taking the left turn from the base of the Kolkata Gate near Rabindra Tirtha forcing the smaller car to brake hard and veer left.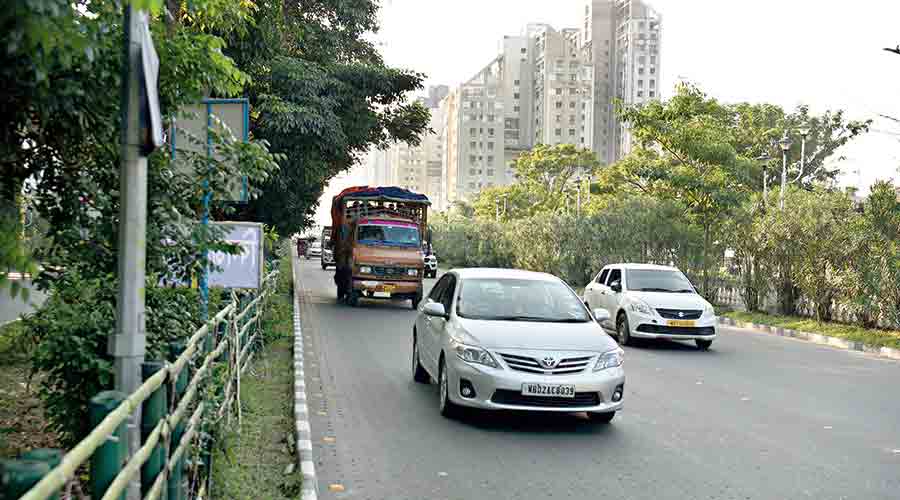 Trucks on Major Arterial Road in New Town on Thursday
"Trucks drive down the road at all times in New Town. Most of the time the drivers tend to speed and have little regard for other road users. Accidents are not uncommon here," said Animesh Paul, a resident of BC Block I New Town's Action Area I.
A senior officer of the Bidhannagar commissionerate said there was a ban on movement of trucks apart from 9pm to 6am.
"During the Durga Puja days we had allowed the trucks to move through New Town from noon till 4pm. On normal days only those carrying airport cargo and having requisite permits are allowed to pass through," the officer added.
Several residents across action areas I, II and III said trucks laden with construction materials like sand, stone chips and cement could be spotted criss-crossing New Town at all times.
Samaresh Das, the chairman of the New Town News and Forum (NTFN), a residents' group, said the trucks posed a risk to not only the motorists but also to the pedestrians. "They not only speed down the main roads and jump signals but also use the roads inside the blocks and drive dangerously," said Das.
The ban on movement of trucks across New Town between 6am and 9pm has been in force for a long time but is allegedly hardly followed. The police allegedly take bribes to look the other way.
In Kolkata, the movement of heavy vehicles is allowed from 10pm to 8am.
During the Covid-19 induced lockdown, Kolkata Traffic Police had allowed the entry of trucks throughout the day to ease movement of essential supplies.
But with a number of traffic signals not working on the roads, manually managing the large number of trucks had become impossible. Cops reached the decision of going back to the 10pm-8am rule after near-normal traffic hit the road.