Three trafficking survivors, desperately looking since March for a lawyer who would represent them for free,  finally got one on Wednesday.
On November 5, The Telegraph had reported the plight of the three, all minors who were allegedly trafficked and sexually abused.
For the past eight months, they had written over a dozen letters to various tiers of the legal services authority, seeking free legal aid.
No reply came.
They also visited the office of the sub-divisional legal services authority (SDLSA) in Baruipur more than once, only to have been kept waiting for hours in vain.
The Protection of Children from Sexual Offences (Pocso) Act confirms the right of a survivor to free legal aid, said a lawyer who has represented trafficking survivors.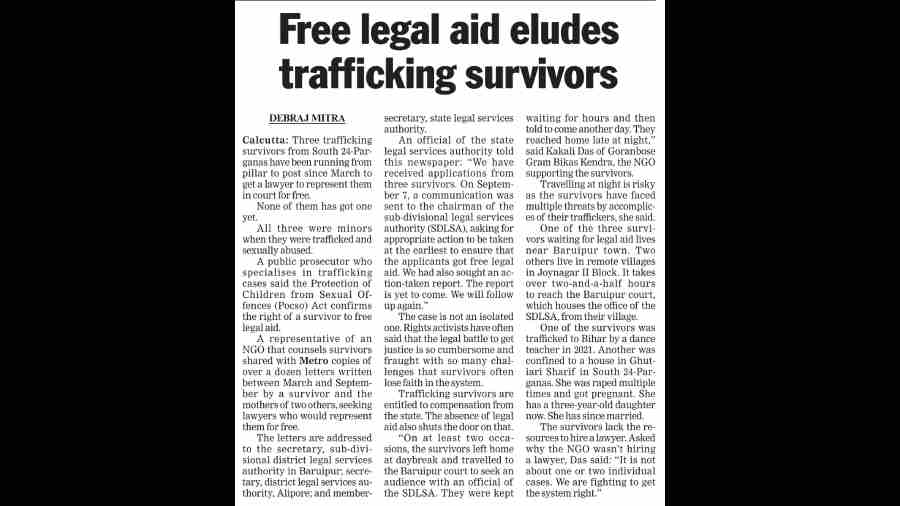 The Telegraph's report on November 5
On Tuesday evening, the survivors got a call from the SDLSA office in Baruipur.
They were asked to visit the office around 10am on Wednesday. By Wednesday afternoon, a lawyer was assigned to them.
"Officials of both the district legal services authority (in Alipore) and the SDLSA in Baruipur had called the survivors and me. They said we could call them directly if there is any problem in the future," said Rajesh Mondal, a social worker who has been assisting the survivors.
"I want my tormentors to be brought to justice. Ever since returning home, I have been facing stigma. But I have not given up," said one of the survivors. She had been trafficked allegedly by a man she called uncle. She was confined to a house in Ghutiari Sharif in South 24-Parganas and raped repeatedly. She got pregnant. She has a three-year-old daughter now.
Another survivor, trafficked to Bihar allegedly by her dance teacher, said: "The struggle to get a lawyer was eroding my trust in the system. Today, I got fresh impetus to carry on".
Getting a lawyer will expedite the process of victim compensation, the survivors hope.
An official in the state legal services authority told this newspaper on November 4 that his office had on September 7 sent a note to the SDLSA to ensure the survivors get free legal aid at the earliest.