A pedestrian subway complex has come up at the Dum Dum Park intersection on VIP Road. 
The subway is set to be inaugurated on Friday. This is the third pedestrian subway complex that has been set up on VIP Road. 
In 2018, two similar complexes had come up at Sreebhumi and Golaghata. The subway is expected to make crossing VIP Road easier and safer for commuters and those living in Bangur Avenue and Dum Dum Park. 
Now, pedestrians are forced to cross VIP Road — one of the main arteries that connect the airport with the rest of the city — when the signal for vehicles turn red on both the airport-bound as well as the Ultadanga-bound flank of the road. 
A section of people, however, don't wait for the signal to turn red and cross the road even as vehicles drive past them. 
According to an officer of Bidhannagar commissionerate's traffic wing, the VIP Road witnesses a high volume of traffic every day. 
The number has already increased manifold with thousands of cars, bikes, app cabs and taxis that are headed to different Durga Puja pandals along VIP Road, including Sreebhumi Sporting Club and Dum Dum Park Tarun Sangha among others, he added.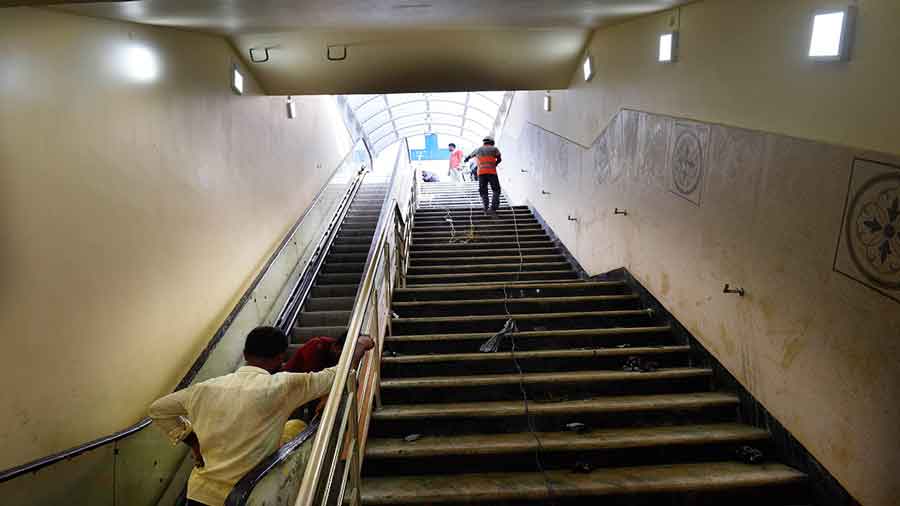 Workers give final touches before its inauguration on Friday.
The Telegraph
On Thursday, many men and women were seen darting across the road as vehicles whizzed past them. The subway complex has been built by the public works department (PWD) and the project was cleared last year, a senior PWD official said. 
According to the official, the subway is around 197 feet long and around 23 feet below VIP Road. The height of the subway is around 8.85 feet and it is equipped with escalators to ensure that pedestrians use it to cross the road. The area around the subway has been landscaped.
Signage have as been placed at both ends giving directions to nearby areas, includingKestopur, Dum Dum Park and Bangur Avenue. Bidhannagar MLA Sujit Bose told The Telegraph on Thursday that the subway would benefit thousands of commuters and the residents of Bangur Avenue and Dum Dum Park.
"This was a long-standing request from the residents. And we decided to open it during the pujas as the complex will also help the movement of pandal hoppers. Traffic police have already drawn up a pedestrian movement plan based on the subway complex," said Bose.