Hoardings and overhead cables have turned entire Calcutta ugly, Firhad Hakim, chairperson of the board of administrators of the Calcutta Municipal Corporation, said on Saturday.
Hakim said he had asked the municipal commissioner (Binod Kumar) to frame a policy for outdoor advertisements that would decide how many such hoardings should be allowed on any stretch of road.
There are hoardings on crumbling buildings and some of the hoardings only have the rusted iron frames standing without any advertisements displayed on them.
"If there is a hoarding policy in place, people will know how many hoardings will be allowed there and whether the building where they are planning to erect a hoarding is allowed to have one," he added.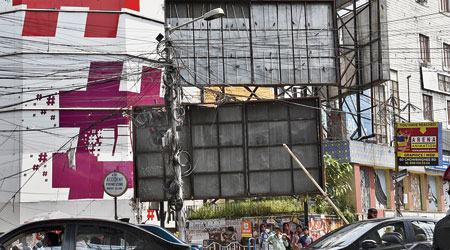 Exide crossing
Officials of the civic body said in the past the CMC had held multiple meetings with cable operators, Internet service providers and multi system operators about the cables hanging above roads and footpaths. Defunct cables have been removed from some places but it will take a far greater effort to bring some order.
"We are preparing a hoarding policy...," Hakim said. "It is better if we can have electronic hoardings.... Multiple advertisements can be displayed on a single structure."
Calcutta is dotted with giant steel scaffoldings looking out from buildings and billboards that stand above footpaths, which were once used to display advertisements but most of which are now left with only the frames.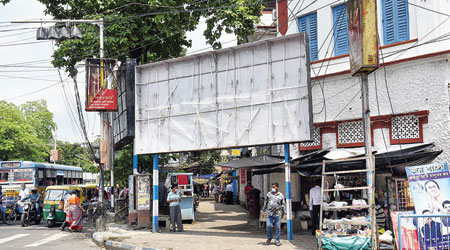 Near Deshapriya Park
A few days back a billboard had collapsed near Dalhousie Institute, opposite Modern High School for Girls, said an officer of the East Traffic Guard. "We had informed the CMC after the collapse."
A Ballygunge resident said the stretch between Gariahat and Deshapriya Park had hoardings almost few a metres from each other. A senior official of the CMC said there were about 200 billboards that stood on the footpaths of Calcutta.
Architect and urban designer Abin Chaudhuri said the location of a hoarding should never block an aesthetically pleasing building or space. "They can sometimes be used to cover up ugly facades," he added.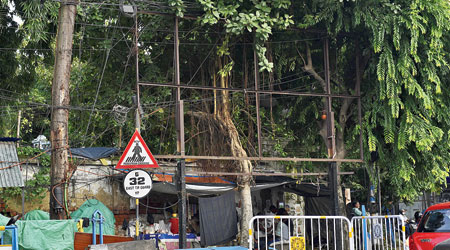 Opposite Modern High School
Defunct mobile towers
Hakim on Saturday also asked the CMC building department to find out how many defunct mobile towers there were in the city and remove them.
If the towers collapse, it will lead to a grave accident, he told a senior engineer of the CMC's building department during the phone-in programme Talk to KMC.
A resident from ward 100 in Garia complained to Hakim about a defunct mobile tower on the building where he lived.
"Towers such as this are dangerous," the Garia resident said.