An award ceremony that went online for the second year in a row acknowledged schools that turned into "mini hospitals", students who lost their parents in the pandemic and fought on and parents who lost their livelihood but did not give up.
Award recipients did not walk up to the stage but their spirits could not be dampened by the challenges of the pandemic at the IIHM presents The Telegraph School Awards for Excellence 2021, 26th edition in association with The Bhawanipur Education Society College, partnered by Tutopia, held online on Tuesday.
Tuesday was the first of the two-day award ceremony. The final will be held online on Saturday, October 30.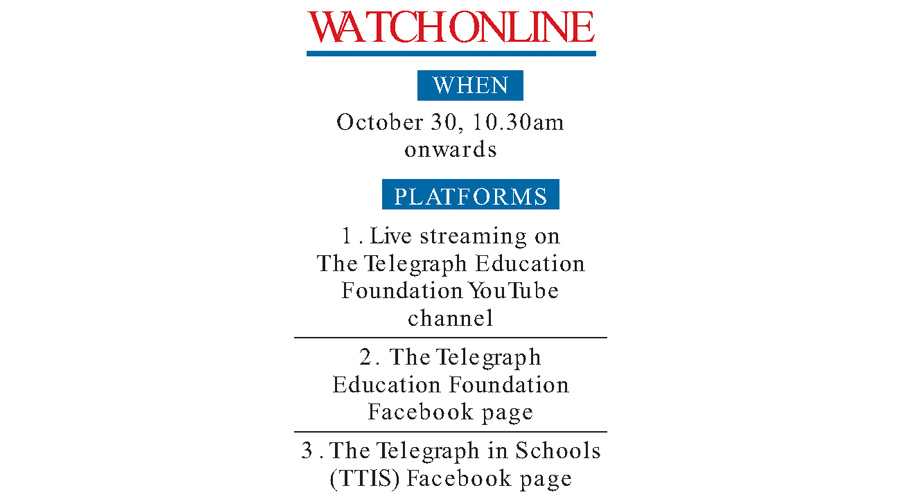 "Unfortunately, last year and this year we have not been able to meet...but it's been perhaps the most challenging time of everybody's life. Our thoughts go out to the children and families and teachers who have lost near and dear ones over the last year-and-a-half because of the pandemic. There are so many who have lost jobs...all of us have been going through mental health situations where we are sometimes really feeling down and depressed," said Barry O'Brien, trustee, The Telegraph Education Foundation.
"Anyway, we have to go on with life... you will hear many wonderful stories today..."
Stories of grit and determination of students like Ishita Jha of Khalsa Model Senior Secondary School were shared. Ishita, of Class IX, could not see with her right eye and was diagnosed with a brain tumor. Her father, a driver, managed to arrange money for his daughter's operation. Ishita received The Surrendra Paul Memorial Award for Courage.
Yash Vardhan Singh of Delhi Public School Megacity, who had been fighting Hodgkin's lymphoma since 2018, received The Surrendra Paul Memorial Award for Courage posthumously. He wrote his exams from the hospital bed and scored 92 per cent but lost the battle early this year.
Over 450 certificates of honour and certificates of merit were given in 18 categories on Tuesday, and 180 scholarships had been awarded earlier.
Despite the pandemic, the response has been "phenomenal" and there are schools that have sent entries for the first time.
In this 26th edition, TTEF has disbursed Rs 18 lakh and another 20 lakh will be distributed shortly, which O'Brien described as "a drop in the ocean".
"I am sure each one of you is making a difference to people around you. It's important especially in a country like India that each one of us plays a role and adds their own drop to the ocean," he said.