The headmaster and some teachers of a school at Hingalganj in North 24-Parganas district, around 90km east of Kolkata, are going to their students' homes to bring them back to school.
Some of the students of Kanaknagar SD Institution, have taken up odd jobs for a few hundred rupees, either in local areas or outside the state, and some were married off.
The headmaster and a few teachers of Kanaknagar SD Institution are going to their students' homes to understand the circumstances that forced them to quit school and convince them to return to school.
This is a situation not exclusive to one school in the North 24-Parganas district. In South 24-Parganas too, a headmaster said about 20 per cent students were yet to return to school. 
In Kanaknagar SD Institution, for example, the authorities have got information that eight girls of Class X and five girls of Class IX have been married off.
The school has prepared a database of students in classes IX and X and of the 119 students in Class IX, about 75 have returned and 115-odd of 200 students in Class X have come back. 
"In the last few days, we have been able to bring 13 students back to school by convincing them and their families. Through these home visits we think we will be able to bring back a section of students," said Pulak Roy Chowdhury, the headmaster of the school.
One among them is 17-year-old Bhaskar Mistry who had joined a hosiery factory for Rs 150 a day for 12 hours of work.
"I had to do some printing work which I had done before the Puja. I took the work recently again when a brother took me to the factory," said Bhaskar, who gave up his books to help his grandmother for making thongas (packets).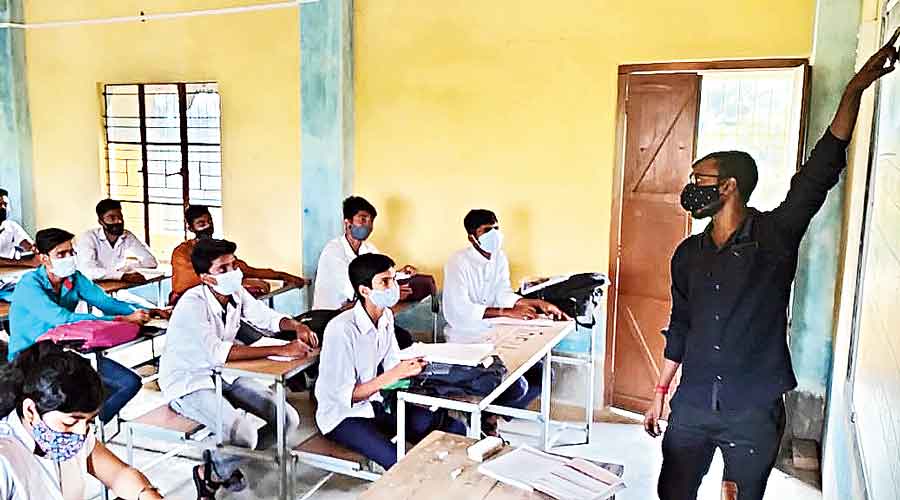 A teacher takes a class at the school.
Telegraph photo
And there is Joy Pait, who lives with his mother, and took a job at a grille shop. He returned to school.
But the matter of concern is bringing back students who have gone to other states. "We can contact and reach those who are in the locality but it is becoming difficult to contact those outside," said Roy Chowdhury.
In Krishnachandrapur High School in Mathurapur in South 24-Parganas about 20 per cent students are yet to return to school, the headmaster said.
"In some cases, the parents or family members are coming to fill up the form so that they can avail of the scholarship and schemes but we suspect that the children are not here. We are trying to convince these parents," said headmaster Chandan Maity.
An official from the department of education made a visit to the school recently to talk to the students.
"I spoke to students and also told them that they should convince their friends to return to school. It is another way for us to bring back students to school," said Madhubanti Mondal, sub-inspector of schools, subordinate education service of the department of education.