The West Bengal Board of Primary Education will hold the first phase of the interview/ viva voce and aptitude test under its "direct supervision and monitoring" for candidates who aspire to teach in government-aided primary schools in Kolkata on December 27.
Partha Karmakar, the deputy secretary (academic) of the board, said in the first phase, 200 candidates have been called.
"We had sought applications from those who had qualified in the teachers' eligibility test (TET) held in 2015 and in 2021 (following notifications in 2014 and 2017 respectively)...," Karmakar said.
The number of vacant posts will be announced later.
This would be the first attempt to make recruitment in government-aided primary schools after 2020.
The board stalled the process following allegations of irregularities in recruitment made so far.
The interview will be video-recorded to maintain transparency, said a board official.
The list of candidates and the testimonials that they have to bring have been uploaded on the board's website. On October 22, the board asked candidates who had written the 2014 and 2017 TET to apply for the interview.
The board came up with the notification hours after police removed the protesting candidates who appeared in the two TETs from a road in Salt Lake's Karunamoyee where the board's office is located.
The TET 2014 candidates, demanded that they be recruited without having to appear in yet another interview. The TET 2017 candidates were opposed to the demand, fearing that all the vacancies would be filled by the 2014 candidates if the government accepted their demand.
BOOK FAIR: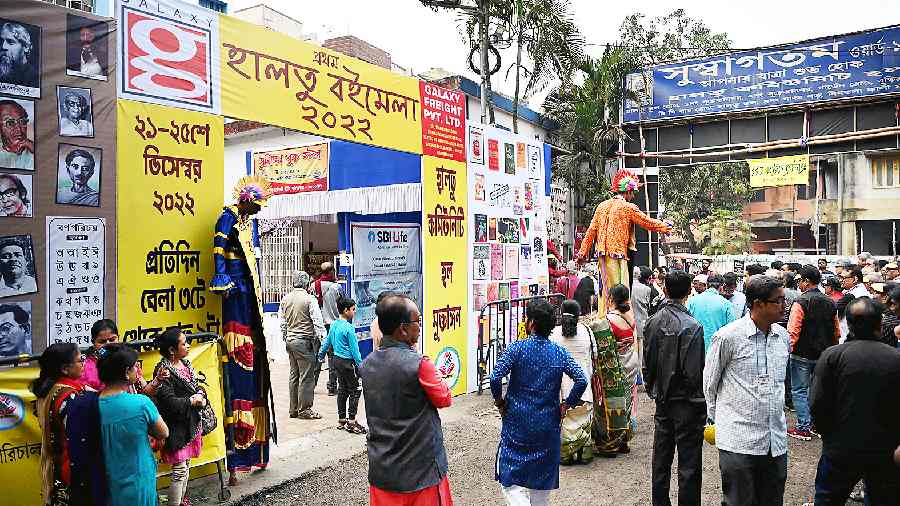 Picture by Sanat Kr Sinha
A book fair with stalls by 20 publishers, including one from Bangladesh, was inaugurated at the Haltu community hall in south Kolkata's Kasba on Wednesday. "The idea to organise a book fair in Haltu came to some of us during an adda a few months back," said Subhasis Das, an organiser.
The members and readers of the Haltu Sadharan Pathagar are organising the fair that will continue till Sunday. It is open from 3pm to 9pm.