Dressed in black jeans and jacket and carrying a black toy gun — Debotri Chakraborty of La Martiniere for Girls walks inside the South City multiplex for a morning show on May 6. She was dressed as the Black Widow, a Marvel comic character. It was the Class IX student and fan's first outing in a Marvel costume as she and many others took part in a quiz and cosplay organised on the sides of Marvel Studios latest release — Doctor Strange in the Multiverse of Madness.
"I appreciate the Black Widow. She is strong and independent. My favourite superheroes are Ironman and Spiderman, whom I have followed since childhood," said Debotri as she got ready to catch the first-day-first-show of the Benedict Cumberbatch starrer.
Joining her was Anoushka Sutradhar of Class XII, DPS Ruby Park dressed as Wanda Maximoff. Ironman was the top favourite among most fans who had come for the screening. "I find him so motivating," said Ritam Surana of Class VIII, St Lawrence High School as he got ready for the quiz.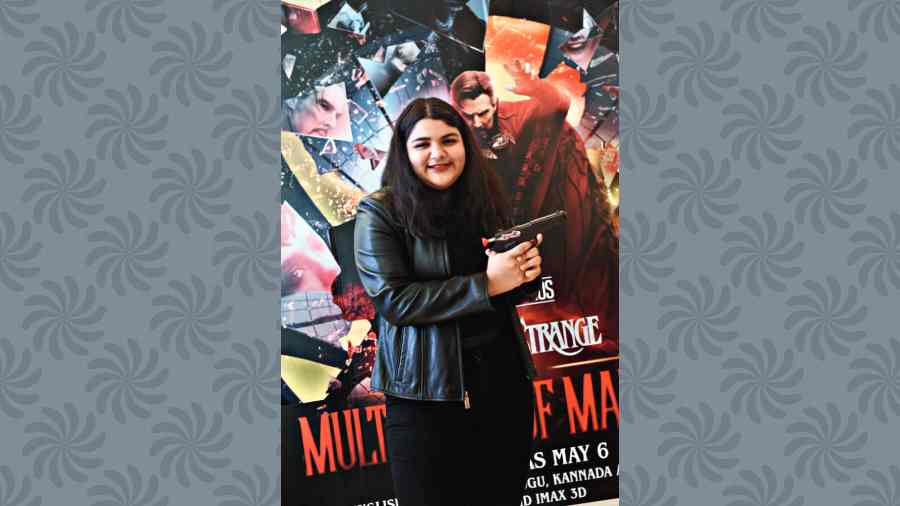 Right outside the theatre, quizmaster MD Masoom Rana Dewan asked fans some trick questions. "Ben and Jerry's has two Avengers flavoured ice cream cakes. What are they?" he asked. Pat came the reply from the fans – Stark Raving Hazelnuts and Hulk-a-Hulk-a Burning Fudge.
"I was so excited to come here. I came here to watch Spiderman last and now it's Dr Strange. I have to watch a Marvel film on the big screen," said Atreyo Lahiri of Class XII, Narayana School-Sonarpur, dressed up as Tony Stark.
However, for most fans, it was the movies that they enjoyed and went back to rather than the books. Most had not read the comics at all. "I hope to read them soon," said Aurko Bose, a Class V student of Indus Valley World School who took part in the quiz. "I love Thor, especially for his cool axe," said Aurko as he got ready to ace the final rounds of the quiz.
Marvel fans of all age groups had a field day as they exchanged notes and posed as their favourite characters. Many had been waiting for this film for a while, planning their first trip to the theatre since the pandemic with a Marvel production. Some fans even wore a Marvel t-shirt to the screening while othersplanned it as a meet-up with friends. "I am excited to watch the film with my best friend. We are both fans and it is like a dream outing for us," said Class IX student of La Martiniere for Girls Renee Mukherjee.