The ninth Anti-Trafficking in Persons Conclave was organised jointly by the US Consulate Kolkata and Shakti Vahini on May 20-21 at American Center on Jawaharlal Nehru Road.
The conclave celebrated the stories of survivors and presented the progress of Swayam Siddha, an initiative launched by the NGO Shakti Vahini to train educational institutes and the police to identify and report any unnatural movement towards human trafficking.
Swayam Siddha came into being in the aftermath of the discovery of a Diamond Harbour girl, who had been trafficked, in a distraught state at a Delhi hospital back in 2014. That incident triggered the conception of the social initiative that gradually took shape in 2019.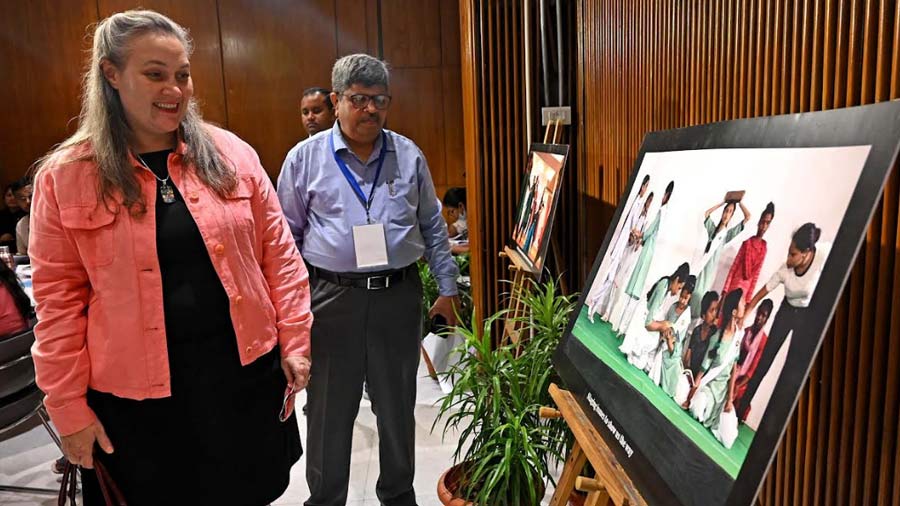 Rishi Kant takes Melinda Pavek through the photographs of training workshops arranged under the Swayam Siddha initiative
Amit Datta/My Kolkata
US consul general Melinda Pavek, American Center director Adrian Pratt, Shakti Vahini co-founder Rishi Kant, Vigilance ADG Ajay Ranaday and Kolkata Sanved founder-director Sohini Chakraborty were present at the event.
Among others were American social entrepreneur Vanessa Bouche, who joined online from the US, school heads, students, survivors, leaders from child protection committee members, panchayat representatives and motivational speakers from West Bengal, Bihar, Jharkhand and Assam.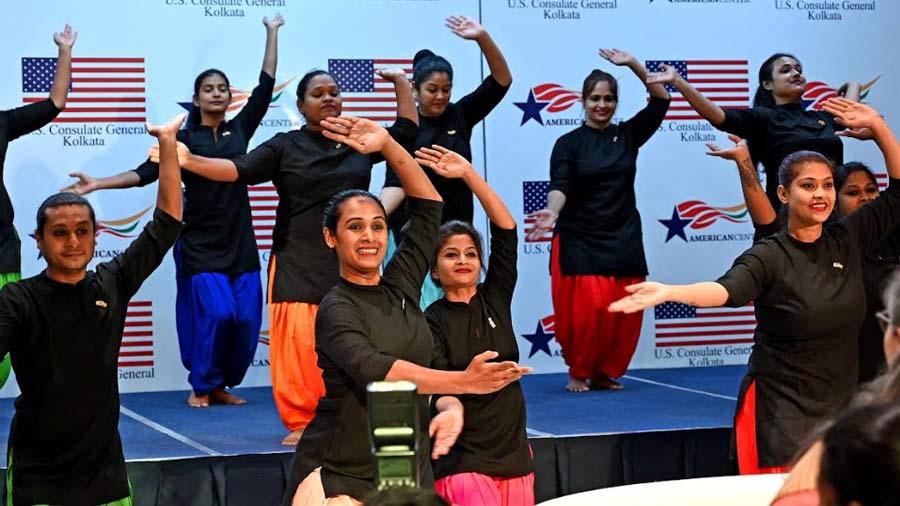 Members of Kolkata Sanved present a dance performance at the beginning of the conclave
Amit Datta/My Kolkata
The conclave opened with a performance by dance movement therapy facilitators from Kolkata Sanved. It was followed by panel discussions with school teachers, community workers, sakhi workers and panchayat officials.
Highlighting the involvement of the home affairs ministry, the event also focused on the contribution of youth trainers and survivors as well as on the emerging trends of cyber threats as part of human trafficking.
"This has been a decade-long journey of collaborations, partnerships and support networks. Human trafficking cannot be solved by one country, nor can it be solved by a single entity. All stakeholders including governments, NGOs, law enforcement, school teachers and the judiciary must work together to weed out this evil," said Pavek.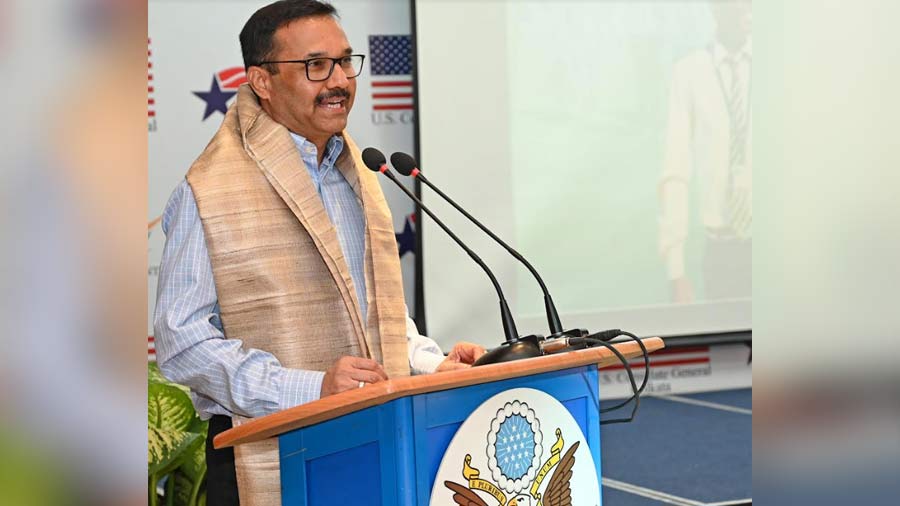 Vigilance ADG Ajay Ranaday shares his experience with the audience
Amit Datta/My Kolkata
Describing the challenges of continuing with the project, Rishi Kant described how the initiative involved grassroots-level entities like paralegal workers, sakhi workers, anganwadi groups, panchayats and legal service agencies. He also presented a statistical report of the Swayam Siddha initiative being implemented at the grassroots level in North and South 24 Parganas, West Bengal; Sitamarhi, Bihar; Simdega, Jharkhand; and Morigaon, Assam.
"One of the good points of the Swayam Siddha campaign is that it aims to stop early marriage, abuse or human trafficking by sensitising school students about the issues. We have volunteers from Class IX to XII who spread awareness among even younger students in school and those around them," Durba Bhattacharya, head mistress, Rabindra Nagar Balika Vidyalaya.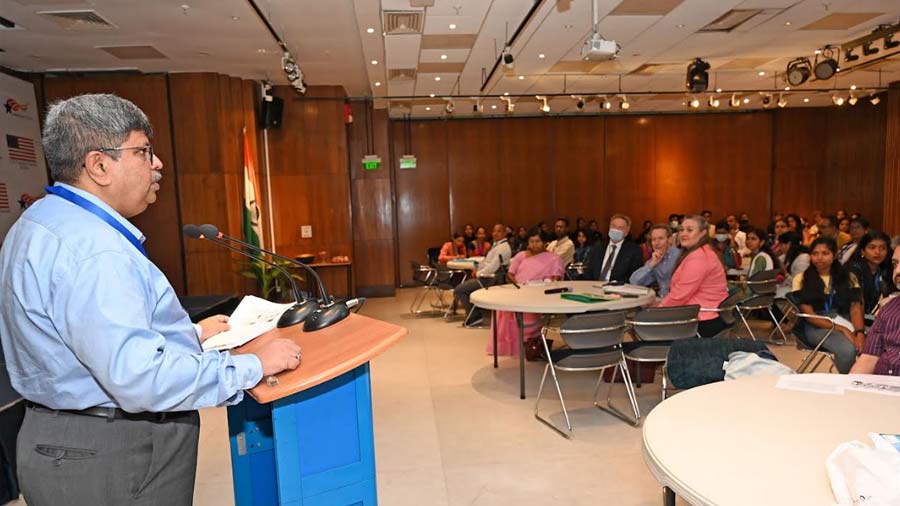 Rishi Kant reads from a statistical report to explain the achievement of the Swayam Siddha project
Amit Datta/My Kolkata
A human trafficking survivor, Trisha Roy, shared with My Kolkata her own experience with the Swayam Siddha initiative for the last three years. "I was kidnapped by a racket in 2019 and trafficked across a few states. But this collaborative project involving social workers and law enforcement helped me get back to my parents within a short time. Now I study in Madhyamgram Acharya Prafulla Chandra Balika Vidyalaya and have just completed my Class XI exams."
"Survivors often experience social stigma. Most people fail to see that the survivor has actually survived the ordeal. Like other survivors, I have gone through this traumatic process. That's why I share my story with other survivors and the audience. I want to become a journalist to highlight such stories and provide justice to many women and young girls," she signed off with determination in her voice.