The majority of the city's dengue infections have been reported from some wards in south Kolkata — pockets of Kasba, Jadavpur and Tollygunge. Some wards in north Kolkata — parts of Milk Colony, Kankurgachhi and Phoolbagan — have registered many dengue infections, too.
What unites the affected pockets in south Kolkata and those in the north is grossly inadequate civic service. 
The Telegraph toured through the dengue-hit areas and found waste lying along roads and in parks; small containers, which can turn into mosquito-breeding sites once water accumulates in them, lay here and there; open drains that are clogged in places; canals that have lost the flow and turned into mosquito-breeding sites; and pools of water on streets.
Add to that vacant plots and buildings under construction.
The WHO says "dengue prevention and control depends on effective vector control measures".
The disease is caused by a virus spread by the Aedes aegypti mosquito, which can breed in a spoonful of water lying undisturbed for at least a week.
A state government official involved in the dengue fight told this newspaper on Monday that there was a need to review the city's vector-control policy. 
Wards worst hit
Among the wards from where a large number of dengue cases have been or are being reported are: South: 106 (Kasba Kayasthapara, Purabachal), 109 (Mukundapur) and 101 (a part of Patuli) North: 3 (Milk Colony and Duttabagan), 6 (parts of Cossipore), 31 (Phoolbagan) and 32 (Hudco)
An official of the Kolkata Municipal Corporation said eight or nine new cases were being reported daily from Ward 106 on an average.
Bappaditya Dasgupta, councillor of Ward 101, said seven or eight fresh infections were being reported every day.
Debika Chakraborty, councillor of Ward 3, said seven or eight fresh cases were being reported from the north Kolkata pocket every day.
Anindya Routh, chairperson of Borough III, said Wards 31 and 32 were reporting two or three fresh infections every day. Another councillor from Borough III said wards 13 (Daspara-Muchibazar-Telengabagan), 14 (Muraripukur and Bagmari) and 33 (around Subhas Sarobar) were also reporting "many cases".
Suman Singh, councillor of Ward 6, said three or four cases were being reported daily.
Uncleaned solid waste
In all the wards worst impacted by dengue, south or north, piles of waste can be found on roads and vacant plots, and in parks.
The WHO website underlines the importance of "disposing of solid waste properly and removing artificial manmade habitats that can hold water" as measures against mosquito breeding.
The entire area around Subhas Sarobar is filled with waste. Wards 31 and 32 are situated nearby. On a stretch of Suren Sarkar Road in Phoolbagan, the waste has not been cleaned since Durga Puja, residents alleged.
Paper and earthen cups, discarded commodes, shells of tender coconut and tree branches covered half the road.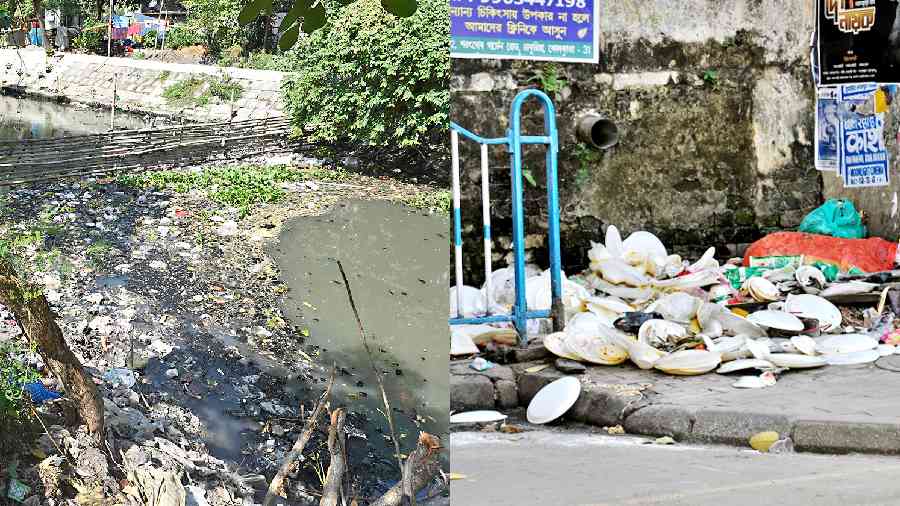 Garbage dumped in the canal along P. Majumder Road and (right) in Chittaranjan Avenue
"A number of people in this area have been down with dengue," said Kashinath Pramanick, a resident.
Debika Chakraborty, councillor of Ward 3, admitted that most of the cases in her ward were from areas along a water body where piles of waste had accumulated. Some of the waste has now been cleared, she said.
In wards 106 and 109 in the south, there are many vacant plots where waste has accumulated over months.
"Any pile of waste has many containers which turn into mosquito-breeding sites once water accumulates in them during rain," said a KMC official.
Clogged drains
Another feature common among the affected wards is the presence of open drains. In many places, these drains are clogged.
Aedes aegypti mosquitoes breed in any place where water remains stagnant.
Clogged drains become a breeding site if the water flow does not resume in seven days. A resident of Nayabad in Ward 109 said a long stretch from the minibus terminus to the Upohar housing complex had surface drains. "In some parts, the drain is clogged," said the resident.
Tarun Saha, chairperson of Borough I that includes Wards 3 and 6, said there were some surface drains in Ward 6. A surface drain beside the road along the western boundary of Subhas Sarobar is also clogged.
In Milk Colony, this newspaper came across a pool of water outside the gate of a state government office.
Canals with stalled flow
Parts of Kasba, especially Wards 106 and 107, have a number of canals.
The edges of canals in most places have lost the flow and turned into mosquito-breeding sites.
Residents blame lack of dredging for the sorry state of the canals.
Poor vector control
In most neighbourhoods with a high incidence of dengue, residents said they had rarely or never seen vector-control teams.
A Paikpara resident, a Kasba resident and a Behala resident reported the same civic apathy.
The Kasba resident said a vector-control team had visited her premises to spray larvicide several weeks ago.
"No one came after that," she said. The Paikpara resident said no such team visited his neighbourhood this season.