The second leg of the Biswa Bangla Gate underpass is now open to the public. On November 26, Hidco managing director Debashis Sen took an inaugural walk of the subway from the side of the ticket counter of Biswa Bangla Gate across the street towards Mizoram House.
The first leg of this subway, from Rabindra Tirtha to Smart Plaza had opened in September. "And it is successful. The police are not allowing pedestrians to cross that stretch anymore," said Sen.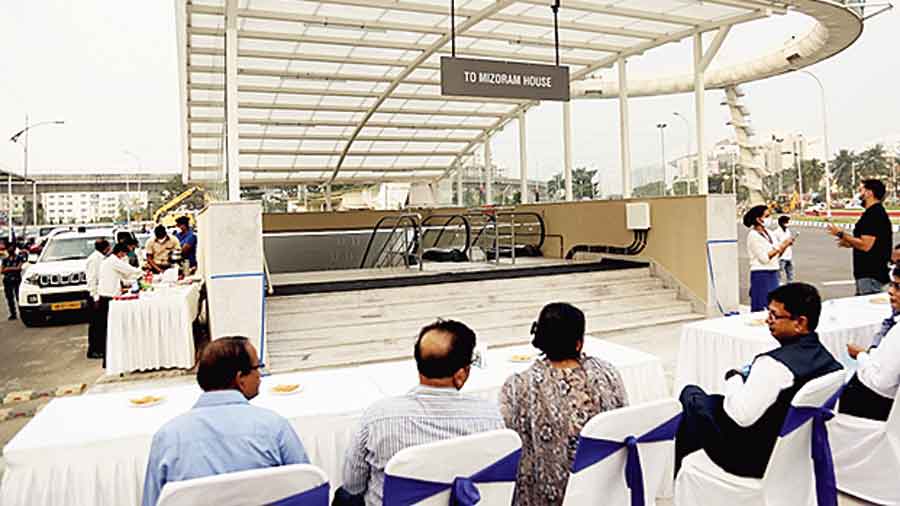 The Biswa Bangla Gate crossing subways are equipped with two-way escalators as well as stairs and they have beautiful artwork on the walls. "The theme of the first underpass was old and new Kolkata. For this one, it is Bengal tourism. Both include sights of New Town," said Sen.
The artwork has been done by Sayan Mukherjee and his team. "We got more than 240ft to work on but such a long stretch can get monotonous for pedestrians. So we used bold and solid colours for contrast," said Mukherjee, a commercial artist. "Some tourist spots of New Town, like Biswa Bangla Gate, were already used in the first passage so for this one we used the solar dome, Mishti Hub etc." Tigers of Sundarban, chhou dance of Purulia, tea gardens on Darjeeling etc are also featured.