Modi Public School, Siliguri
Students of Modi Public School, Siliguri, paid a tribute to the ancient poet of Nepal, Bhanubhakta Acharya, on the occasion of his birth anniversary on July 13. The great Nepali poet translated the Ramayan, among others.
The event was aimed to educate students about different cultures and languages. The students were taught how the Nepali community had been preserving their own culture and language through different forms of art.
A cultural programme was staged on the occasion. The students of Classes V to XII took part in an inter-house Nepali Elocution competition. The children also presented a rendition of the Ramayan in Nepali and danced to songs such as Bhanu Timilay Pranam.
"We celebrate Rabindra Jayanti and Bhanu Jayanti with equal enthusiasm. This helps our Nepali and Bengali students to learn different languages and cultures. The event was enriching for all," said principal Jayanta Pal.
Delhi Public School, Siliguri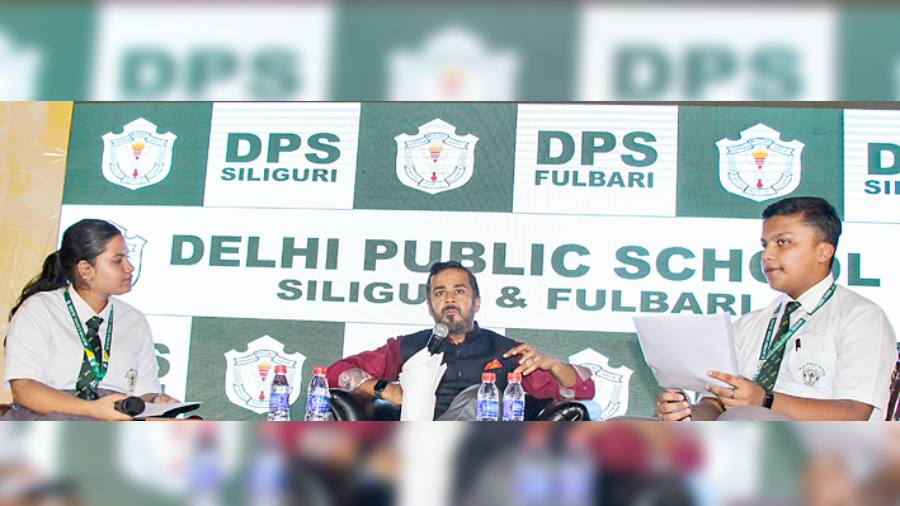 Author Chetan Bhagat recently dropped in at Delhi Public School, Siliguri, to interact with over 2,000 students from Classes X to XII. Also present were students from the school's Fulbari branch.
During his one-and-half-hour session, Bhagat delivered a motivational speech on success and life goals. The author of Five Point Someone told the audience how there is no shortcut to success.
"Success comes after hard work spread out over a long span of time," he said. The author cited instances from his life and how he became a published writer only after 20 years of struggle.
Bhagat highlighted some issues such as addiction to mobile phones. He said students would have to pay a "huge bill" later in life if they wasted too much time during their adolescence. The use of phones for long hours can be harmful, especially during examinations.
Bhagat spoke about success, destruction, pain and the goal of life.
The event was inaugurated with Bhagat offering a floral tribute to the school's founder pro-VC, late Surendra Agarwal. The guests included Kamlesh Agarwal, the pro-VC of Delhi Public School, Siliguri, its director Sharad Agarwal, Phulbari branch director Snigdha Agarwal and principals of Siliguri and Pulbari branches, Anisha Sharma and Monowara B. Ahmed, respectively.
"It was a great experience for the students to meet Chetan Bhagat. He inspired them a lot. The session was also very interactive. many students got to ask him questions. They were all very excited and ended up learning a lot," said DPS, Siliguri, principal Anisha Sharma.
Aditya Academy Secondary, Barasat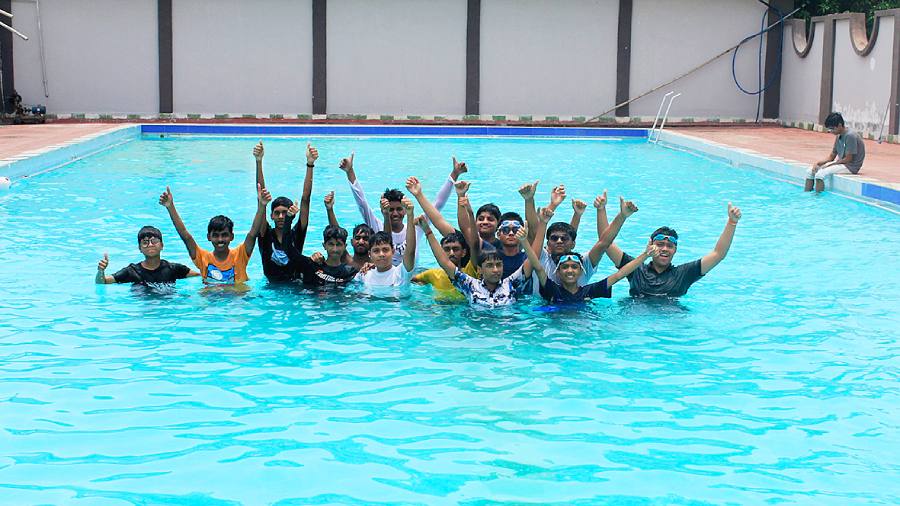 Over 150 senior school students from Aditya Academy Secondary, Barasat, and Aditya Academy Senior Secondary, Dum Dum, took part in an interactive two-day summer camp organised on the Barasat premises recently.
The students were engaged in a variety of fun activities, including fishing, cycling, non-flame cooking, baking, pottery and swimming, under the guidance of their teachers and mentors.
They were also taught life skills such as teaching and changing tyres at the camp. A tree planting activity was part of the second day's event. The students ended their fun stay with bonfires and antakshari competitions. The junior and middle school students attended a six-day camp at the school, taking part in various activities.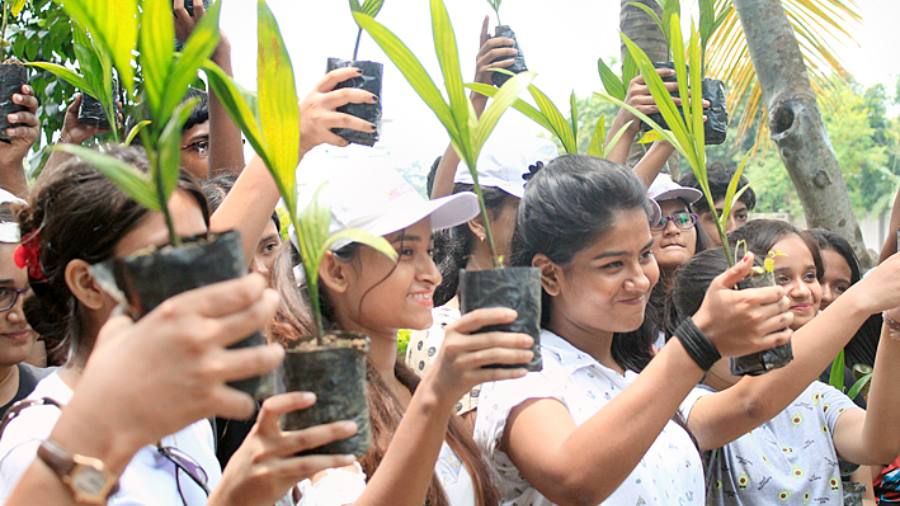 "Aditya Academy Secondary, Barasat, arranged the wonderful summer camp. The students of the Dum Dum branch also joined in. The senior students had an absolute blast for two days. They took part in a host of activities. There was swimming, cycling, sculpting and a lot more fun activities. They thoroughly enjoyed their stay in the residential complex of the Barasat branch. We are glad that the camp was very successful and we plan to arrange it on a bigger scale next year," said James Ringrow, principal, Aditya Academy Secondary, Barasat.
Bidya Bharati Girls' High School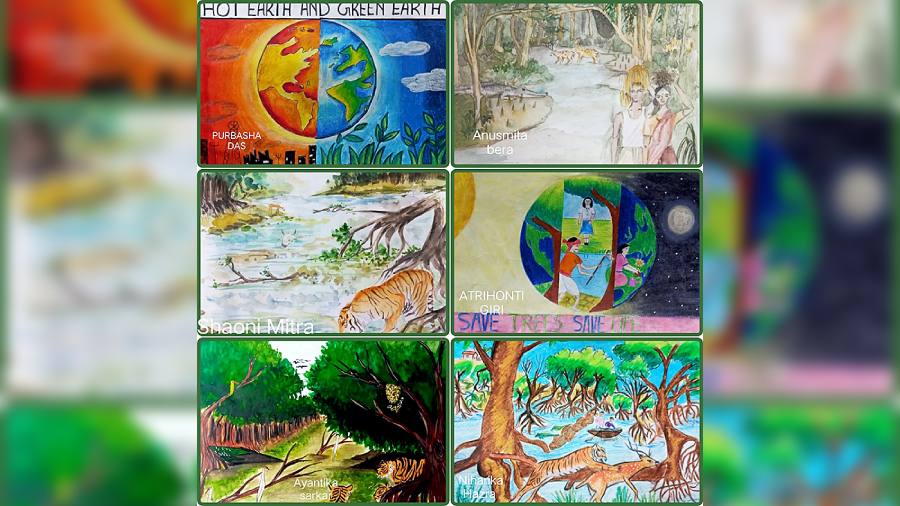 Discussions, art and campaigns — students of Bidya Bharati Girls' High School have been ever ready to spread awareness about the environment through various platforms.
Their awareness drives had not stopped even during the pandemic. This year on June 5, the school organised yet another virtual programme to celebrate World Environment Day.
Headmistress Sharmistha Banerjee inaugurated the event, attended by other teachers and students. A cultural programme followed where the students sang songs and gave speeches on what ailed the earth and how the future generation could save the situation. The students also prepared posters and presentations, highlighting the need for conservation and protection of nature.
"Our students have been conscious about the environment. We have taught them how to be sensitive to the needs of this mother. Our students have taken part in various in-house and inter-school campaigns. We hope to make them conscious citizens," said the headmistress.