Students of a college in Howrah have been carrying bags full of books in the areas around their institution to initiate children into reading, an opportunity that the pandemic has snatched away from many of them.
The books are for primary and middle school children who are mostly first-generation school goers. The long absence from school because of the pandemic has resulted in some of them forgetting how to read, a college teacher said.
The students of Deeliyat Muallima College in Santragachhi have been organising these book-reading sessions for a couple of hours once every week.
The students guide the children to read because if left alone the exercise would involve browsing through the pages only.
The long absence from school and an environment at home that does not initiate them into studies has created these learning gaps.
The parents of most of these children are tailors who are busy making ends meet and neither can spend the time nor have the ability to teach their kids.
"We can understand that they are finding it hard to read. Many of them cannot read full sentences," said Resma Sardar, a student of the college.
Resma said when asked if they read at home, some of them responded as to who would teach them.
The pandemic has also detached them from books and got them addicted to games on the mobile phones.
"But they are children and when they see new books they pick them up. There is an interest. They are constantly asking us to read with them," said Sardar.
The college is also asking writers or people to read stories to them and organise story-telling sessions. "We cannot make them experts in one day but at least we can make an effort and show them the right path," said S. K. Mursalin, the executive director of the college.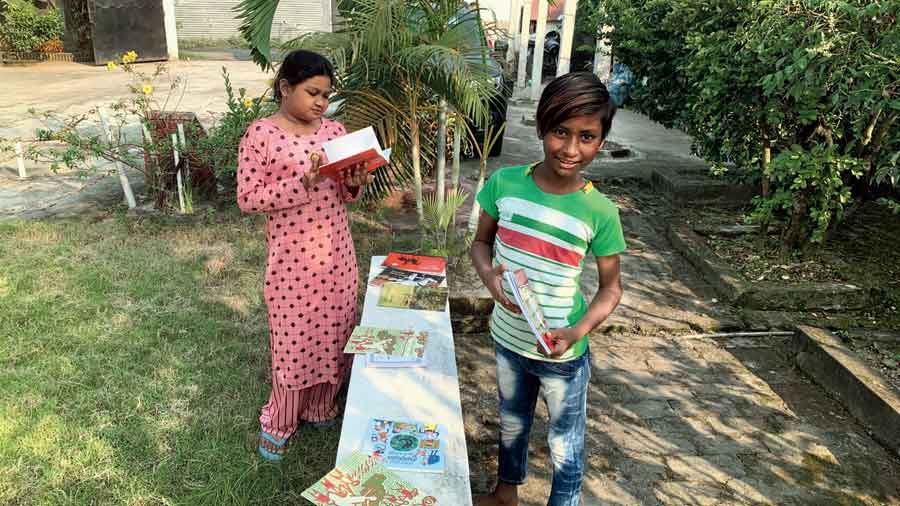 Children browse through books at a reading session
"The environment that we try to create is one where they would want to come and at least being present there might bring back their interest in books," he added.
The initiative has encouraged some people to come forward and donate books.
It includes an economics teacher of a government college and a Calcutta-based publisher, who gifted many books when he learnt the purpose for which they were being bought. All that the person buying them at the store had asked for a discount.
The books are new books, with stories, rhymes, and those with pictures that would draw them to read or at least pick a book just to look through.
They are not a textbook because that will withdraw them further, said a college student associated with the initiative.
The privilege of online classes from home is alien to these children.
The drive, which started in a neighbourhood a month back, now has the next three sessions booked in other areas. "People have approached the college that they would want to organise the sessions in their area. That is a positive change. We request people to donate new books because a torn, old book wont interest a child of that age. We want people to give books and those who can spare a little bit of their time to sit with the children and read to them," said Sabir Ahamed, who has been instrumental in organising books.