Easter celebrations returned to the offline mode this year, although many church members seem to have taken a greater liking for online service now.
"Whether for Easter mass or for regular mass on Sundays, earlier a lot more people would come down for church gatherings, sometimes even up to 300-350. But this year we had only 50 to 60 people attending the Easter service. It was disappointing," said pastor Jenith Israel of City Living Assembly (Independent Church), that has branches in Salt Lake's IPHE hall and New Town's London Kids Preschool near Sukhobrishti.
However, Israel added that more than 150 people had tuned into the service online. "There is more enthusiasm to go online. It's true that Covid forced us to turn to technology but we need to get back to normal life," he added.
Jennifer Das, a church member, said she preferred physical mass. "We are grateful that people can listen to our mass online. I myself have family members living abroad who tuned in. But there's nothing like coming and mingling with others here. We can't live in isolation," said the resident of BJ Block.
Good Friday and Easter services were held at both their branches, followed by choirs, dance performances and a play based on the crucifixion of Jesus Christ and His return as saviour.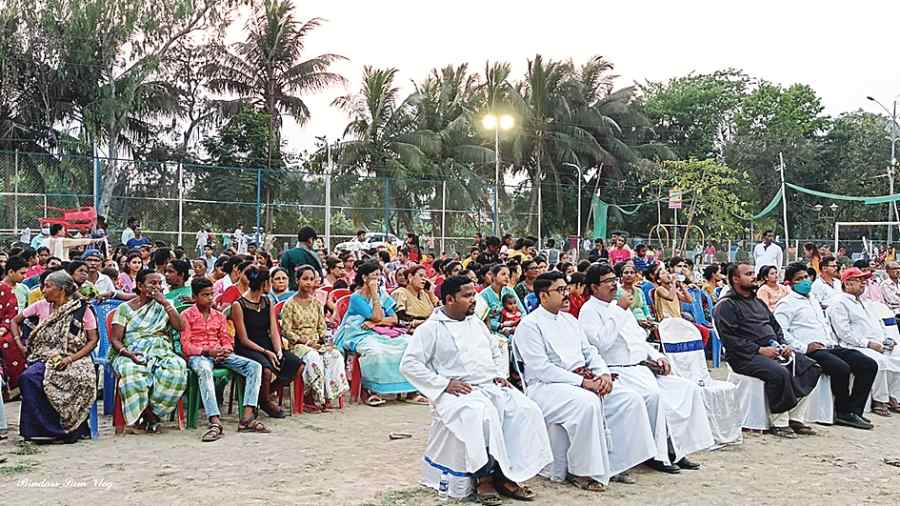 The audience at a cultural programme in Kestopur on Easter Sunday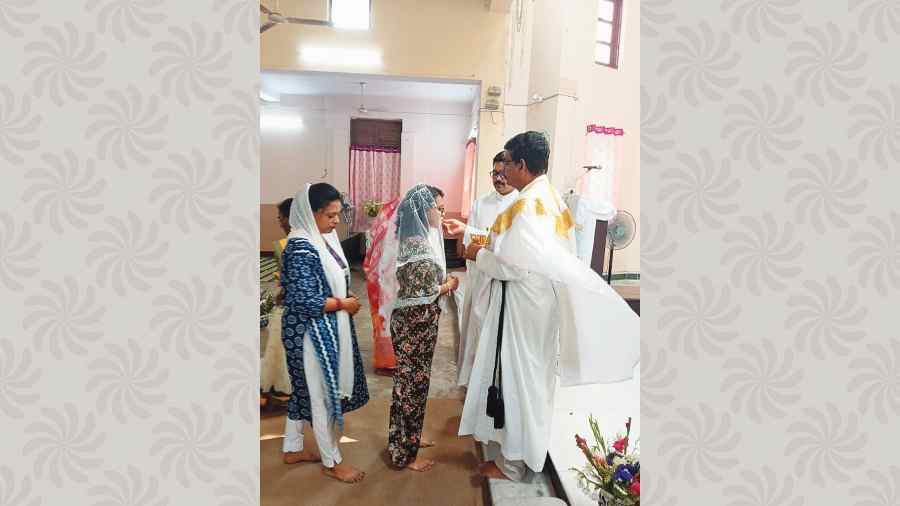 Devotees observe Eucharist by accepting portions of bread and wine after Easter Service at Emmanuel Church in Kestopur.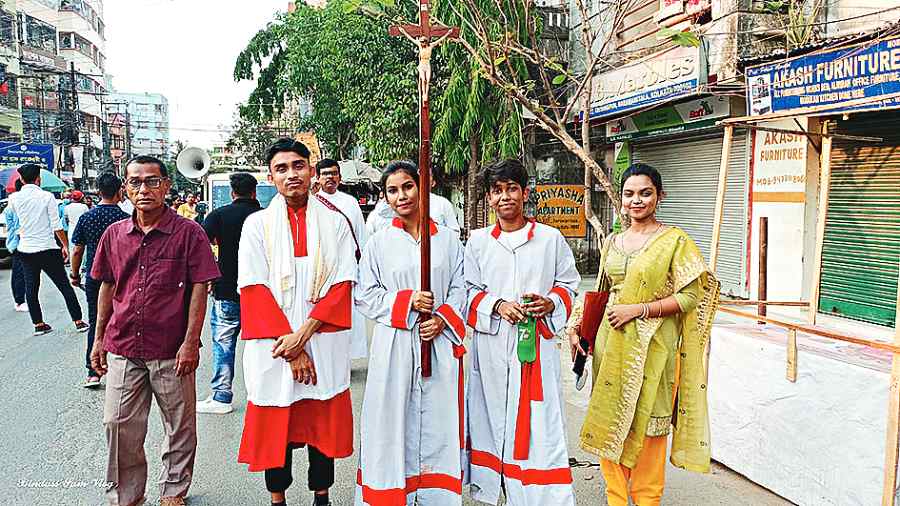 Youngsters in Christian para participate in nagarparikrama on Good Friday morning
To the streets
In Kestopur, a big Easter procession was led by three churches, namely Emmanuel Church (Protestant), The Assembly of God Church (Protestant) and Holy Family Church (Roman Catholic). People sang and danced along the way and the pastors spoke on the sacrifice of Jesus.
"This procession was more like a nagarparikrama where people sing praise of the lord early in the morning. Just like the Vaishnavas among the Hindus preach about Krishna, we preach about Jesus on Easter. The underlying message is the same — communal harmony, love and peace," said former secretary of Emmanuel Church, Sudipendra Mondal.
Earlier in the day, Revd Shantanu Gayen and Daniel Diptarko Chatterjee had delivered service at Emmanuel Church.
People also decorated graves of their ancestors in the graveyards adjacent to the three churches, in keeping with tradition of Palm Sunday, observed a week before Easter. Most people whitewash the graves of their ancestors and pay homage to the departed souls all through the week. This year they decorated the graves with lights, bouquets of fresh flowers and wreaths.
"We lost a lot of people to Covid. over the last two years almost every family has seen death from close quarters. Many of those who left us were too young to go. On Palm Sunday, all our prayers and hymns are dedicated to them," said Alpana Mundle, a resident of Rajarhat who participated in the procession.
Showli Chakraborty
Should churches continue online service even after Covid has waned? Write to saltlake@abp.in