A smart bench has been installed on the island facing the ticket counter of Biswa Bangla Gate which has USB charging points powered by a solar panel above.
The bench, installed by IT project management firm Pickle Solutions, has been imported from Singapore. It is fitted with temperature and humidity sensor and has inbuilt GPS. Along with USB charging points and free wifi connectivity, it has a bicycle charging point as well.
February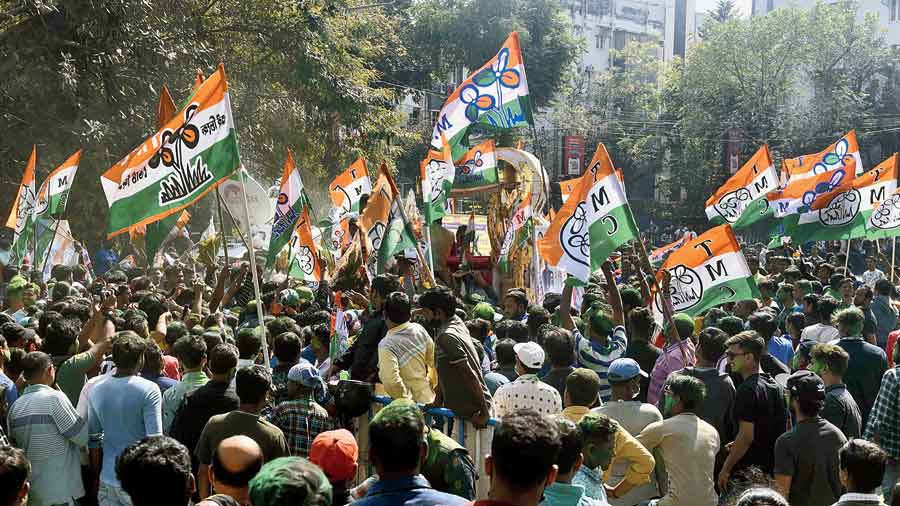 Bridge over Bagjola canal- A motorable bridge came up over Bagjola canal to connect Gouranganagar to Action Area 1. Before this, commuters had to use a ramshackle bamboo bridge, over which vehicles could not ply. The suspension bridge, 37m long and 5.5m wide, allows small cars, bikes and pedestrians to cross. This bridge benefits residents of Sunrise Greens, PS Ixora, Greenfield Elegance, Rohra Legend and Clubtown Courtyard.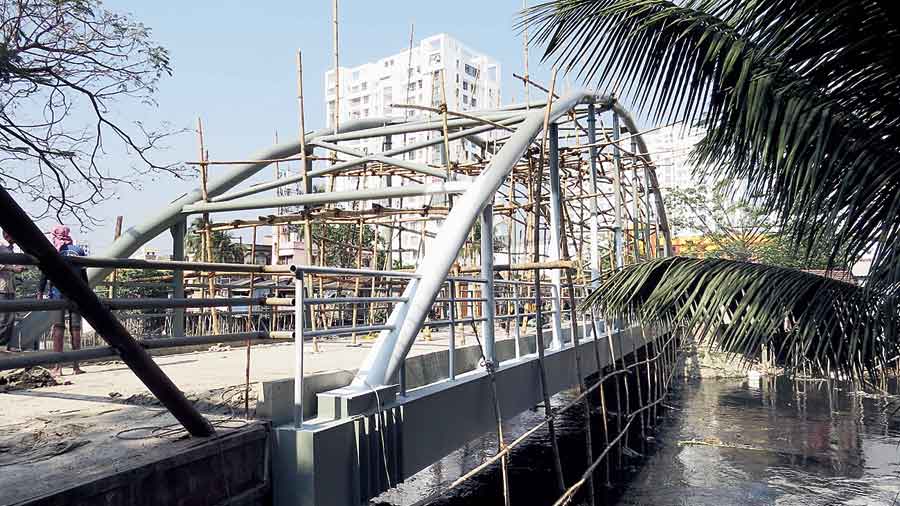 Corporation elections- The Bidhannagar Municipal Corporation election took place on February 12. The results came out two days later. It was almost a clean green sweep with the Trinamul Congress (TMC) winning 39 of the 41 wards that went to polls. A Congress and an independent candidate won a seat each and Krishna Chakraborty returned as mayor. Sabyasachi Dutta, who had defected to BJP earlier but returned to fight on a TMC ticket, beat Devasish Jana, who himself had left TMC for BJP. Dutta is chosen chairperson and Anita Mondal deputy mayor.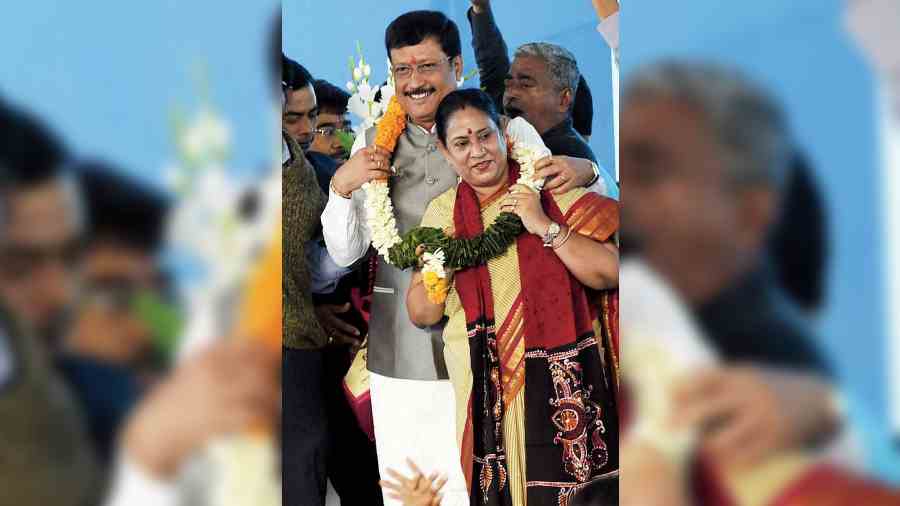 Vaishnava seat revamp- A century after the first meeting of Iskcon founder Bhaktivedanta Swami Prabhupada with his guru Bhaktisiddhanta Saraswati, the building that hosted the meeting was reinstated as a seat of Vaishnava spiritual practice. The single-storeyed structure at Gauribari Lane near Ultadanga crossing is named Bhaktivinode Asan and was inaugurated by minister Sashi Panja and senior disciple Jananivas Das, on February 21.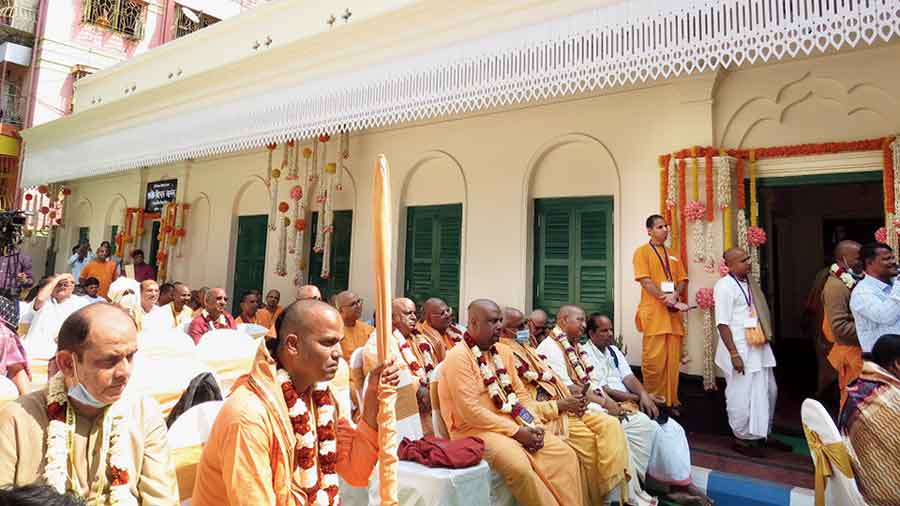 Book Fair permanent venue announced- Central Park was announced as the permanent venue of the Kolkata International Book Fair at its inauguration on February 28. The request for the venue was made by the Publishers and Booksellers Guild as the Salt Lake venue had been drawing footfall and sales almost one and half times more than what it did at Milan Mela, that was closed for renovation for the last few years. Chief minister Mamata Banerjee approved the request from the guild and suggested that the fairground be renamed Boi Mela Prangan.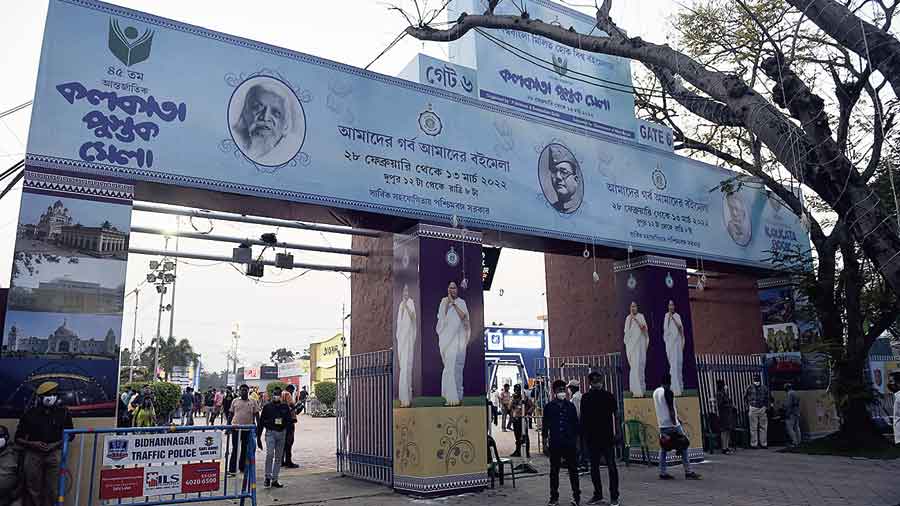 Chingrihata footbridge opened: The foot overbridge was inaugurated to ensure that pedestrians could safely cross the EM Bypass at the Chingrighata crossing. Considered to be one of the busiest intersection of the EM Bypass the footbridge came up after a series of accidents involving pedestrians and cyclists took place here.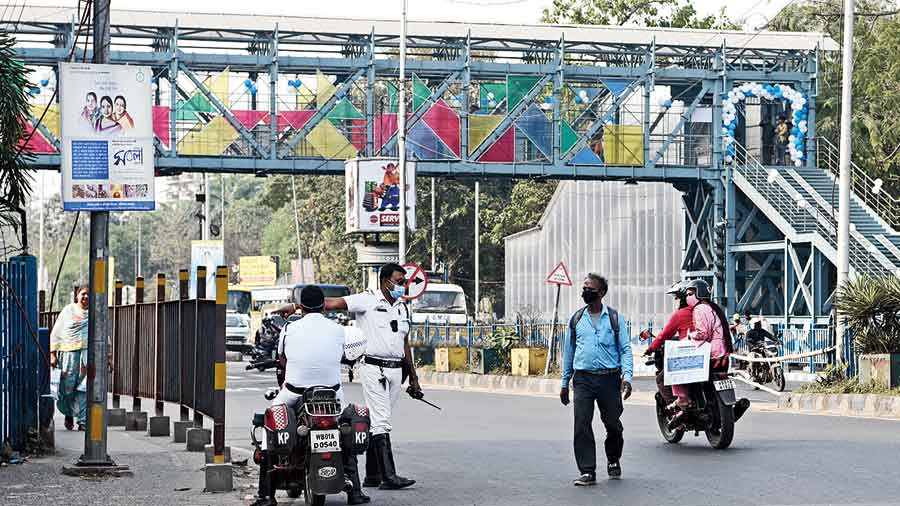 The overbridge has an escalator and a separate ramp for cycles. There are two crossover points, close to one another, on the Bypass — one near Jal Vayu Vihar and the other at the Chingrighata intersection.
Despite this the bridge has met with lukewarm response as a large number of cyclists and pedestrians don't use it.
March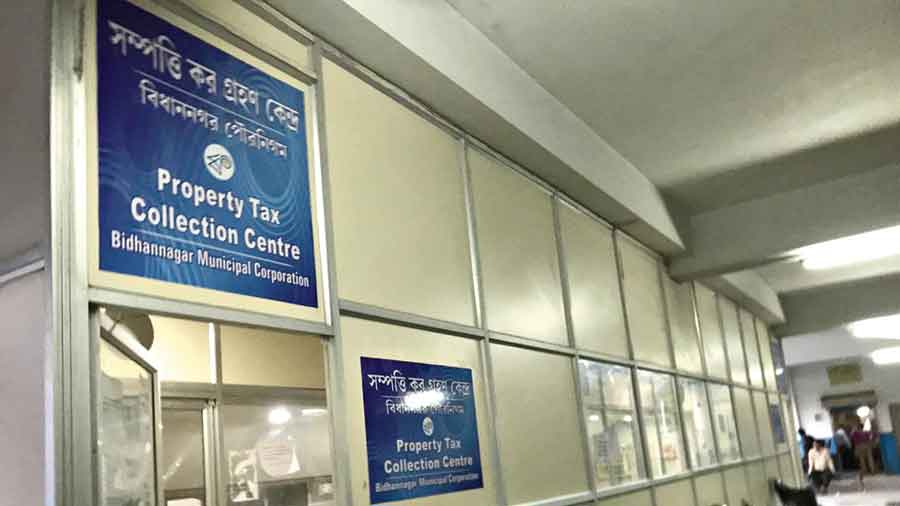 New property tax rates - The new board of the Bidhannagar Municipal Corporation presented its budget on March 23. The most significant move proposed in the newly-placed budget is a hike in property tax pertaining to the 10 wards that comprise the planned portions of Salt Lake. While upholding the old annual valuation of the properties, the civic body started charging higher rates.u
Kids start getting Covid jabs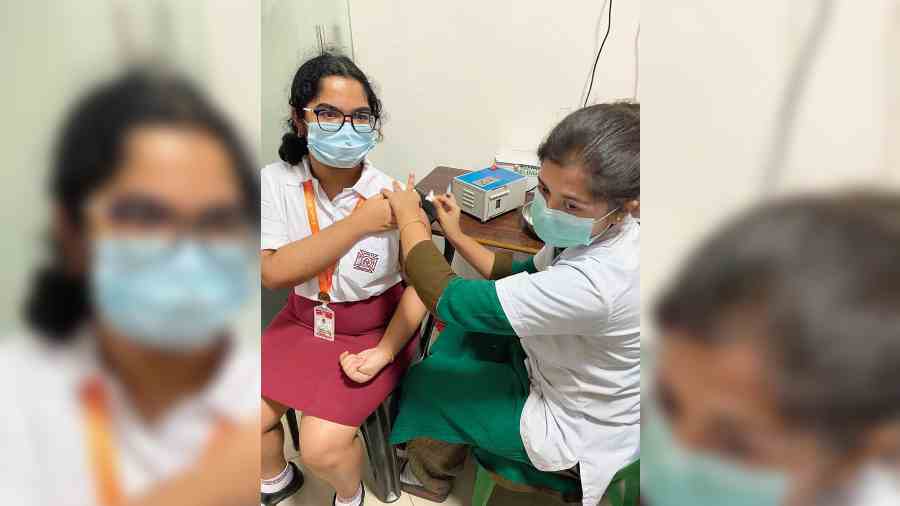 The Covid vaccination programme for 12-14 year olds started on March 22 in both Salt Lake and New Town. The Bidhannagar Municipal Corporation administered Corbevax from the ground floor of Matri Sadan in EE Block, Vidyasagar Matri Sadan in Rajarhat and Deshbandhu Hospital in Baguiati.
Each Corbevax vial is being used to jab 20 children. According to a civic official, there is no shortage in supply and the vaccine programme has been "running smoothly".
New Town gets two Smart prizes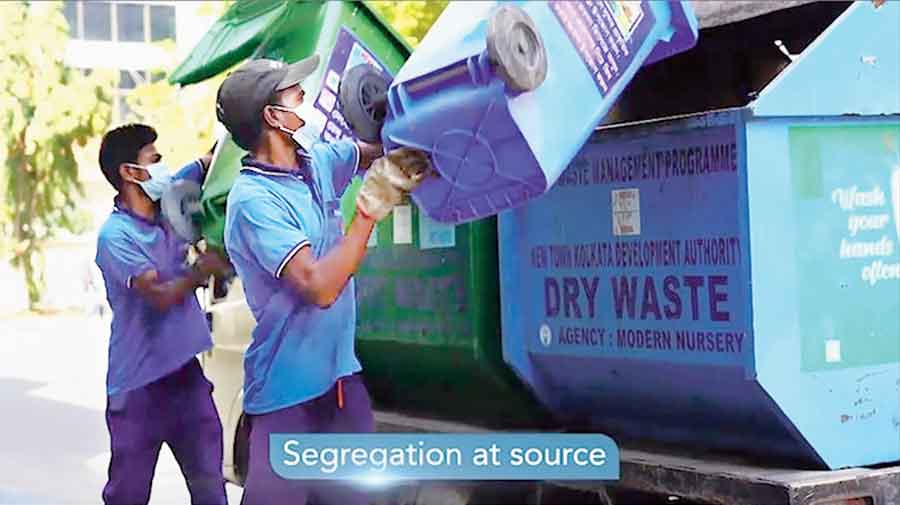 New Town emerged the national winner in two key verticals — Digital City and Smart Waste Disposal and Clean City — at the seventh Smart Cities India Expo 2022 held in Delhi from March 23 to 25. The contest was organised by India Trade Promotion Organisation, an enterprise under the ministry of commerce and industry, and was supported by the ministry of housing and urban affairs.
The Smart Cities India Awards recognised projects that have made an impact by making cities liveable, sustainable, and economically viable by honouring the best practices and models in the Smart Cities concept.
April
Sleaze racket busted- A sleaze racket is busted in HB Block with six women and four men being arrested on April 4. Owners of the three-storied house lived elsewhere for years and the caretaker, who had the keys, was among those arrested. Police said they acted on the basis of complaints from a neighbour about men and women entering and leaving at odd hours everyday.
Parking stickers- To tackle the problem of excessive cars parking in their lanes, the AJ Block residents' association launched a car parking sticker for residents. The aim was to demarcate cars that belonged to residents so as to estimate how many outsiders were parking there.
AC pipe thefts- BA Block witnessed a spate of thefts in August with thieves targeting - not cash or ornaments but air conditioner pipes, exposed outside homes. Similar thefts started getting reported from blocks like AA and HA in Salt Lake and BF and BC blocks in New Town. Taps and manhole covers started disappearing from driveways, gardens and backyards too. In most of these cases children and adolescents were found to the culprits with some admitting to be drug addicts.
Taj City Centre opens - Taj takes over the space where Swissotel used to be in City Centre 2. Swissotel operated from 2010 to 2020. After a two-year gap for renovation, the space reopened as Taj City Centre on May 7. The five-star property, that has 147 rooms, is a partnership between IHCL and Ambuja Neotia Group.
May
Mobile book library outside eco park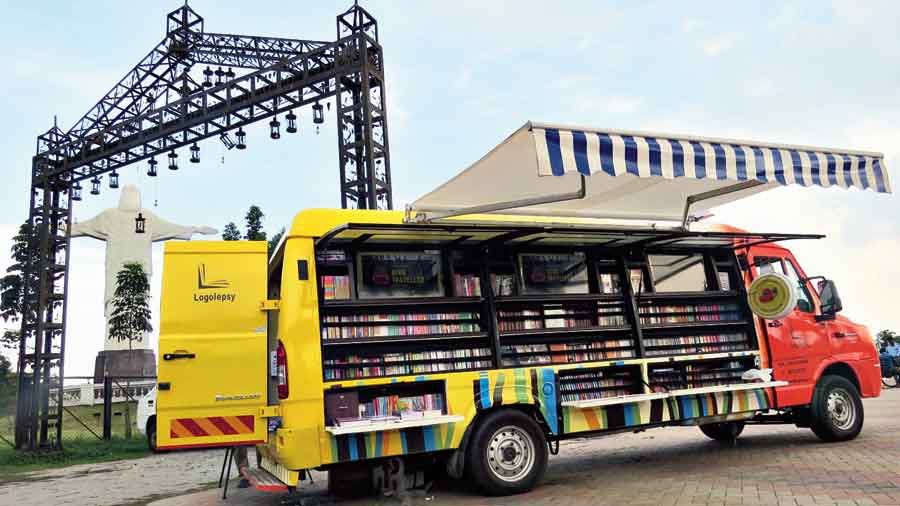 A book shop cum library was flagged off on May 10. The initiative, called Book Traveller, is housed in a 22-feet-long van that stands parked in the Gate 4 parking lot of Eco Park. The van stays parked here six days a week from 3pm to 8pm, except Monday when Eco Park itself remains closed.
Rosedale online voting allowed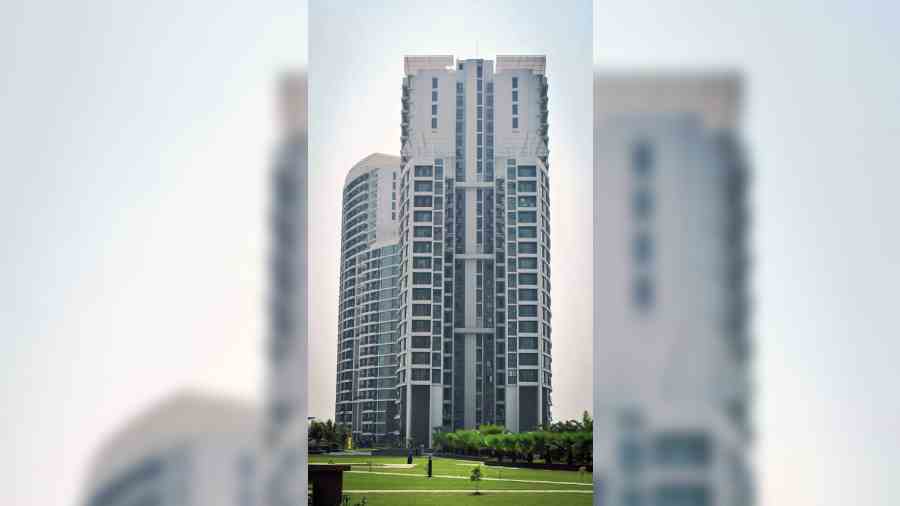 Calcutta High Court issued an order on May 11 allowing the owners of Rosedale Apartment in New Town to cast their votes online for selection of representatives in their board of management. Flat owners had polls before in 2019 but a candidate, who had lost the election, moved the Competent Authority, claiming that the election was bad in law as voters were allowed to cast votes online. The judge held that since the voters were the owners of a private property, there was no need to involve a government department in the issue. Online voting to elect residents' body office-bearers is a major issue in big housing estates in New Town.
Community hall for New Town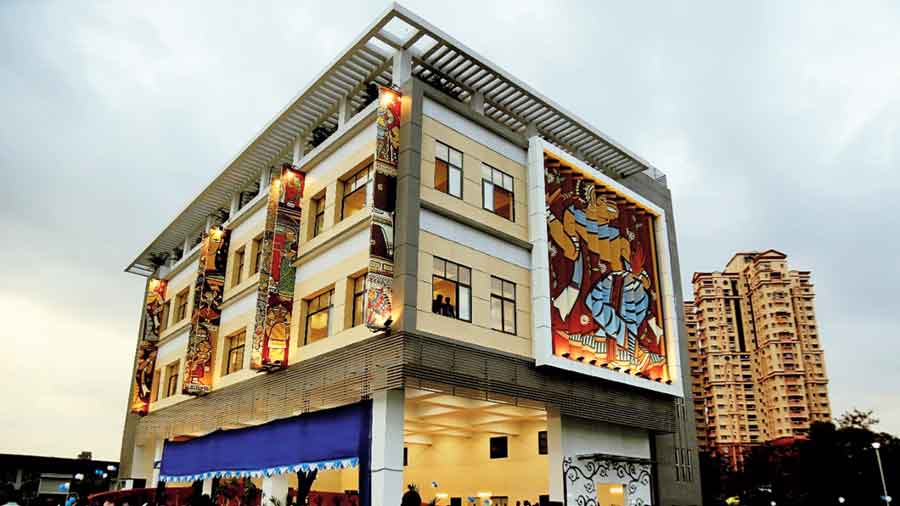 NKDA opened its second community centre on May 10. Inaugurated by minister Firhad Hakim, the centre is near Akankha complex in Action Area II. The three-storeyed building has banquet space, lawn etc and can be hired for social events. The first community centre was opened last year near Biswa Bangla Gate. NKDA opened its second community centre on May 10. Inaugurated by minister Firhad Hakim, the centre is near Akankha complex in Action Area II. The three-storeyed building has banquet space, lawn etc and can be hired for social events. The first community centre was opened last year near Biswa Bangla Gate.
Food trucks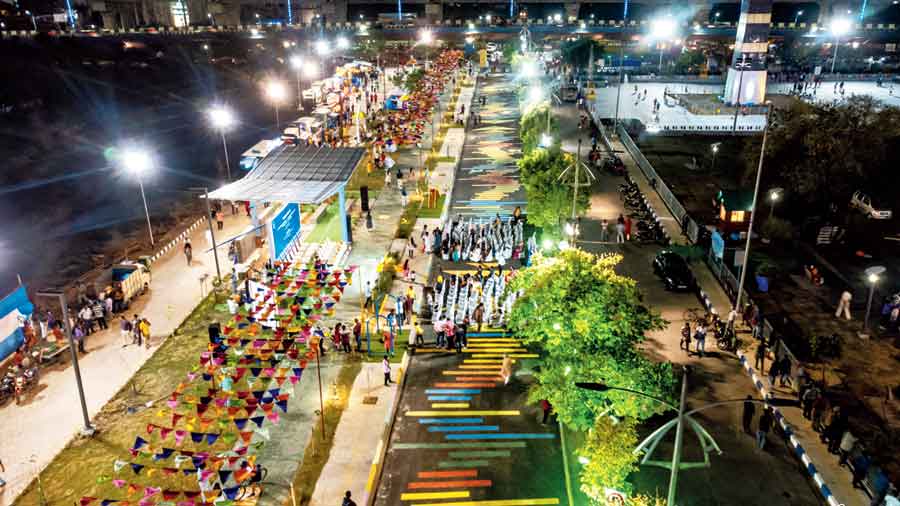 KDA starts allowing food trucks to park at two designated spots from the evening till midnight from June 3. Aimed at starting a happening nightlife in the township, the trucks park under the flyover connecting the Axis Mall side to the Central mall side and in front of Mothers Wax Museum.
Pumping stations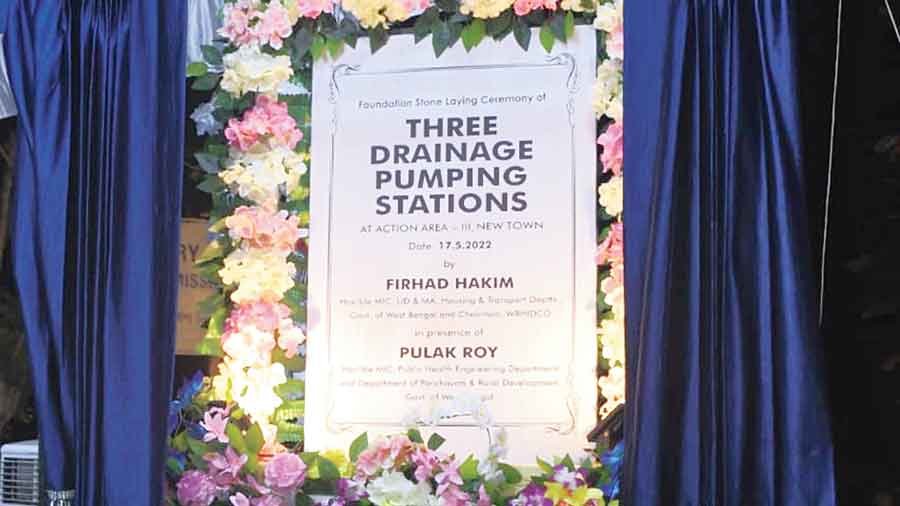 Work began on May 17 on three pumping stations in New Town Action Area III. The projects are expected to be completed in eight to nine months after which the area should be able to suck in water accumulated due to heavy rainfall and pour it into Bagjola Canal.
CCTV for CG Block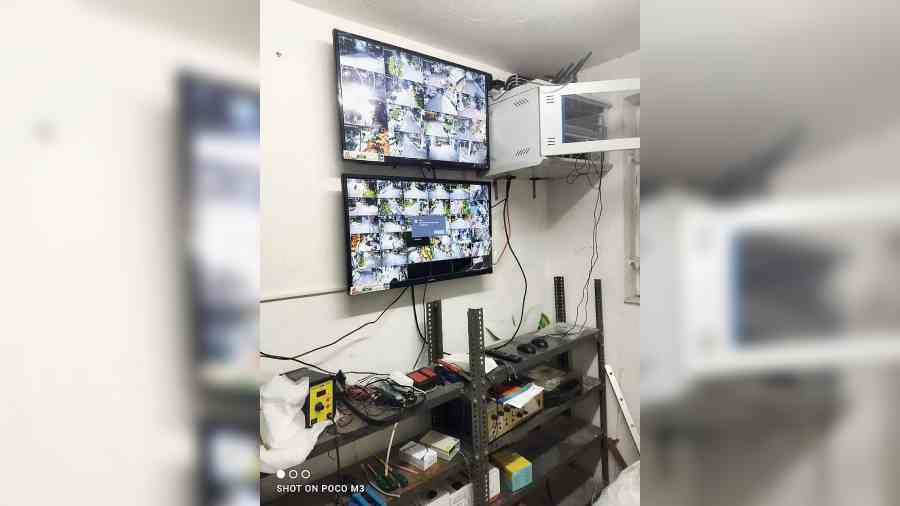 CG Block brought every lane and bylane under CCTV surveillance, at an event inaugurated on May 29. The project involved installing 48 cameras at a cost of more than Rs 8 lakh, that was borne out of its own funds. The decision to bring the block under surveillance was taken after a spate of robberies in June 2021.
New Iskcon temple- A temple was inaugurated diagonally opposite Sukhobrishti in late May. Spread over two acres, the space was being run as a cow shed by International Society for Krishna Consciousness (Iskcon) for three years before this. A spiritual retreat is also expected to be built here where people can experience life close to nature.
June
Pay to play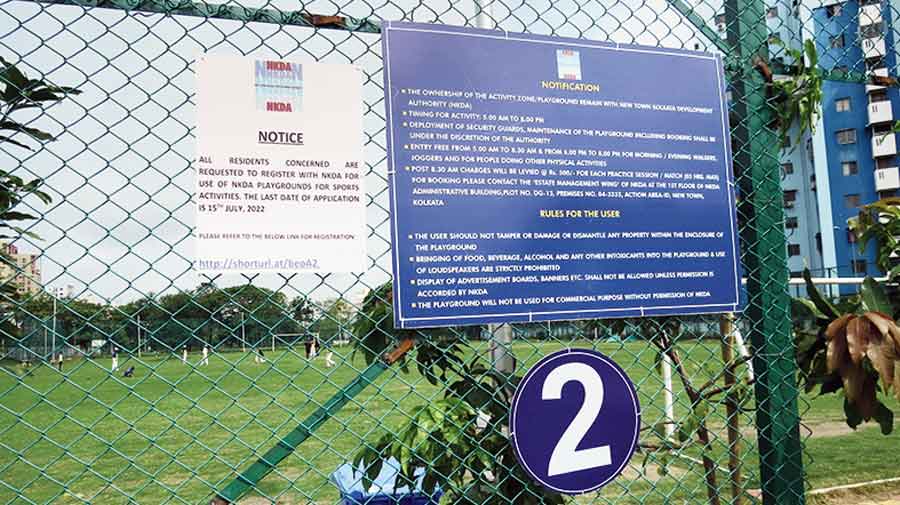 New Town Kolkata Development Authority (NKDA) has fixed charges for using some of the township's parks for group activities like playing games. A signboard has come up in several parks informing that charges would be levied for practice sessions and matches after 8.30am, at the rate of Rs 500 for a maximum of three hours. Users have been asked to contact the estate management wing of the NKDA at the NKDA administrative building for booking. However, entry continues to be free for morning or evening walkers and joggers. The notice mentions that from 5am to 8.30am and from 6pm to 8pm, entry would be free for physical activities.
Problem at FE Block school: A section of parents filed a court case challenging the formation of a new managing committee of the Bidhannagar Municipal School. The case is being heard in court.
Plastic bottle shredder in CA Market- An e-waste collection unit and a plastic bottle shredder are inaugurated in CA Market on World Environment Day. An initiative of local councillor Rajesh Chirimar, the bottle shredder simply cuts them into tiny chips so they can be easily segregated and recycled. Residents also have the option of safely dumping their electronic waste like old phones and batteries here that otherwise leak Chemicals into the soil. Donators receive coupons in exchange for their waste.
Museum opens: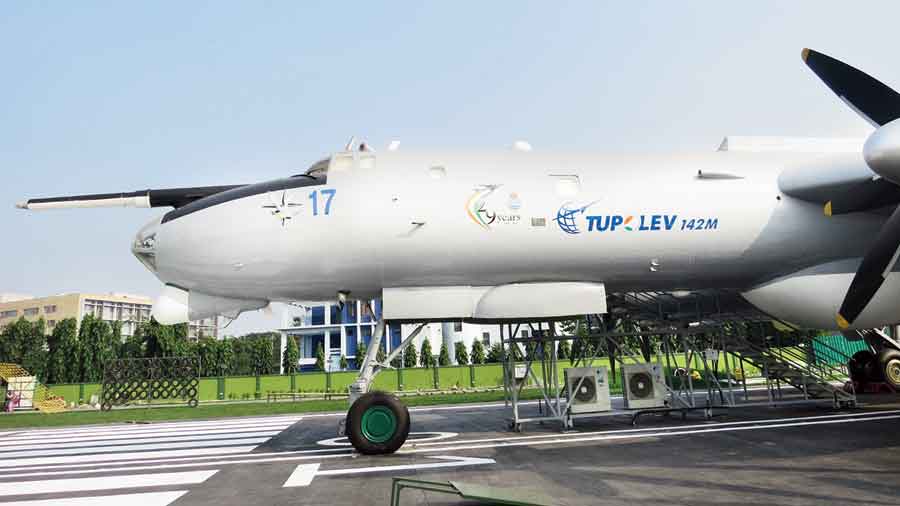 An aircraft museum is inaugurated by chief minister Mamata Banerjee on June 8. Situated next to the New Town police station, the museum is the second of its kind in India after the one in Visakhapatnam and boasts of aircraft like the long-range anti-submarine and reconnaissance aircraft and the Indian Navy's decommissioned TU-142.
Space for people: Two community spaces are thrown open in the New Town Clock Tower vicinity on June 3. One is the Community Zone stretch under the Axis Mall flyover with sitting space and chess board table tops, children's play equipment. There is a stage nearby, along with pictures of eminent personalities and a public toilet. The other space, Streets4People, is a stone's throw away comprising Street 106 and the barren stretches of land on its sides. It is off limits for vehicles, offering a free way to pedestrians and cyclists and food trucks are allowed to park and sell food items from 6.30pm till midnight.
Poll time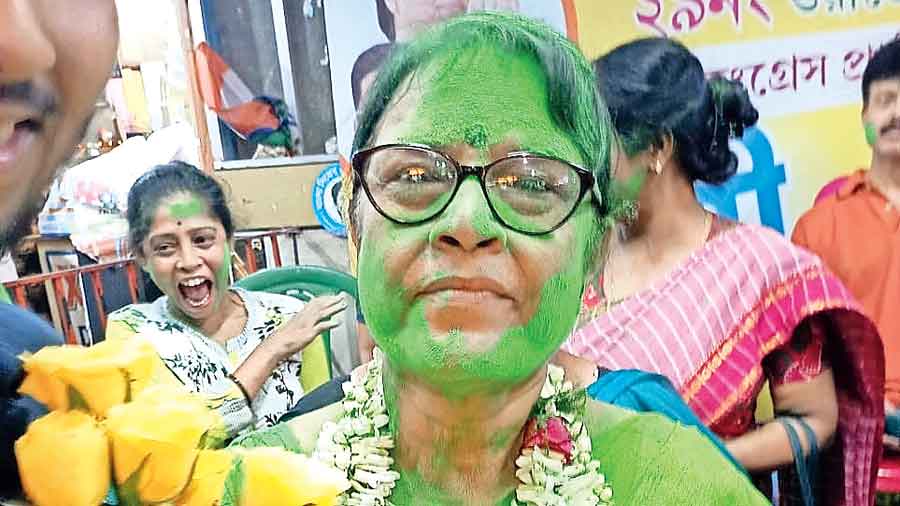 Bangur Avenue goes to polls after four years. Polls were held back in Ward 29 of South Dum Dum Municipality due to a court case but voters finally got to exercise their franchise in June and Trinamul Congress's Banasree Chatterjee won with 9,583 votes. BJP finished second with 951 votes and CPM with 949 votes.
July
Sealdah link: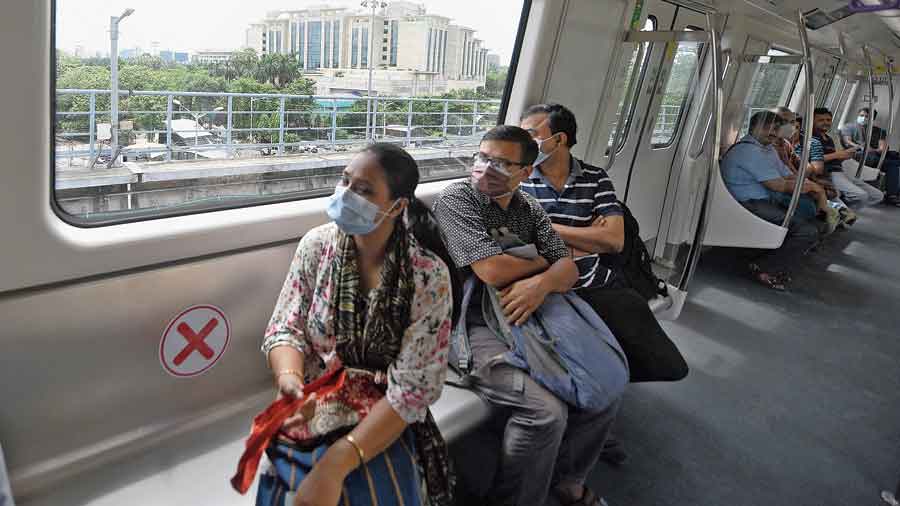 The East-West Metro's Sealdah station was inaugurated on July 13. The service connects Sealdah railway station to Sector V. The first trains leave Sealdah at 6.55am and Sector V at 7am. The last trains leave Sealdah at 9.35pm and Sector V at 9.40pm..
Recycling water: The water that you flush down the toilet pipe is being treated and reused to water the greens in Eco Park and the dividers on a large part of New Town roads. In a significant step towards achieving a circular economy, a practice started on July 21 to use effluent water from sewage treatment plants for gardening.
September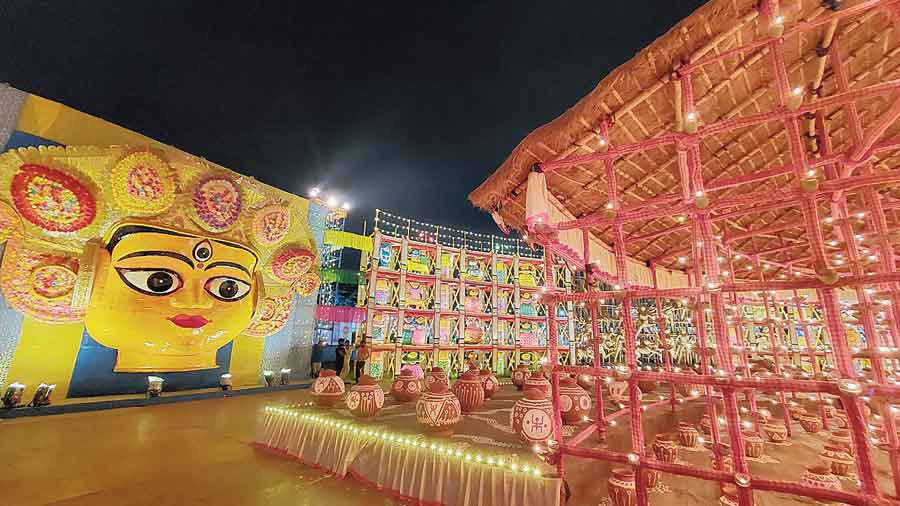 New puja: New Town Sarbojanin Durga puja starts at the City Square ground in front of Central Mall. This is the first community puja to be held in New Town which is not organised by a block residents' association or a housing complex. It is being hailed as a major puja of the future by all visitors starting from those who came for the opening on September 26. Prasanta Pal's pandal, on the theme of Bangajanani, is a riot of colours which take on a magical luminosity at night. The backdrop of the idol is decorated with items of daily use in villages, like gamchha, kulo and madur. Five women priests, led by Dattatreya Ghoshal, are in charge of the rituals.
Subway opens: A pedestrian subway complex came up at the Dum Dum Park intersection on VIP Road. It was inaugurated on September 30. This is the third pedestrian subway complex that has been built on VIP Road. The subway is expected to make crossing VIP Road easier and safer for commuters and those living in Bangur Avenue and Dum Dum Park.
October
Carnival-bound: Two pujas from Salt Lake and one from New Town made it to the state government's Red Road immersion carnival on October 8. FD Block and AK Block were the chosen ones from Salt Lake while New Town Sarbojanin made it in its debut year.
December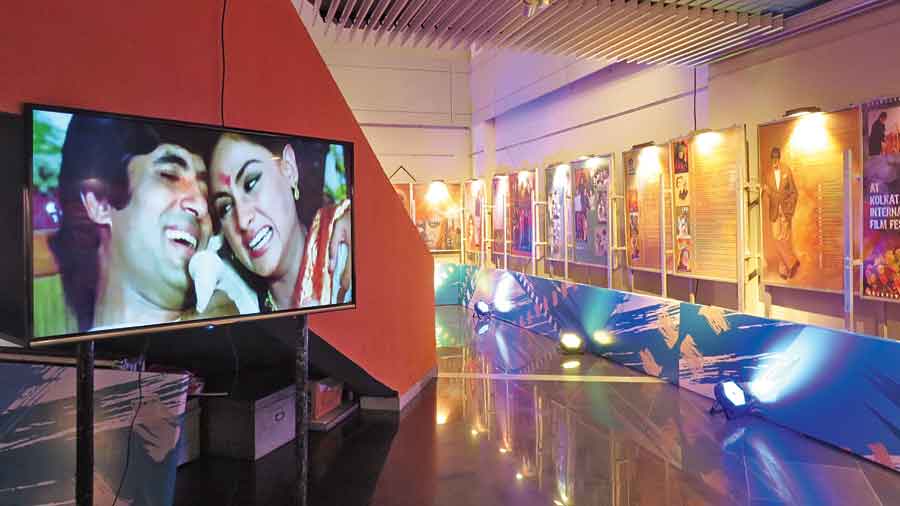 Film fest: The 28th Kolkata International Film Festival took place from December 16 to 22 at Nazrul Tirtha. Two exhibitions also took place, one on Amitabh Bachchan who turned 80 this year and on Jean-Luc Godard who passed away.
Neighbours we lost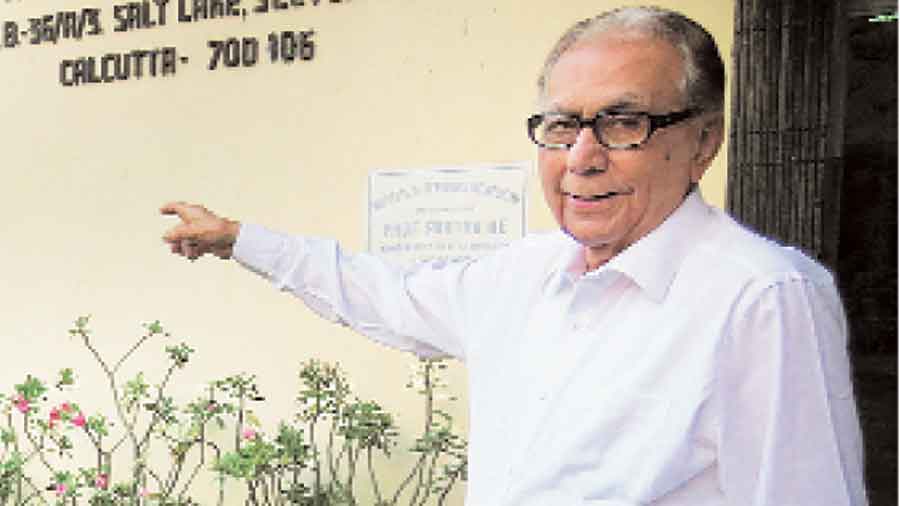 Dr Baidyanath Chakrabarty
When: April 15
Dr Baidyanath Chakrabarty, one of India's pioneers in IVF research, died at the age of 94. He was undergoing treatment at a Salt Lake hospital since mid-March after a massive cardiac arrest. Dr Chakrabarty founded the Institute of Reproductive Medicine in HB Block in 1986 for artificial insemination research. He handed it over to the ICMR in 2019. The state government had given him a Lifetime Achievement Award in 2019.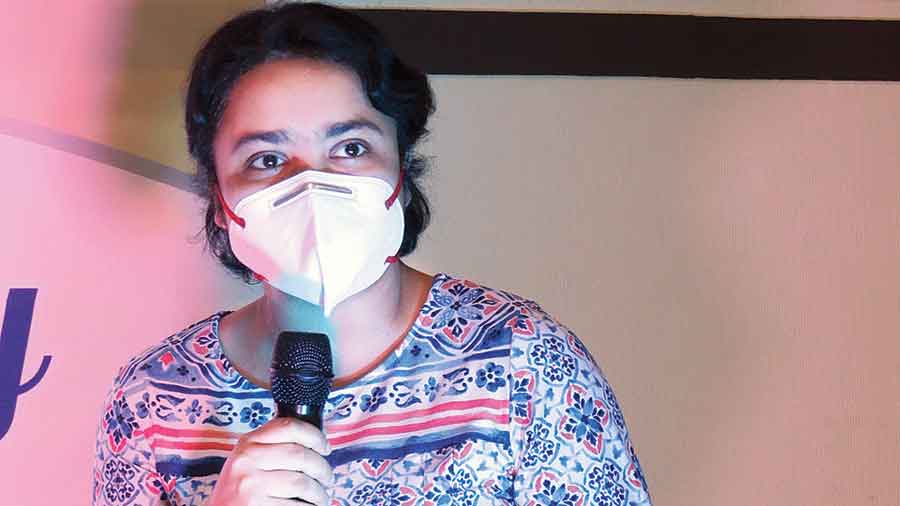 Dr Sanjukta Shyam Roy
When: May 3
The 43-year-old anaesthesiologist, a resident of New Town, was declared brain dead at Apollo Hospital after a massive cerebral infarction but she lives even after death as her cornea, liver and kidneys were donated for organ transplant.
Achievers 2022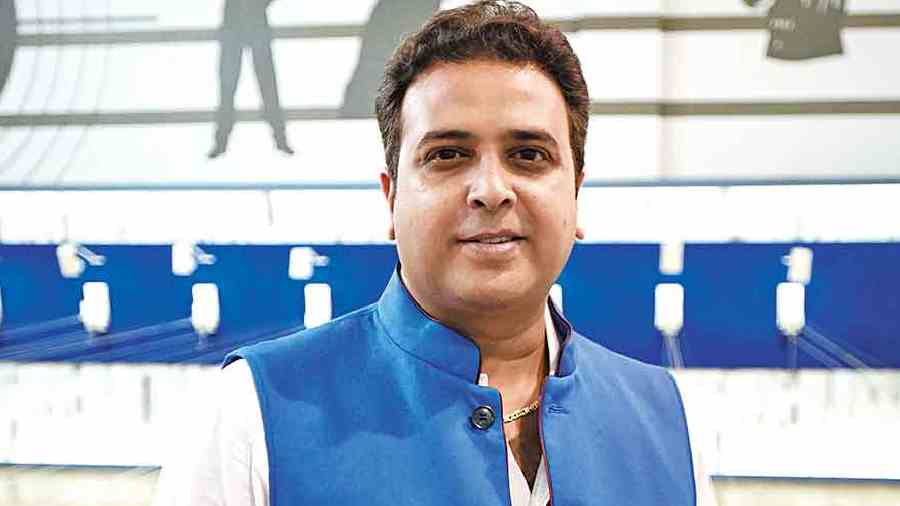 Joydeep Karmakar: He has taken charge as the chief national coach of the rifle team from May 1. The Olympian is a resident of Rishi Ecoview, New Town.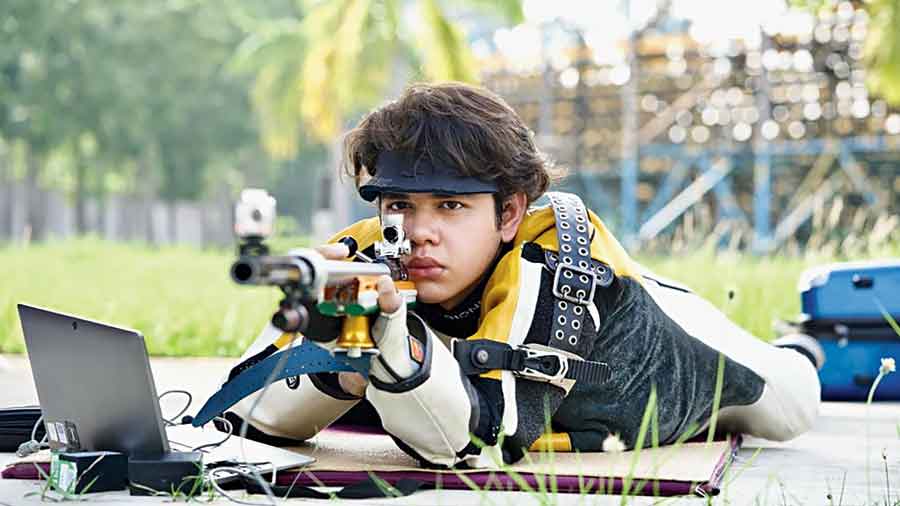 Adriyan Karmakar: The budding shooter had quite a rich haul through the year, bagging two bronze medals in the 65th National Championships 2022. Olympian Joydeep Karmakar's son, a student of The Newtown School, also won the CBSE Zonal Gold Medal and the Kumar Surendra Singh All India School Gold Medal. He also won six gold and two silver 2022 medals in the State Championships.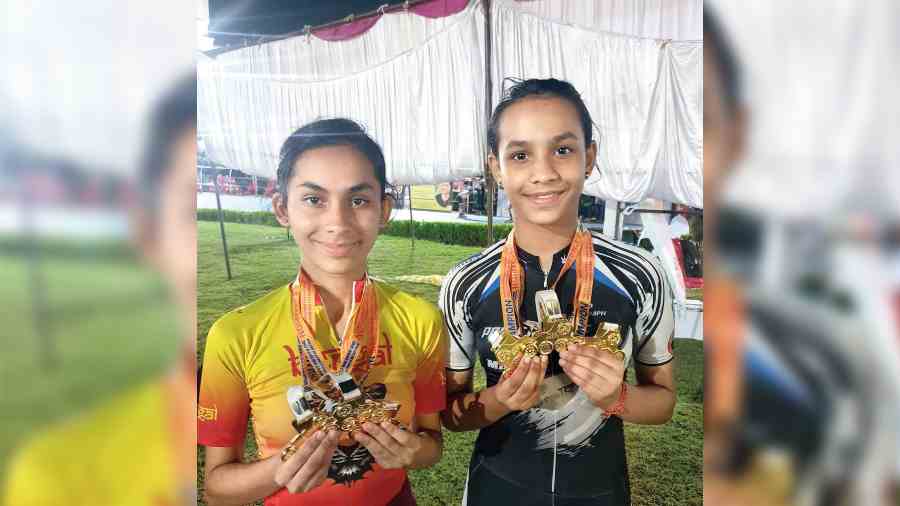 Ridhi Bahety: The 20-year-old Ultadanga girl has qualified for the international preliminary trials to represent India in Roller Speed Skating. She won three gold medals in three events in he 2nd National Ranking Skating Championship held at Raipur in June.She also won a gold , a silver and a bronze medal in three events at the 3rd National Ranking Skating Championship at Jodhpur in August. She also topped in all four events at the State Championship from in October 2022.
Prisha Bahety: Ridhi's younger sister, aged 15 years, has had an equally impressive year winning three gold medals in three events at the 2nd National Ranking Skating Championship at Raipur in June. She also won three gold medals at the 3rd National Ranking Skating Championship at Jodhpur in August. She has remained the State Champion for the last seven years, winning three gold medals at the State Championship held in October. She rounded up the year with two gold medals in the CBSE Zonal level Championship in Raipur in December and qualified for the CBSE Nationals to be held at Gurugram in January.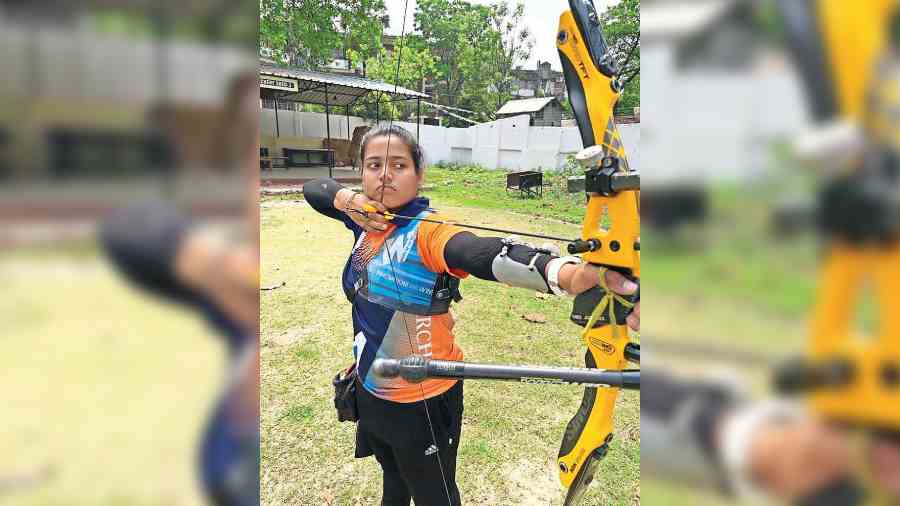 Aditi Jaiswal: The 19-year-old archer from Baguiati won a spot in the recurve team to represent India at the Archery World Cup Stage IV Medellin, in Columbia. Aditi, who is coached by Rahul Banerjee, figured in the top eight in the senior national meet in March which made her eligible to take part in the trials along with 15 others. With just four spots for girls up for grabs in the recurve event, she defeated Olympian Deepika Kumari by shooting a perfect 10 in the last round and came sixth. There are four archery World Cups that take place through the year. While the top four in the ranking round get to compete in the Stage I, II and III World Cups, those ranked 5th to 8th are sent to the Stage IV one.