A group of researchers and diplomats toured the old Chinatown in Kolkata's Bowbazar on Sunday.
The walk was an attempt to know the neighbourhood and the history of the Chinese community in Kolkata which dates back over 200 years.
The group, led by Chinese consul general in Kolkata, Zha Liyou, met in front of Nanking, the legendary Chinese eatery that counted Raj Kapoor and Dilip Kumar among patrons. Nanking shut shop many years ago.
The group stopped at half a dozen Chinese temples, including  the Sea Ip Church, built in 1905 and dedicated to Kuan Yin, the goddess of mercy, and Nam Soon Church, which dates back to 1820.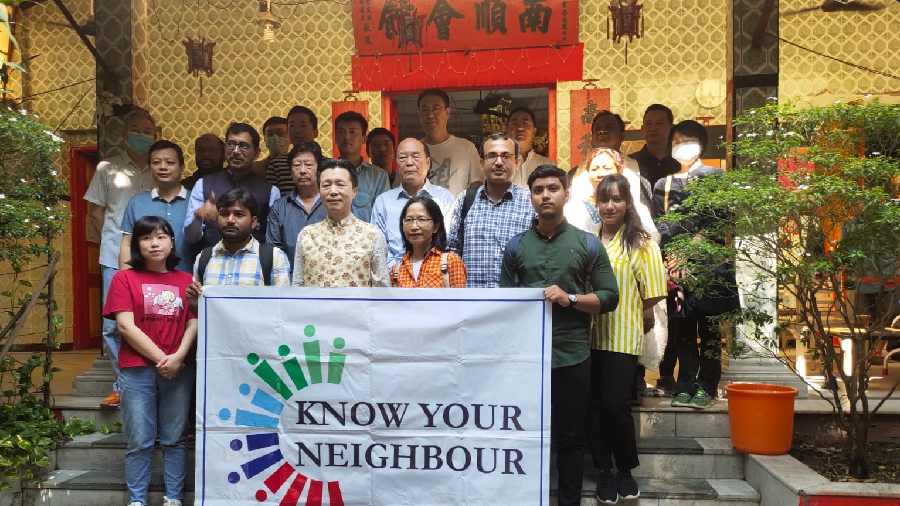 Participants with the Chinese consul general (third from left in front row), Zha Liyou, at Nam Soon Church
Other stops included the Choonghee Dong Thien Haue Church and the Gee Hing Church.
"The Chinese are one of the oldest settlers in Kolkata. They have made significant contributions to dentistry and tannery sectors. The Chinese influence on Kolkata's cuisine is indelible. But these areas, which are part of our heritage, are lying in neglect. If we want to preserve our diversity, we have to preserve this heritage," said Sabir Ahamed of Know Your Neighbour, a campaign that organises walks in different parts of the city.
A small locality near Budge Budge was the first Chinese settlement in Kolkata. The place is Achipur, named after Chinese trader Yang Dazhao (nicknamed Atchew), who arrived on the banks of the Hooghly in 1778 and has a temple worshipping him.
The Chinese trader set up a sugar mill on the banks of the Hooghly, south of Budge Budge. The tiny settlement around the mill — it drew workers from mainland China — soon became a Chinese colony. The settlement was christened Achipur after the trader. The community grew and spread to Bowbazar and, much later, to Tangra.
"In the 1920s, the size of the Chinese community was around 20,000. Now, it is barely 2,000," said Ahamed.
Zha Liyou, the Chinese consul general, said many of his consular staff were new to Kolkata. "I wanted to show them Chinese history and culture that is an integral part of the city," he said.