The sighting of a Eurasian Scops Owl in New Town on Wednesday has caused excitement among birders, coming as an early winter surprise for the community.
The owl is native to parts of Europe such as Azerbaijan, Austria, Croatia and Turkey and parts of Africa including Kenya.
Woodlands and orchards with water bodies nearby are typically the natural habitat of the species. The Rajarhat-New Town region partially mimics its habitat as it has tall grass interspersed with trees and water bodies.
Souvik Roychoudhury, a senior director of Cognizant and an avid birder who regularly moves around the grasslands of New Town and Rajarhat in the morning, said he was alerted by Narayan Ghosh, another birdwatcher, on Wednesday about the owl.
It was sitting on a branch of a tree bordering a water body behind the Bengal Silicon Valley, less than 700m from Eco Park, off the Major Arterial Road.
"I immediately set off from my house and fortunately could spot the owl, though it was camouflaged in the foliage. I started clicking photographs. For a brief while, the bird stared right back at me. I nearly froze as this was an extremely rare sighting," said Roychoudhury.
Ghosh said he and other birding enthusiasts were looking for migratory birds when they spotted the owl on Wednesday morning.
"We clicked a few photographs and then called in Roychoudhury," said Ghosh.
Subhankar Patra, who runs a Facebook birdwatching group called SundayWatch, said it was fascinating how birds were still coming in numbers to New Town, where roads and highrises are multiplying every year.
"The fact that a Eurasian Scops Owl was spotted in New Town is a feat because the bird has only been spotted in the entire country 20 times. This is possibly the first time this bird has been spotted in this part of the country," said Patra.
The Eurasian Scops Owl has distinctive golden yellow eyes and can be easily distinguished as it has ear tufts which they raise when alert. They can be difficult to spot when they roost in shady trees and hollows as their plumage resembles the bark of a tree.
According to Patra, this bird is a passage migrant and is likely to roost in the area for at least a few weeks if left undisturbed.
Swathes of Rajarhat and New Town that have so far escaped the construction boom throw up the occasional avian surprise, much to the delight of birders.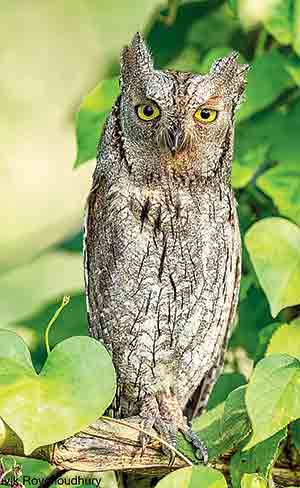 It was sitting on a branch of a tree bordering a water body behind the Bengal Silicon Valley, less than 700m from Eco Park, off the Major Arterial Road.
An expanse of tall grass behind Mother's Wax Museum comes alive every morning and late afternoon with the chorus of birds. The marshes and water bodies nearby are home to common avian residents and the odd migrant.
A wetland near the Hanuman temple, around 500m from the Seven Wonders Park, is another place where patience is rewarded with a decent sighting of common species.
A study by the forest department and Hidco confirmed the presence of 28 species in small patches of green along the Major Arterial Road.
The birds that have been recorded include the Acorbian Cuckoo, Yellow Wagtail, Black-tailed Godwit and the Red-wattled Lapwing, an official of the forest department said.