The authorities are planning to introduce push carts for hawkers and street food sellers in Sector V in Salt Lake to free up pedestrian space.
The township that once took pride in its neat and clean look and wide pedestrian-friendly pavements is now the happy hunting ground for hawkers selling wares ranging from mobile covers to fruits. 
Nearly all the pavements and walkways of Sector V are now overrun with hawkers.
The Telegraph reported on multiple occasions, how thousands of commuters risk their lives as they are forced to walk on the roads even as cars and buses zip past them.
The Nabadiganta Industrial Township Authority (NDITA) commissioned the Rail India Technical and Economic Service (RITES)— a central agency— to formulate a traffic plan as well as a decongestion plan for the tech township several months back.
The central agency's report pointed out that office goers and those passing through Sector V were being forced to walk on the road, which put their lives at risk and slowed down traffic, an NDITA official said.
According to the official, the report stressed the need to free up pavements to ensure the safety of pedestrians and smooth traffic flow.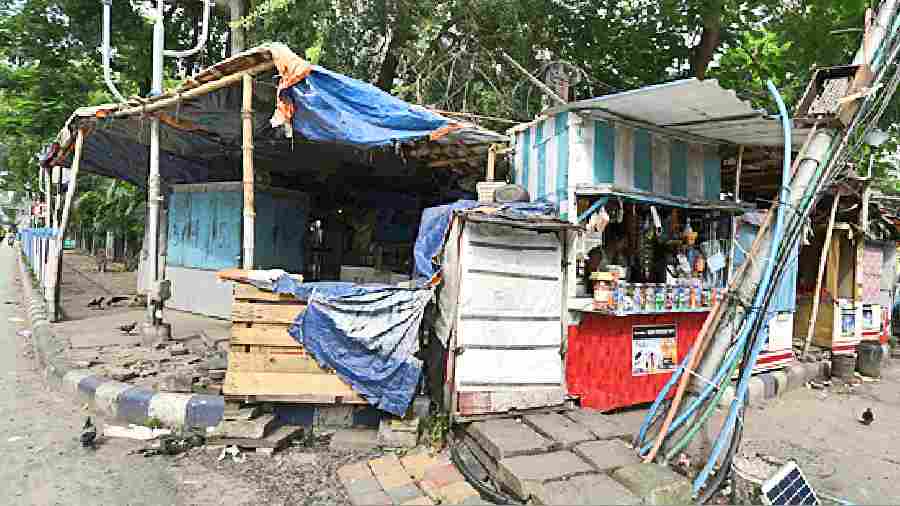 Stalls at Sector V
NKDA chairman Debashis Sen said that they have received the report.
The report lists more than 10 steps to ensure smooth traffic movement in the tech township.
"We are planning to introduce push carts that hawkers will be able to peddle their wares and even food and then go home with the carts. This will ensure that the pavements remain free," Sen said.
According to another senior NDITA official, they will hold a meeting with representatives of the hawkers' union in Sector V and float the plan.
"We will first make a list of hawkers then give them licences and permits to run these carts for a fixed number of hours," said the official.
According to estimates provided by the Sector V traffic guard, every day more than 20,000 people walk to their offices after getting off public transport.