Next week onwards, shopkeepers in Salt Lake and other areas under the Bidhannagar Municipal Corporation (BMC) caught handing out plastic bags under 75 microns in thickness will be fined Rs 500.
The BMC has decided to crack down on the use of illegal plastic bags in all markets and hawkers' stalls falling under the 41 wards of its jurisdiction.
Plastic bags that have a thickness of less than 75 microns have been banned by a notification from the Centre's environment ministry. According to the guidelines, bags having thickness of more than 120 microns should be used.
The decision to launch a crackdown on thin plastic bags, that are generally handed out to shoppers at all markets in Salt Lake and its adjoining areas, was taken at the first board meeting that was held after the Trinamul-led board was sworn in on February 25 this year.
"We have decided to impose a fine of Rs 500 on anybody who sells or hands out plastic bags that have a thickness less than 75 microns," an official of the civic body's environment department said.
Krishna Chakraborty, the mayor of the civic body, said one of the main reasons why large parts of Salt Lake got flooded after being lashed by rain last year is because these thinner plastic bags found their way into gullypits and rainwater drainage channels, choking them badly.
"We conducted a clean-up drive of gully pits and rainwater drainage channels across all 41 wards and our teams scooped up huge quantities of plastic bags that had completely choked our drainage network," said Chakraborty.
The civic body will start sending out teams to various block markets as well as local markets which will check whether the shopkeepers are handing out these banned plastic bags. "If we find any shopkeeper handing out plastic bags below the specified thickness we will slap a fine of Rs 500," she added.
Shopkeepers in most block markets hand out thin plastic bags to customers even if they come with their own bags from home. In CK Market, most shops that sell grocery, vegetables and fish use such bags.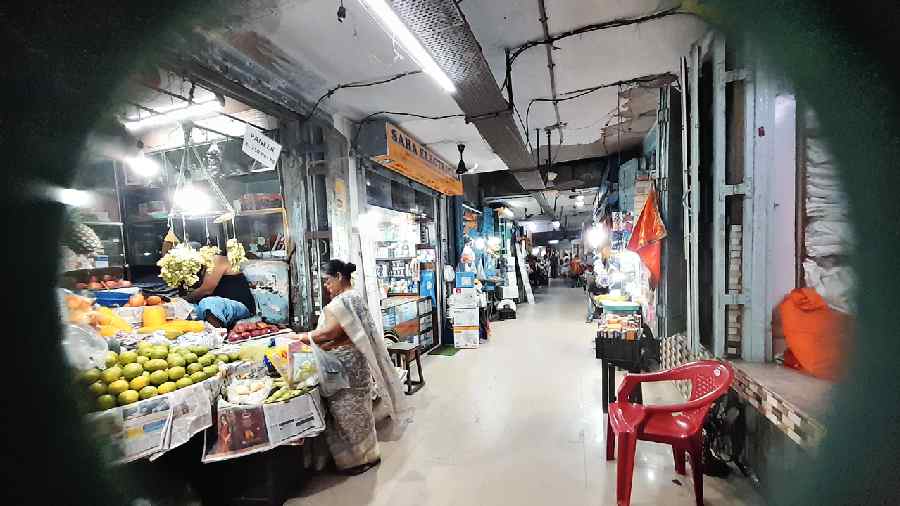 A lady shops for fruits in plastic bags in CA Market.
Snehal Sengupta
"Most people don't bring their own bags and we have to hand out groceries in something that they can carry easily. If not, our sales will dip. We have to rely on plastic as alternatives like paper tear easily. But of course, we will comply with whatever rules the civic body brings in," said Babu Saha, a grocer of CK Market.
Another shopkeeper confessed on condition of anonymity that bags with a thickness of less that 50 microns cost Rs 30 per set of 100 but those with thickness of more than 50 microns cost Rs 50-60 per set of 100.
On Wednesday, The Telegraph spotted shopkeepers handing out very thin plastic bags to shoppers at CA Market. Surah Agarwal, a shopper, was seen leaving with at least five plastic bags of groceries and milk.
"I had forgotten to bring a bag from home and had to take these plastic bags as I don't have a choice now. I am not aware how thick they are or what the norms are," said Agarwal.
Kalyan Rudra, the chairman of the state pollution control board, welcomed the move and said that the civic body should also conduct sensitisation and awareness drives.