In the concluding session of the eighth New Town Boi Mela on February 6, organising committee secretary Urmila Sen announced that the next edition of the fair would be held from December 22.
She also pointed out that the book stalls had registered sales worth Rs 33 lakh. This was a significant figure given that the fair had drawn as many stalls selling products other than books.
Nuclear physicist Bikash Sinha was felicitated (picture right). He spoke about Rabindranath Tagore's awareness of science and how he brought science and literature together in Visva Parichoy. "He had got inspired by meeting Albert Einstein (in 1930 in Berlin). In this collection of essays, published just four years before his death, he explained the most intricate principles of life in the most lucid terms," Sinha said.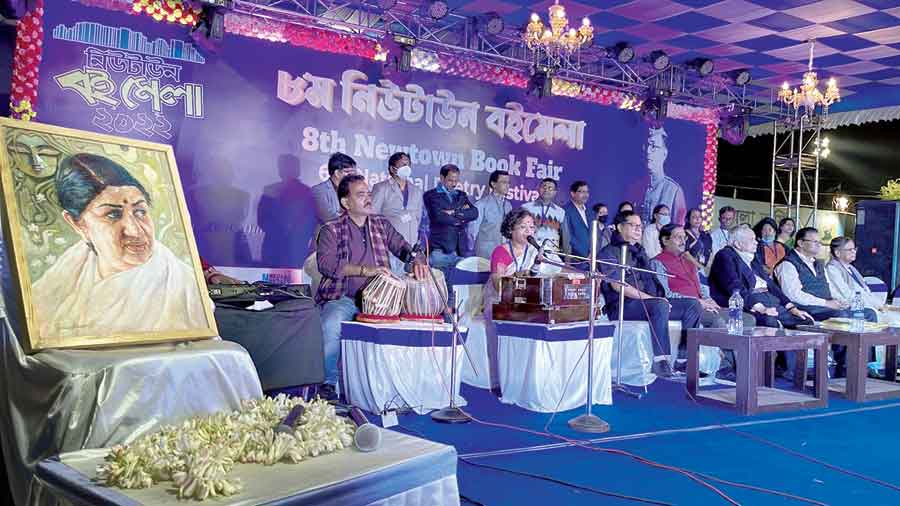 A Lata Mangeshkar portrait on stage on the final day.
Pictures courtesy Gautam Bhadra
The day had earlier seen the demise of singing legend Lata Mangeshkar and Sinha paid tribute by reciting a self-composed poem.
A Saraswati puja had been organised at the fair in front of the stall of Montmartre at the initiative of artiste Debasish Mullick Chowdhury, the founder of the organisation.
Did you visit New Town Boi Mela this year? Write to saltlake@abp.in