Members of a welfare group, who have made payments to book flats at the Shukhobrishti complex in New Town in northeast Kolkata, met up recently to discuss the way forward, given that they are being refused handover of their flats for years. 
More than 100 members of the Spriha Spandan Forum came together at EZCC in December to weigh their options.
Housing Infrastructure Development Corporation (Hidco) has been developing the mass housing complex, Shukhobrishti, over 150 acres in New Town Action Area III, along with Bengal Shapoorji Housing Development (BSHD) and Shapoorji Pallonji Group. The project has been divided into 11 phases of about 1,850 flats per phase and comprises nearly 20,000 residential units for the middle-income group (MIG) and low-income group (LIG) categories. But out of the nine phases advertised so far, only four have been completed and handed over.
"Since 2018, construction at the site has come to a halt for phases V to IX. For each phase, there are 1,850 people waiting to get ownership of their apartments, even after paying 95 per cent of property value, plus GST, to the developers," said Pratyush Mazumder, one of the members who has booked a flat in Phase VI. "We were supposed to get ownership papers by the end of 2019 but were left high and dry. After waiting for more than two years, we, the members of the forum, have now decided to launch a mass agitation and hit the roads with our demands." Their group has more than 7,000 members.
Most buyers are senior citizens who have invested their life savings into purchasing the property. Neelkantha Mukherjee, who attended the meeting on behalf of his mother, said: "My ailing mother is a retired bank employee. She took part in the lottery and her name was selected for a flat in Phase VII. I have been posted outside Kolkata for many years and it is only now that I have been transferred to my home location and can attend meetings of the forum. We need to keep the pressure on, or we'll never get our homes," he said.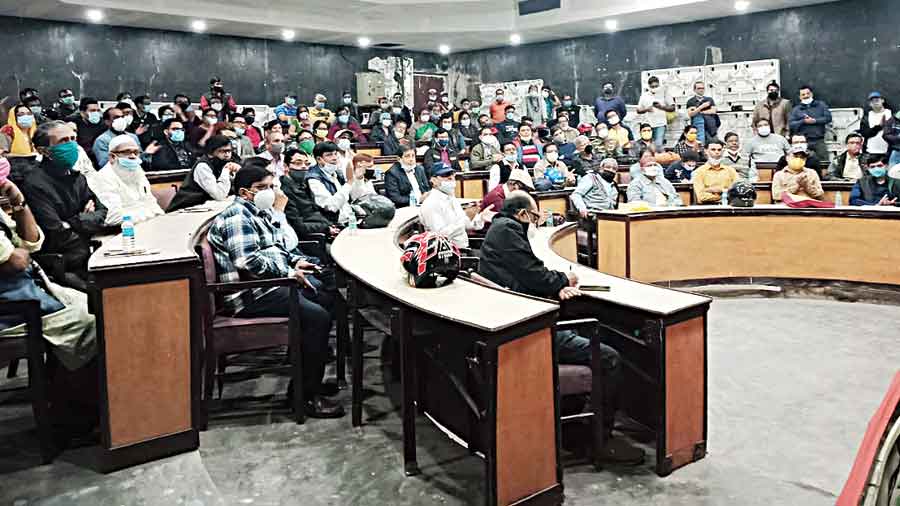 Members of the Spriha Spandan Forum at the meeting at the Eastern Zonal Cultural Centre auditorium in Salt Lake.
Picture by Showli Chakraborty
While some may blame the pandemic for the delay, others accuse the realty giant of taking advantage of the pandemic to further delay completion of the project. Construction work, they reason, came to a halt in 2019, before the pandemic. Work resumed in April 2021, after relentless efforts by the Spriha-Spandan Forum, but was suspended again on May 15 last year owing to Covid restrictions. Work resumed in mid-June but is moving at a snail's pace.
"We salaried people who have to pay EMIs are the biggest losers in this deal. More than 60 per cent of us have booked flats here with bank loans. We are paying EMIs every month but have yet to received ownership papers," said Tapan Kumar Sinha, who has booked a flat in Phase VI.
Members of Spriha Spandan Forum have served legal notices to BSHD, Hidco and Shapoorji but the Calcutta High Court is yet to give them a hearing. "The only option left for us now is to hit the streets with a mass agitation. We are fighting for our rights and cannot give up our savings. We have even gone to Hidco with our plea but got no help," said Vikas Agarwal, one of the organisers.
A spokesperson for Shapoorji Pallonji claimed they were committed to delivering the remaining apartments. "We have already secured requisite funding for completing the project. Covid-19 pandemic and the nationwide lockdown has affected everyone, including the real estate sector. Even after lockdown, there has been a severe shortage of manpower for construction activities," he said.
"However, our construction work has resumed in full swing with hundreds of workers being deployed at the project site. We have already delivered around 10,000 apartments at the project and are fully committed to delivering the remaining apartments in a phase-wise manner from this year," the spokesperson said.
The agitators, however, are not letting up. They have planned to gherao the Hidco office in New Town in the third week of February. "That will be the launch of our agitation," said Agarwal.
Write to us at saltlake@abp.in