Robots, aliens, futuristic inventions and such other science fiction thrills kept company, and memories of Professor Shonku and his adventures were revived when people of New Town gathered at Professor Shonku Park behind City Centre 2 for a programme organised by NKDA on May 2 to commemorate the birthday of Satyajit Ray.
Local residents participated in the programme with great enthusiasm, inspiring friends and neighbours to come and attend the programme as well.
"Satyajit Ray is our pride. Being a music lover, what better way could I choose to pay him a tribute than singing the wonderful songs used in his movies?" said Tapas Bandyopadhyay, a resident of Fortune Square in neighbouring Hatiara, who sang a Rabindrasangeet as well as songs rendered by Anup Ghosal in Ray films.
The old familiar tunes turned the pages back in time and took the audience back to their younger days in the company of Feluda, Topshe, Goopi-Bagha and Bhuter Raja. A spooky atmosphere was created with the use of background music when RJ Aparajita and RJ Madhura of Radio Newtown did a dramatised reading of Ray's supernatural short story Badur Bibhishika.
The performers sang songs from films like Hirak Rajar Deshe, Charulata, Ghare Baire and Goopi Gyne Bagha Byne. The evergreen song Aha ki ananda akashe batashe, sung by local resident Mitali Halder, had audience members lip syncing or keeping the beat with their hands or simply nodding along.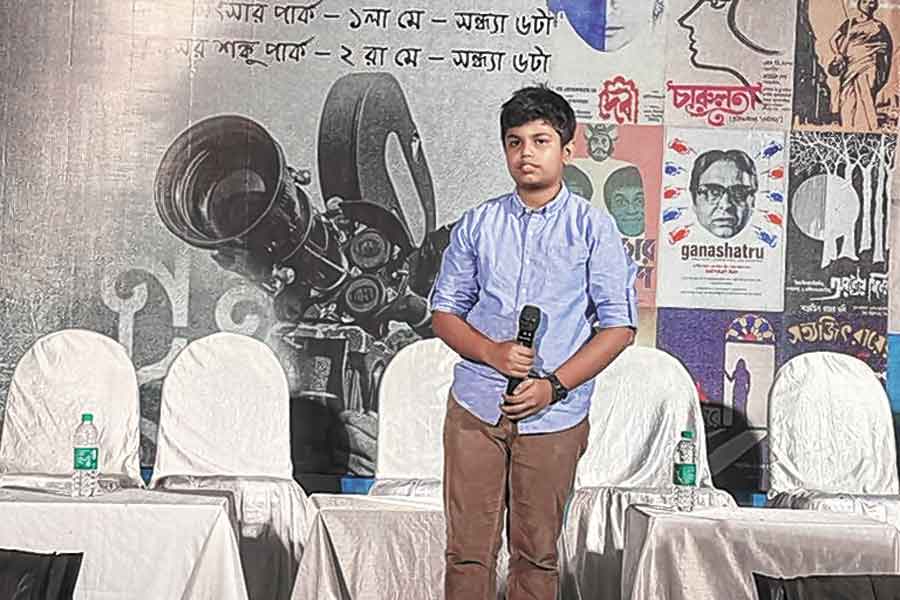 Harshiv Sandalia, aged 12 years, sings Ray film songs
The most remarkable performance was that of Harshiv Sandalia, a 12-year-old from Malancha in Action Area IIB, who enthralled the gathering with his melodious voice which could bring out the melancholy and nostalgia in songs like Ek je chhilo raja (Goopi Gyne Bagha Byne) and Kemon banshi bajay (Goopi Bagha Phire Elo). "I have seen a few movies and read up a few Feluda books in English. My music teacher has taught me these songs," said Harshiv.
People from the neighbourhood enjoyed the evening's programme over tea and biscuits. "I was on my regular evening walk when I noticed this programme taking place and walked in. It is a welcome effort by the organisers. I would also love to participate in such programmes," said Pradip Mukhuty, a resident of Ujjwala, The Condoville, further up the road.
NKDA chairman Debashish Sen offered a floral tribute to a picture of Ray. In his address, he stressed the importance of cultural programmes. "Such a park attributed to Professor Shonku is the only one in India. This has been created to make people reconnect with Bengali fictional characters like Shonku," he said. He also encouraged people of the locality to come forward and organise cultural programmes. "The whole objective is to wean away people from their mobile phones and bring them out to connect and create a vibrant community so that cases of depression, suicide and mental illness reduce."