Although police's drive against people not wearing masks in public places in Kolkata entered the third day on Thursday, many people are spotted without masks.
A second visit to some of the places where the cops had gone earlier like Gariahat and Burrabazar showed that a section of hawkers, who were told to wear masks on Wednesday, were doing business without wearing one. 
On being asked, they told the police that it was impossible to wear masks throughout the day in the hot and humid weather conditions. 
The police said despite all the awareness drives, still there were many who choose not to wear masks in public places and consider it as an option only when a cop spotted them.
The Telegraph found many across the city making different types of excuses when caught without a mask.
Khub gorom lagey (It feels very hot)
Keu amar kotha shunte paay na (No one is able to hear what I am saying)
I am already doubly vaccinated, nothing can happen to me
It's there in my pocket
Covid is gone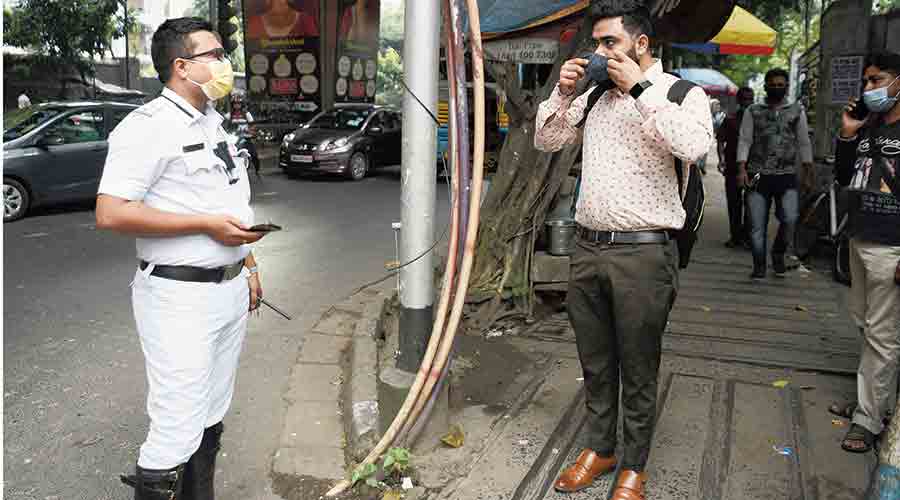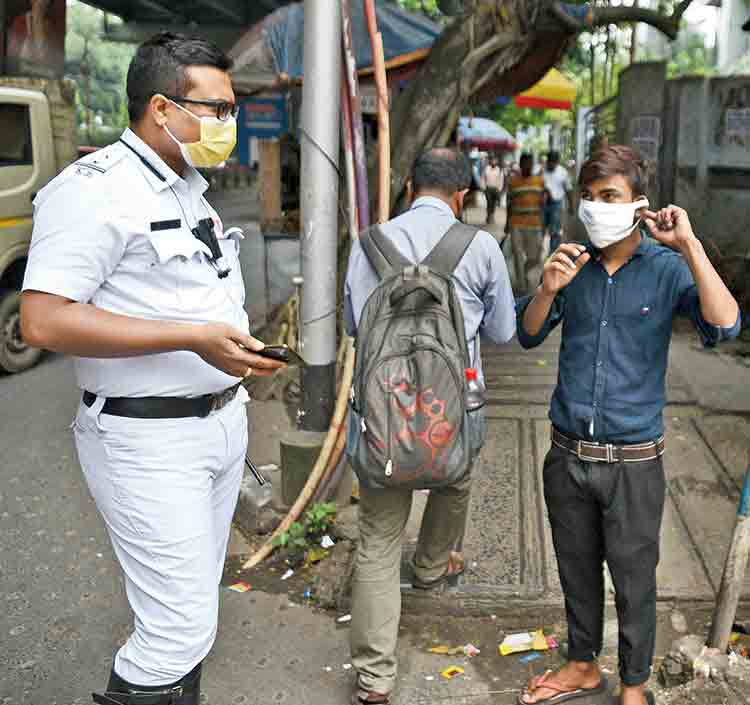 "The most common excuse people give for not wearing masks is that they feel uncomfortable wearing one in the hot and humid conditions," said a police officer posted at Esplanade where dozens of people are prosecuted daily for spitting and not wearing masks.
Kolkata police have been prosecuting people on the roads for not wearing masks for more than a year now.
Several officers directly attached with the "mask-up" campaign said they had seen a gradual change in people's attitude.
"But still it is impossible to attain 100 per cent success. Some people still make excuses for not wearing masks. Last year the majority of the people were unwilling to comply and would often question the utility of a mask. But now at least no one protests if someone is prosecuted without a mask," said the officer in Lalbazar.
Visiting market places across the city like Gariahat, New Market, Burrabazar and Lord Sinha Road, The Telegraph found several people without masks in public places and the cops trying to cajole or warn them into wearing masks.
At least two bikers were seen with their masks hanging from one of their ears at the Park Circus crossing on Thursday afternoon while a group of pedestrians on Southern Avenue were spotted without masks.
"When we asked them to wear masks one of them immediately said they had tea from a stall and were about to put on their masks just before we spotted them," an officer in Rabindra Sarobar said.
Police, civic bodies and health department officials have been carrying out awareness campaigns since the last one-and-a-half years requesting people not to step out on the roads unless absolutely necessary and wear masks whenever they come out.
The spurt in the number of cases of people infected by Covid after Durga Puja has prompted the administration to re-launch the drive against people not wearing masks in public places.
The 'mask up' campaign has also been re-introduced in the city suburbs to ensure that people from the outskirts visiting Kolkata and vice-versa should not become a threat to each other by spreading infections.