The southwest monsoon has already reached Kerala but the Bidhannagar Municipal Corporation (BMC) is yet to start repair of the crater-filled roads in Salt Lake, Kestopur and parts of Rajarhat.
A senior official of the road repairs department of the BMC said they had not called in any fresh tender for the repairs.
According to another BMC official, the councillors of all the 41 wards of the corporation had been asked to conduct a survey of stretches that needed urgent repairs and submit their findings but only a handful have filled in the reports.
The Telegraph had reported on multiple occasions how the roads of all three sectors of Salt Lake, Kestopur and parts of Rajarhat are riddled with craters and potholes.
The situation is such that a councillor had to dump construction rubble on a stretch of Stadium Road opposite Salt Lake stadium's gate number 1 in a bid to level out the potholes.
Similar exercises have been undertaken by a section of residents of different blocks of the township.
Even traffic police have placed cones to mark out deep potholes and caution motorists.
An engineer of the road repairs department at the Bidhannagar Municipal Corporation said private contractors are assigned repair work after they win a bid through the e-tender process. "Till date no such tender has been called and we cannot start repairs anytime soon," he added.
With the monsoon around the corner, it will be difficult to get consecutive days without rain as a freshly laid layer of asphalt needs sunlight to "dry and set properly", he said.
"Given the fact that the tender process has not been started yet in all possibilities we will be able to level out the roads after the monsoon," said the engineer.
On Wednesday, The Telegraph drove around the township and found multiple damaged stretches on the arterial roads in Salt Lake.
A section of First Avenue that leads to Baisakhi Island from the Punjab National Bank crossing had multiple craters on the approach to the island near water tank number 5.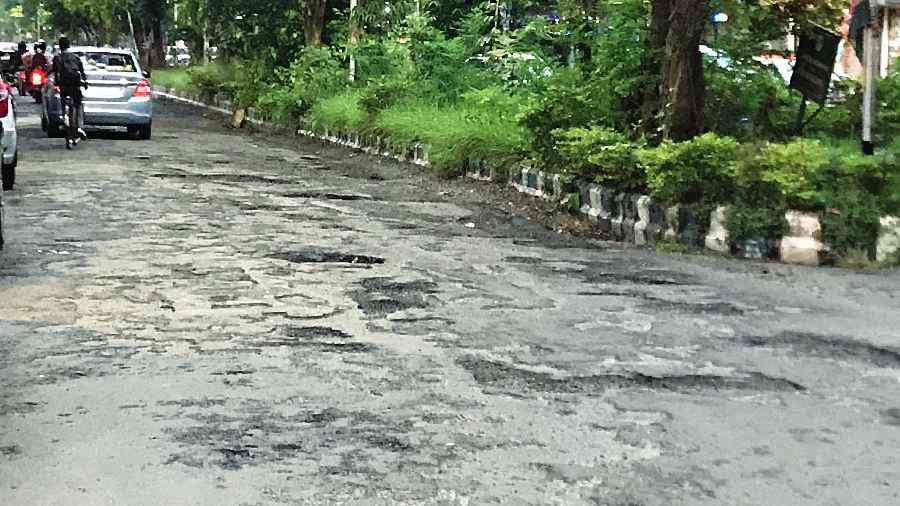 Crater-filled roads in the township
Sourced by The Telegraph
Cars, bikes and even buses were seen moving dangerously while trying to negotiate the 100m stretch.
The worst stretch, however, is near the Salt Lake stadium where there is no sign of the blacktop on the section of the Stadium Road opposite gate number 1.
It is a similar picture in front of the Bengal Tennis Association adjacent to the stadium.
In Kestopur, residents as well as traffic policemen have placed a number of markers, including traffic cones and red cloth stuck on branches, to prevent motorists from driving over the deep potholes.
Mayor Krishna Chakraborty said she was aware of the sorry state of the roads.
"We have already allocated Rs 10 lakh for each ward that will be used to carry out patchwork repairs. We are trying to start repairing the roads as soon as possible, " Chakraborty said.
Mayor Chakraborty said she was aware of the fact that the monsoon was around the corner and admitted that carrying out road repairs during that period would be difficult
"We will repair as many stretches as we can but once it starts raining we won't be able to do much."