A three-lane road with two median dividers, newly laid service roads with a revamped underground sewerage and better illumination will welcome guests to Milan Mela, the venue for the sixth edition of the Bengal Global Business Summit, scheduled for April.
The urban development department has drawn up a plan of nearly Rs 10 crore for revamping the infrastructure around the Milan Mela complex, off EM Bypass, which is spread across 31,000 square metre.
The business summit will be held on April 20 and 21. 
The comprehensive development plan includes converting the existing road hemming the summit venue, behind ITC Sonar, into a three-lane one of 21m-width. The road, through which representatives will arrive at the summit venue, will have two dividers.
The makeover of Milan Mela is in its final stages, said a KMDA official.
The new-look Milan Mela will have a road cutting across the ground through which cars will go inside and drop visitors before moving into a multi-level parking space, from where vehicles can move towards the exit through a road leading to the Bypass.
"The exit road taking vehicles from Milan Mela to the Bypass will be also re-laid with bitumen after the undulating surface is made even," the KMDA official said.
"The stretch where the exit road from Milan Mela meets the Bypass remains at a level lower than that of the Bypass."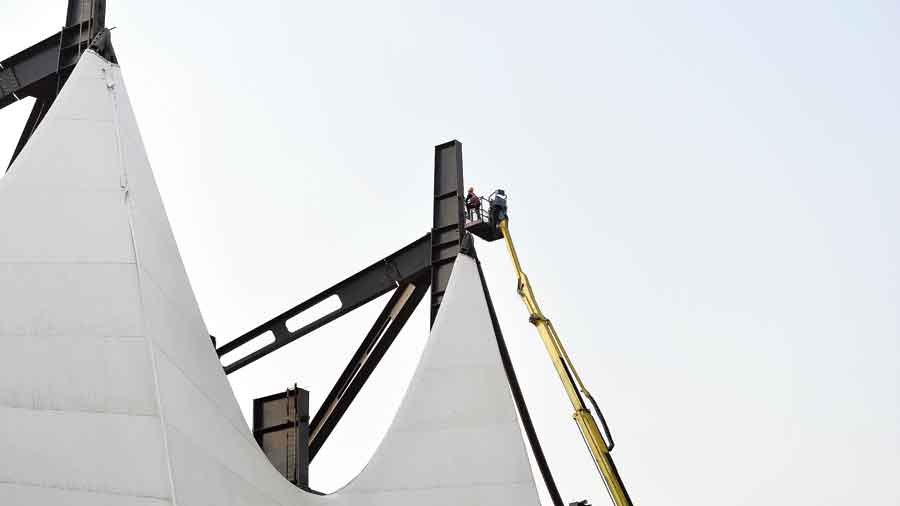 The venue being prepared.
Bishwarup Dutta
The urban development department has decided that the service roads along the Bypass in the vicinity of Milan Mela, including the ones around ITC Sonar, ITC Royal Bengal and JW Marriott Hotel, will be repaired with a fresh coat of bitumen.
But before these service roads are done up, the underground sewerage will be repaired to prevent waterlogging around the ground.
The piers of the Parama flyover will get a fresh coat of paint and new street lights will be installed by March-end. The wall panels of the Science City underpass have already been replaced.
On Thursday, pay loaders moved in at the site near Milan Mela to remove tree trunks and a few temporary structures. Engineers said a part of the footpath along the existing two-lane road behind ITC Sonar would be reduced to make space for another lane.