Not many years ago, some Kolkatans would complain about too much street light. Not any more.
Vast stretches of the city are dark now at night. Dusty and ill-maintained lamps, overgrown plantations, broken and left-like-that street lights force large parts of the city into darkness, which only thickens after lights in shops and signboards are switched off.
The Telegraph took a tour of the city and found many neighbourhoods right in the heart of the city living in darkness. People in almost all these areas said it made them feel unsafe.
Several stretches on Southern Avenue, Gurusaday Dutt Road, Ballygunge Circular Road, JL Nehru Road, Prince Anwar Shah Road and Jadavpur did not have adequate illumination.
In some neighbourhoods, the street lights were not working. In some, they were too dusty to produce enough luminance. In many, overgrown foliage almost entirely covered the lamps.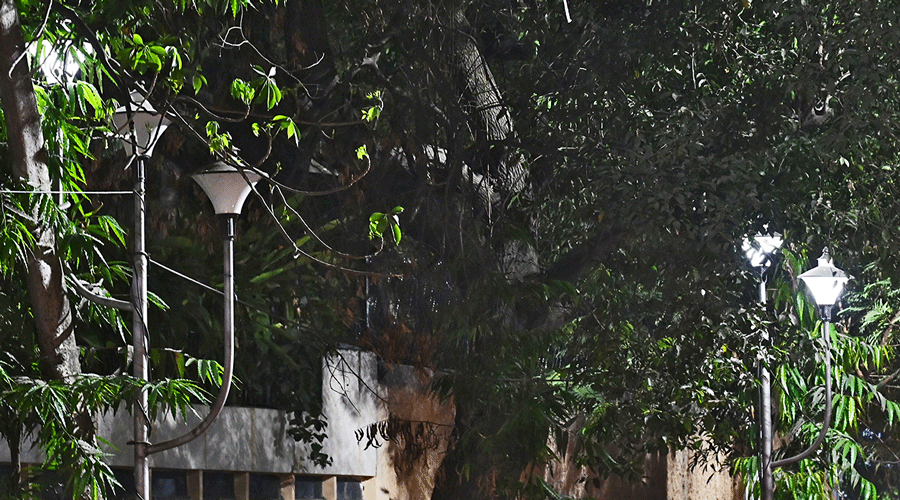 Trident lamps along Southern Avenue hidden behind foliage on Saturday evening.
Pradip Sanyal
Most of the white and blue fairy lights that were coiled around trident posts are gone, further reducing illumination.
A resident of Keyatala Lane in south Kolkata, who was walking along a footpath off Southern Avenue, said: "It is difficult to walk past this stretch at night because the light here is too less. My daughter and I avoid walking alone on this stretch at night."
This newspaper found that most of the tridents on that stretch were almost hidden amidst thick plantations that have apparently not been trimmed for several months.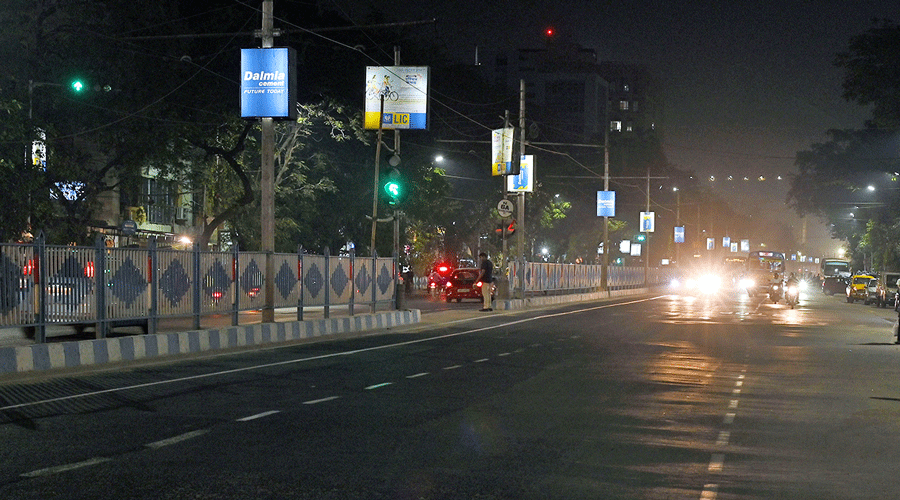 A dark stretch of SP Mukherjee Road on Sunday evening.
Pradip Sanyal
Stretches outside Jadavpur University were dark when The Telegraph visited the spot on Monday evening. Reason: at least three of the lamp posts had their lamps missing.
A female student on the Jadavpur University campus said the area was dimly lit, making the stretch look unsafe. "Nothing has happened till now. But a little more light would certainly be helpful," the first-year student said.
At many places across the city, the blue-and-white fairy chains that are coiled around trident poles were found to be not functioning or completely removed.
The trident-light project — which was part of a beautification drive undertaken by chief minister Mamata Banerjee — is more than a decade old now. Several trident lights have either been found to be defunct or too dirty to have the desired effect. The Kolkata Municipal Corporation is responsible for maintaining the city's lamp posts and pruning trees.
Sandip Bakshi, mayoral council member in charge of lighting at the KMC, said: "We have two ways to gather information about defunct lights. Either the local councillor informs us or our executive engineers carry out assessments at random. Repair of lights along Southern Avenue is in progress."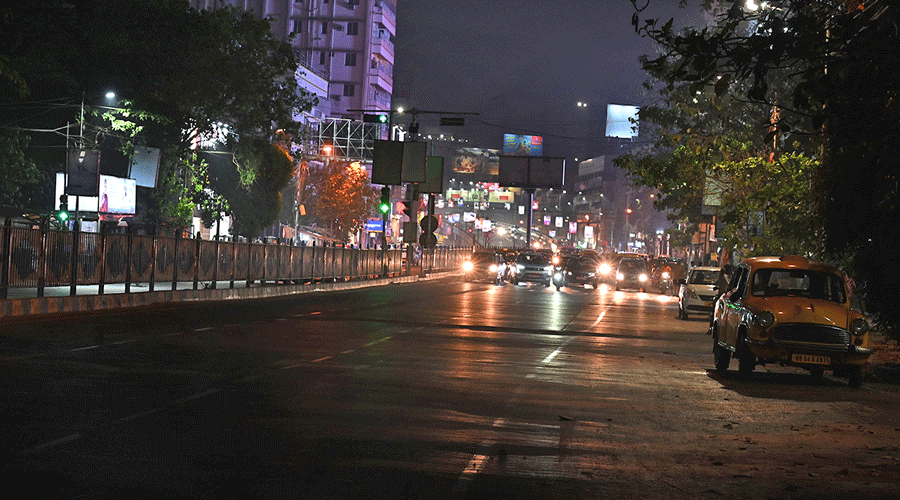 A poorly lit road near the Gariahat tram depot on Sunday evening.
Pradip Sanyal
Asked about the missing lamps in Jadavpur, Bakshi said: "I am not aware of it. Will check and replace them."
According to the KMC records, there are around 3 lakh lamp posts and 10,000 trident lamps.
The KMC's lighting department said there was no plan to install new trident lights. "We will not make any new trident light. The ones that have broken are being replaced with single light poles," said Bakshi.
The mayoral council member said that in places where the poles and lamp covers are in good condition, they will replace the lamps.
The fairy lights tied around the poles that do not glow anymore will be removed. "The chain lights are extremely difficult to maintain and get damaged easily. Another major reason why they have been removed is because of the chances of electrocution from them, especially during the monsoon," Bakshi said.
He stressed that it was the responsibility of the local councillors to identify stretches where trees need trimming and report it to the department concerned.
Debasish Kumar, mayoral council member in charge of parks and gardens at the KMC (the department that is responsible for the upkeep of trees and parks), told this newspaper that tree trimming was a "daily exercise" in the city.
"This is a daily exercise that is carried out based on complaints and feedback. If we receive any specific information, we will get the trees trimmed accordingly," he said.