Prasanta Pal is not sure whether half of his 16-odd Durga idols would move out of the studio this year. Less than two months to Durga Puja, there aren't enough takers for Pal's idols. A few old clients who dropped by said they could not afford him.
Around this time of the year, after the neighbourhood Durga Puja meetings are over on Independence Day, Kumartuli would usually be abuzz with puja organisers dropping in to select and book idols.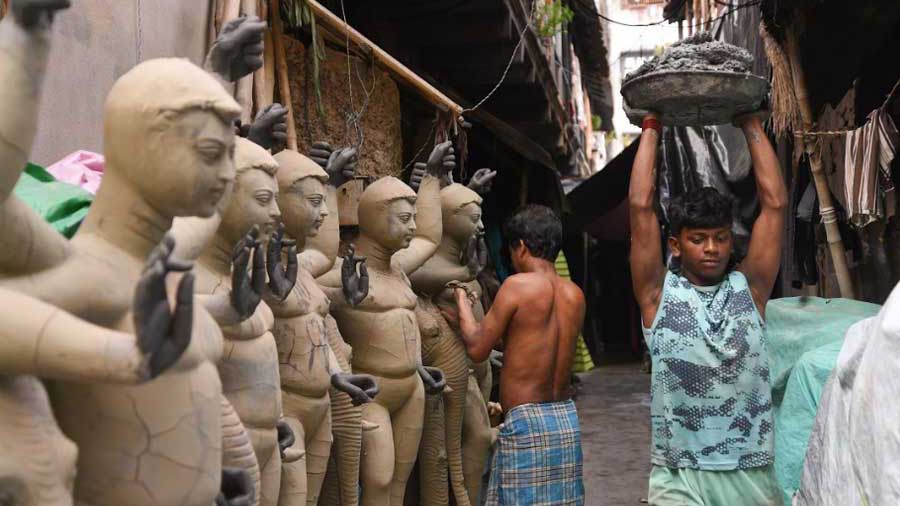 Artisans at work in Kumartuli, Kolkata, last week.
Amit Datta/ My Kolkata
The organisers would move from one studio to another, talking to artisans and haggling over price.
For several Puja organisers, a trip to Kumartuli after the meeting on Independence Day is akin to a ritual, like performing kathamo (structure) pujo on Rath Yatra to mark the beginning of the making of the Durga idol.
Covid brought about a sea change last year and the situation has remained the same — or worsened in some aspects — this year.
The lanes and bylanes of Kumartuli are mostly empty. Missing is the frenzy among artisans, helpers and labourers, and most idol frames are yet to be tagged "Sold".
The fear of a fresh wave of Covid infections, coupled with the apathy of sponsors to release funds, is taking a toll on the organisers.
The organisers of a number of mid-range Pujas said they were struggling to finalise their budgets. A few others said they couldn't afford the cost of transporting idols from Kumartuli. Instead, they have settled for idol hubs closer home.
"Last year, when sponsors weren't too many, a few of the organisers had arranged for cash donations so the booking amounts for the idols, pandals and lights could be paid. That is missing this year," said Jaydeep Saha, a member of a Puja committee in Belgachhia.
"During the second wave of Covid, we had to spend from our puja savings to arrange for food, medicines and oxygen cylinders for residents of our neighbourhood. Now, we have no clue how to arrange for funds for the Puja."
Like the Puja committee from Belgachhia, many others have called up their usual idol makers and told them they would buy an idol "since Durga Puja has to be organised", but none could quote a price range.
Kumartuli, where around 360 artisans work in roughly 120 studios, would receive orders worth close to Rs 50 crore during Durga Puja till 2019. This year the volume would be just about 30 per cent of that, many artisans fear.
The required idol size has come down from 12-14 feet to just about 6-8 feet, and so has the price tag. Idols tailor-made for themes are out of the question and most artisans have cut down on the number of idols they will build.
"From 45 to 50 idols, I have cut it down to about 30 this year," said Babu Pal, the secretary of the Kumartuli Mritshilpi Sankritik Samity. "Artisans are not ready to invest in more idols. Many families have done away with Durga Puja this year because of Covid deaths in their families."
The bulk of the artisans who have to hire godowns in Kumartuli spending close to a lakh for each said they were worried about repaying loans to mahajans (money lenders).
"An artisan does mental calculations about the number of idols he would build in a season and the returns he expects. Accordingly, he takes out a loan. This year, everything has gone awry," said Prasanta.
Durga Puja organisers said they were being forced to cut down on all expenses since the flow of funds from big sponsors and advertisers was uncertain this time. No one is sure whether stalls — around the pandal — will be allowed. That would mean another source of revenue lost.
"In 2019, we spent around Rs 2 lakh on our Durga idol. This time our budget for the idol is Rs 50,000," said Debasish Bhattacharya, an organiser of a Durga Puja in north Kolkata. "Had the situation been normal, bamboo poles for the pandal would have been erected by now."
A clearer picture will by September, said Amalendu Sarkar of the Maddox Square Puja committee.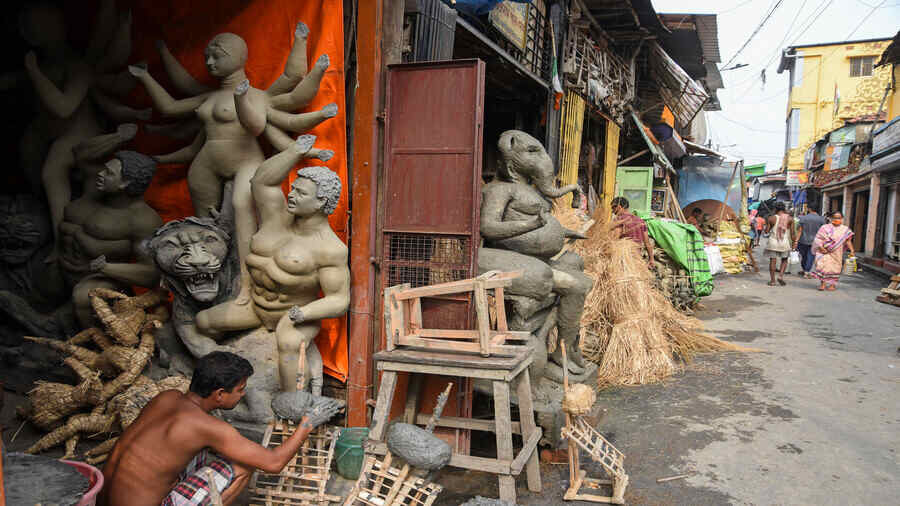 The lanes and bylanes of Kumartuli are mostly empty. Missing is the frenzy among artisans, helpers and labourers
Amit Datta/ My Kolkata
Some organisers are hopeful though that the fear of a fresh round of infection would finally make way for overwhelming optimism and sponsors would gradually start loosening their purses.
"We still believe that things won't be as grim as they are now. With increased vaccine coverage, this year should look better than the previous one," said Saswata Basu, the secretary of the Forum for Durgostav, an umbrella organisation of about 350 Pujas in Kolkata.
(Video reportage by Pooja Mitra, video editing by Adrija Kundu)