Calcutta Public School, Kalikapur
Patriotism and competition went hand in hand at Calcutta Public School, Kalikapur, as its four houses competed in a host of cultural activities on August 17 to celebrate Independence Day.
The participants were students of Classes VII to XII. The fashion show represented elements from North, South East and West.
Daffodil (green) house presented South India or the land of temples. Tulip (blue) house took the audience on a tour of North India. Orchid (yellow) house depicted Rajasthan and its magnificent palaces, dance and kite flying. Rose (red) house showcased the East including Bengal's dhunuchi and Chhau dance.
The programme began with an art mela where Classes III to XII let loose their creativity using patriotism as the theme. Students of Classes III to V dressed up as freedom fighters for the event, Declamation.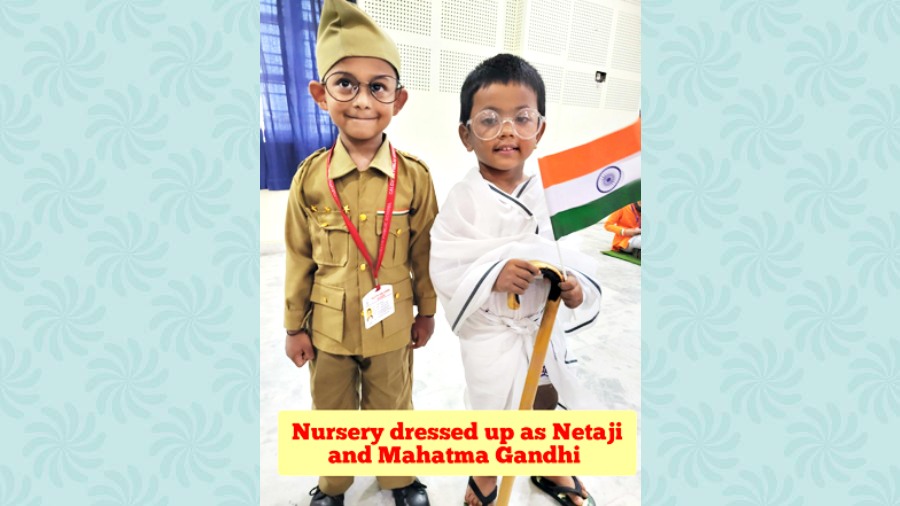 It was followed by a fashion show and a music contest. As the houses performed a mash-up of songs in several Indian languages, the entire auditorium cheered them on.
Green House emerged the winner of both the music competition and the fashion show. The ceremony concluded with the singing of the National Anthem. Students showed their talents through various performances.
"This was the first time we ran a programme throughout the day. It was magnificent. All the students portrayed the diverse culture of India so well. The icing on the cake was the fashion show," said principal Proma Das.
Modi Public School, Siliguri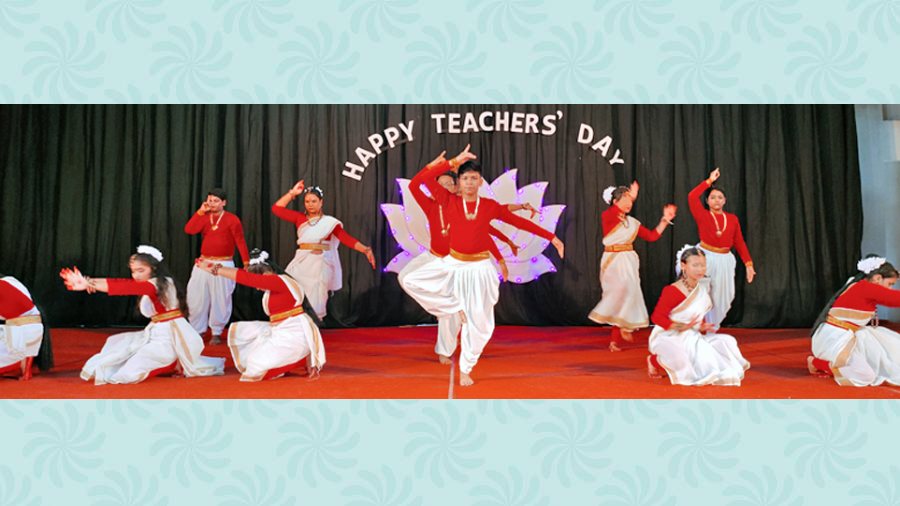 Students of Modi Public School, Siliguri, paid tribute to their teachers with a cultural programme on September 5.
They began with Guru Vandana and followed it up with songs, group dances, a skit and mime performance dedicated to their mentors. They also organised games for the teachers and cheered them all along. The celebrations ended with the national anthem.
"The students' performances showed their hard work. They made us happy. They were also guided by their teachers. The focus was the dedication of the teachers and how they handheld the students post-pandemic," said principal Jayanta Pal.
Rabindra Path Bhaban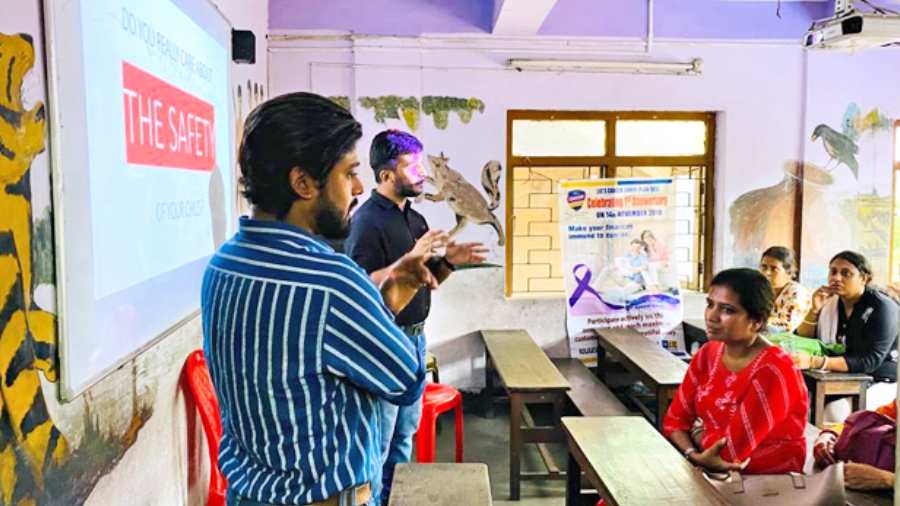 Rabindra Path Bhaban Academy organised a digital awareness programme to educate parents on issues related to cyber crime. Co-ordinator Subhajit Khan and computer teacher Supriya Sarkar anchored the event, making the audience aware of various crime and bullying scenarios that a child may encounter online. The parents were also taught how to monitor their children's Internet usage and activities.
The teachers have offered parents digital assistance at all times so that they can help children better. The school had also arranged a digital awareness campaign for the guardians during a summer camp.
"Teenagers may hesitate to share with their parents the problems they are encountering in the cyber world. Parents would not know how to help. To address such issues, we organised an awareness event for the parents. We want them to guide their wards the right way," said the school's secretary Priyadarshi Ghosh.
Mahavir Institute of Education and Research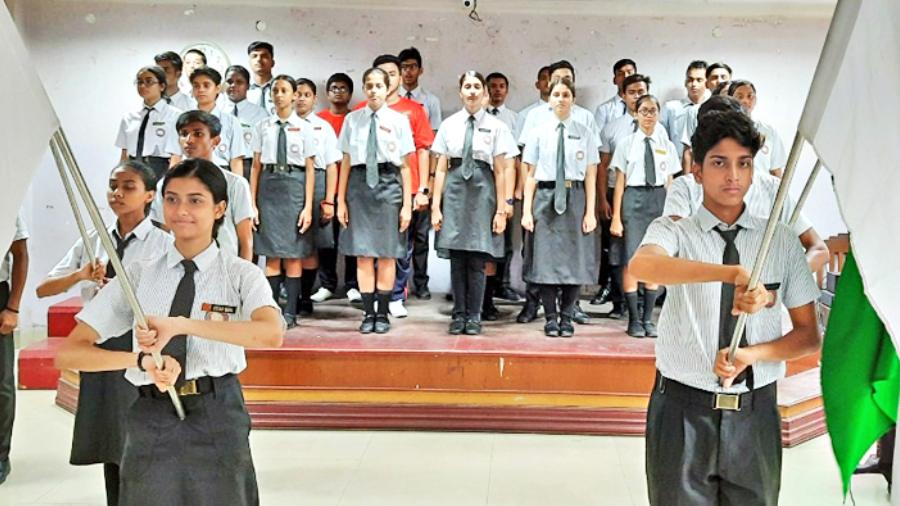 An investiture ceremony and an inter-house art competition were the high points at Mahavir Institute of Education and Research in July.
Principal Gerard Gomes and vice-principal Subhasree Goswami presented badges to head boy Affan Aftab of Class XII and head girl Tanisha Saha of Class XII. The house captains, vice-captains and prefects were also handed over their badges and responsibilities.
The new leaders took a pledge to serve to the best of their abilities.
The inter-house art competition lasted an hour with each class given a different topic to work on. Students of Classes I to V made artwork on various topics ranging from stopping plastic use to robotics. Classes VI to VIII took part in a T-shirt painting competition, Classes IX and X created wall hangings made of paper flowers and Classes XI and XII painted umbrellas.
"Intelligence is not limited to academics. Creative intelligence is as important. The judges had a tough time deciding on the winners at the art and craft meet. Meanwhile, during the investiture event, we got to choose our student leaders based on their team-leading qualities," said principal Gerard Gomes.
St Sebastian's School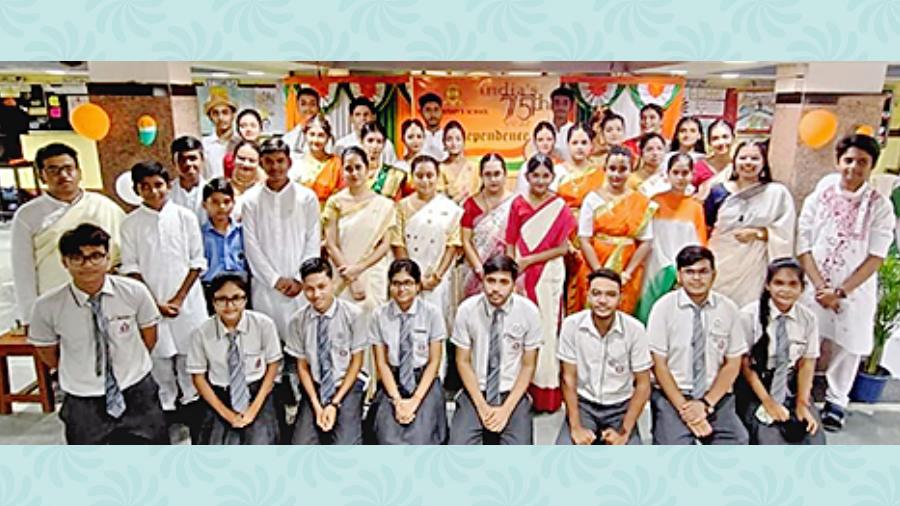 Tagore's poetry and patriotic songs charged up the Independence Day celebrations at St Sebastian's School.
The programme began with students reciting Rabindranath Tagore's poems on revolutionaries who laid forward their lives for the motherland. The school choir followed it up by singing a medley of patriotic songs. A skit was staged on the freedom movement.
Some students were dressed up as leaders like Subhas Chandra Bose, Bhagat Singh, Mahatma Gandhi, Rani Lakshmi Bai and Sardar Vallabhbhai Patel. A group of students presented a classical dance performance devoted to the nation.
"The performances were heart-warming. The students had worked hard. The air was charged with patriotism," said principal M.P. Rozario.