"What a show!"
Eric Falt's opening words during his address at the felicitation organised by the state government on Red Road on Thursday summed up the reaction of the two officials who were at the centre of the adulation the city showered on Unesco for inscribing Durga Puja of Kolkata on its Representative List of Intangible Cultural Heritage (ICH) of Humanity.
In course of the one-hour programme, the two were felicitated by the Forum for Durgotsab, the major football clubs of the city (ATK Mohun Bagan, East Bengal and Mohammedan Sporting), Cricket Association of Bengal, and, of course, the state government. But it was the people's participation that caught their imagination.
"From our elevated seats, we could see that thousands had gathered. I know that even as we started speaking, more were completing the walk. Clearly, we couldn't see everybody. Still it was a most impressive sight to see so many people assemble to thank Unesco and celebrate the inscription," Falt, director and representative of the Unesco cluster office in Delhi, told The Telegraph.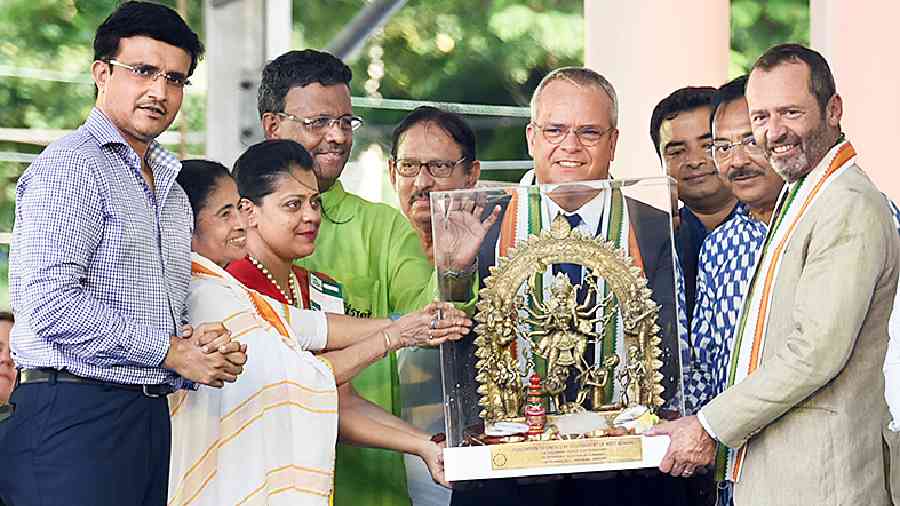 Tim Curtis (centre) and Eric Falt (extreme right) of Unesco receive a dokra statuette of Goddess Durga from chief minister Mamata Banerjee as former cricketer Sourav Ganguly and government representatives look on at the programme on Red Road on Thursday.
Gautam Bose
Falt was accompanied by Tim Curtis, secretary of the Convention for the Safeguarding of the Intangible Cultural Heritage (ICH), who flew in from Paris, where Unesco is headquartered.
He presides over the meetings on Intangible Cultural Heritage — in Falt's words, "he is the man".
His presence at an inscription celebration is "exceptional, close to unique".
"To get thanked on such a scale is extremely rare. And it (Durga Puja) is an important festival in its inclusiveness and breadth. It was a very tempting invitation for me," Curtis said.
Other things fell into place too.
"I was excited to come also because of the projects we have in India," he said.
They came directly from Rajasthan, where Unesco has a project running.
On Friday, Curtis will travel to Pingla in Paschim Medinipur to visit Unesco's flagship project on patachitra, in collaboration with the state government. 
Last year, Unesco's intergovernmental committee on ICH was supposed to meet in Sri Lanka. But it was held in Paris because of Covid, with delegates from other countries joining online.
The inscription certificate was handed to the Indian ambassador to Unesco in Paris on December 15.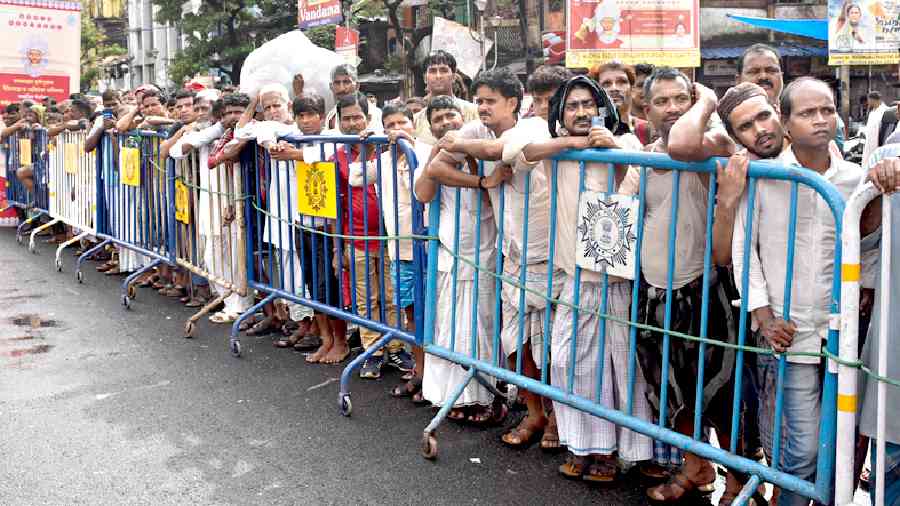 People watch the rally as it passes through Chittaranjan Avenue on Thursday afternoon.
Bishwarup Dutta
An enlarged reproduction of it was kept on stage on Thursday.
The officials stressed two features of the gathering, other than its size.
One is "the huge outpouring across all levels of society".
"It is encouraging to see the breadth of participation. The level of enthusiasm across all of the population is what distinguishes Durga Puja from other inscriptions," Curtis said.
"This togetherness despite the diversity is what we need across the world," Falt added.
The other is transmission to the younger generation.
"To safeguard cultural heritage practices, you have to keep them dynamic. They need to be living heritage. What we saw today was a great example of that — a large festival that is alive and keeps adapting to the day," Falt summed up.