Thirty people were selected from a pool of over 700 in a programme that aims to tap the hidden talents of persons with disabilities in the fields of fashion, art, music and dance.
At an auditorium in Science City on Saturday, the finalists showcased their talents. Some walked the ramp while others sang and danced.
The preliminary round was held at the Heritage School, exactly a week ago.
One of the finalists was Aishnika Paul, 11. She walked the ramp with elan. "She loves to be in front of the camera," said her father Birojit Paul, who owns a restaurant in Salt Lake. In the past, Aishnika has modelled for a calendar of the restaurant.
The programme that brought so many people together was titled Walk With A Difference. 
The third leg of the event is being held in Kolkata. The first two editions happened in Delhi and Bangalore, respectively. 
Over 700 participants, aged between 10 and 45, came from different parts of India for the audition.
Autism, Down Syndrome, cerebral palsy, locomotor disability and visual impairment were some of the disability categories.
Kabir Pritam Baruah, 27, had come from Guwahati. Baruah, also born with Down Syndrome, walked the ramp in style, spreading his arms, like Shah Rukh Khan. 
At the audition last Saturday, Ann Mookken, 12, walked the ramp effortlessly in a sleek black gown.
Ann and her parents had travelled all the way from Thrissur in Kerala to attend the audition. "She likes to dress up and has walked the ramp back home," said Jeen Mookken, her father, a schoolteacher.
Rakesh Dhasmana, the convener of WWAD, explained why he has been organising this programme.
  "We keep having seminars and rallies on inclusion and accessibility. But the need of the hour is to have a connect with the masses. Fashion, singing and dancing have that pull. They catch attention, they are in the frontline," said Dhamsana.
  "On the global stage, many major brands have models with autism or other cognitive challenges. Some of our past participants have endorsed major brands. We want to make this a more regular affair," said Dhamsana.  The 30 winners underwent a week-long grooming and capacity-building session at Manovikas Kendra under the guidance of mental health experts, choreographers, stylists and image consultants.
Each finalist got cash prizes and other gifts.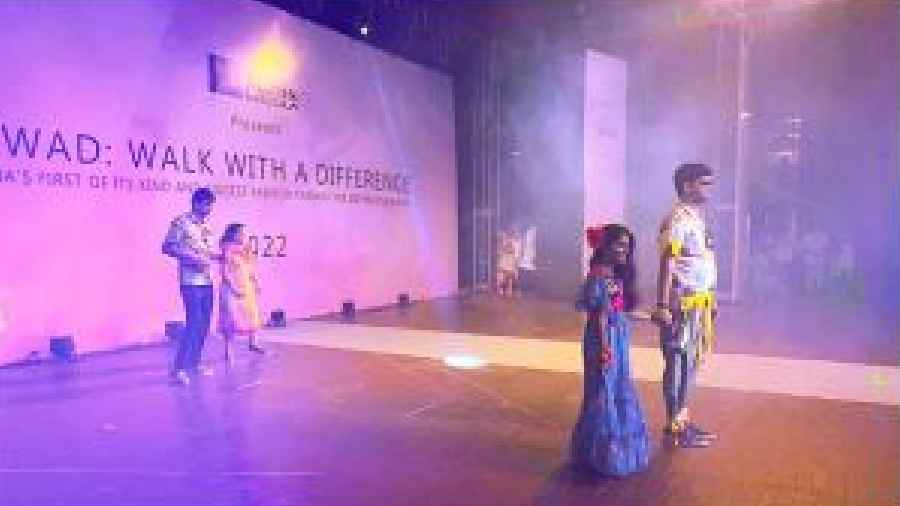 Some participants walk the ramp at the event
On Saturday, the finalists performed in front of a packed house that had representatives of corporate groups, billed as "prospective clients" for endorsement contracts, said organisers.
Mental health experts said such programmes go a long way in building the confidence of persons with special needs. "These participants have faced rejection and exclusion all their lives. But getting an opportunity to showcase their talent is new for them. This platform is a big confidence-building exercise," said Shatabhisha Chatterjee, a clinical psychologist associated with the programme.
Amrita Ray Chowdhury, founder of Transcendent Knowledge Society, part of the organising team, said: "It is tough for participants who do not get selected. But this is the process in auditions worldwide. If we talk of inclusion, we have to bring in rejection as well."