Students of a city school made bags out of paper and sold them to parents, convincing them to use them instead of plastic.
The school's initiative is to teach students not to use plastic and encourage parents to curb its use, too.
Students from classes III to XII of BDM International made around 7,000 paper bags and managed to sell a significant number of them.
The proceeds, Rs 35,000, which the students collected, were used to buy stationery for a group of children of a school in South 24-Parganas that the institution has adopted.
The hard part was not making the bags but selling them, said the students.
The school's interact club organised the sale on a parent-teacher meeting day when guardians come to the campus.
There were parents who did not buy the bags and said they were not strong enough and would tear easily, the students said.
"It was difficult to convince some of the parents who said that the paper bags are not reliable enough. We told them that it may not be as hardy as plastic but in the long run, it is good for the environment," said Adrija Mukherjee, a Class XII student.
Most people are habituated to using plastic so it is difficult for them to switch, Adrija said.
"But if children insist, it could work," she said.
"If children throw a tantrum, on many occasions parents relent. Then why not throw a tantrum for something that is useful for the environment and our future?"
The Union ministry of environment, forest and climate change has notified a set of plastic waste management rules, under which the manufacture, import, stock, distribution, sale and use of plastic bags less than 75 micron in thickness have been banned.
The school is trying to educate children about the harmful impact of plastic.
It has to be a continuous rather than a one-off effort, a school official said.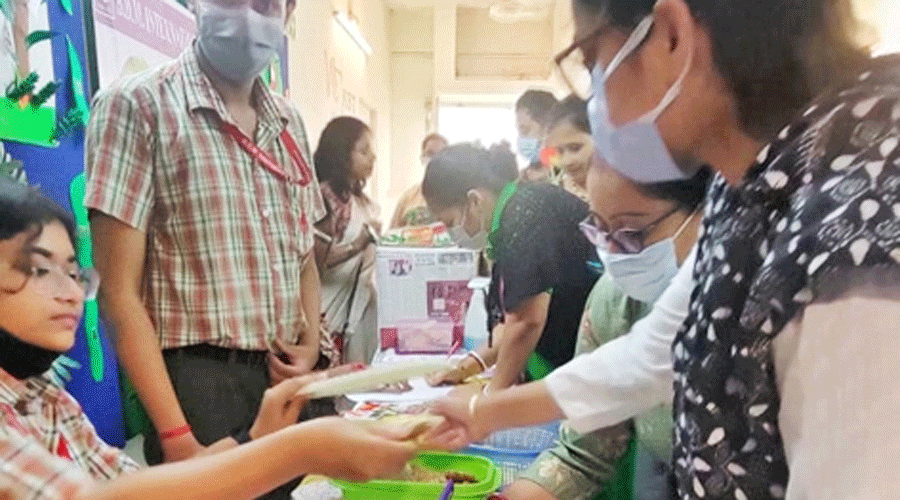 Students sell paper bags to parents.
The Telegraph
"In the beginning of the academic session, the school distributed cloth bags to all students. We insisted that the children bring the cloth bag to school and not a plastic bag if they need to carry something," said Madhumita Seal, vice principal, BDM International.
"We want to make it a sustained effort and hence this campaign now. Unless and until it is continuous, people tend to forget," she said.
The easy use of plastic makes it difficult to discard, said a student.
"For other purposes, we use cloth and paper bags but when it comes to buying fish or meat, plastic bags come in handy and is difficult to discard totally. But if we keep trying, we will be able to minimise its use and eventually do away with it,"  said Class XII student Anjishnu Biswas.