Shri Shikshayatan School
For the junior school students (classes IV and V) of Shri Shikshayatan School, it was a day of excitement. They celebrated the birth anniversary of social reformer Ishwar Chandra Vidyasagar, a man who fought for women empowerment and education.
To mark World Rivers Day (which was globally observed on September 25 this year), the students began with a dance programme on water conservation.
The cast and crew of the movie Kornosuborner Guptodhon were invited to the school on the occasion. The crime thriller's trailer was shown on the big screen.
The students were also involved in a critical discussion with actors, Abir Chatterjee, Esha Saha and Arjun Chakraborty. The interactive session was mainly based on the culture and history of our country.
Before conclusion, the students paid tribute to Vidyasagar.
"Ishwar Chandra Vidyasagar was a renowned writer, freedom fighter and social reformer. He worked tirelessly for the emancipation of women. Shri Shikshayatan School, an all-girl institute, paid homage to him. It was a proud moment for us," said principal Sangeeta Tandon.
"We celebrated both World Rivers Day and the birth anniversary of Shri Ishwar Chandra Vidysagar. The latter has immense contribution towards the upliftment of society, especially its women. To keep the excitement alive, we invited the cast and crew of Kornosuborner Guptodhon which is an interesting film based on the history of the 12th-century era. Let us all pay tribute to the eminent educator and make this day remarkable," said Bratati Bhattacharyya, secretary-general and CEO of the Shikshayatan Foundation.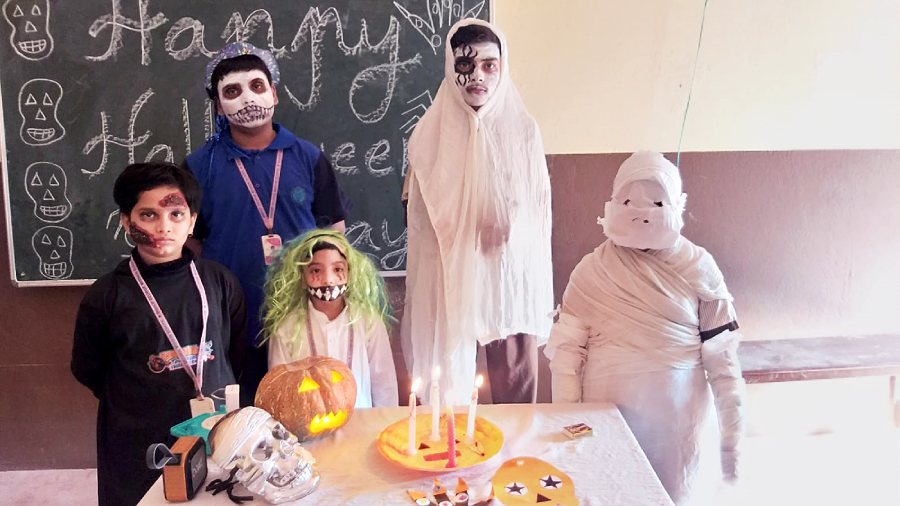 Bishop George Mission School (Ghatakpukur)
Witches, bats, vampires and scary avatars took over Bishop George Mission School, (Ghatakpukur), as students of Nursery to Class VII took part in Halloween celebrations on October 31.
The students of Classes I to VII came to school dressed in myriad spooky costumes and make-up.
The students of Classes III and IV went trick-or-treating after making spider-shaped cookies.
The tots from Nursery to Kindergarten II took part in an inter-house competition, where they made bats and pumpkins. Music and dance were part of the festivities.
The children also made masks and took part in a face-painting activity, which gave them a theme-based learning experience.
The teachers encouraged the pupils to appreciate differences in cultures and customs and also made them aware of global festivals and values.
"Our school hosted a Halloween party so that kids could express their creativity in various ways. The children surprised us when they arrived donning Halloween-inspired costumes and make-up. The day was packed with fun activities, music and excitement," said principal Reshmi Das Choudhuri.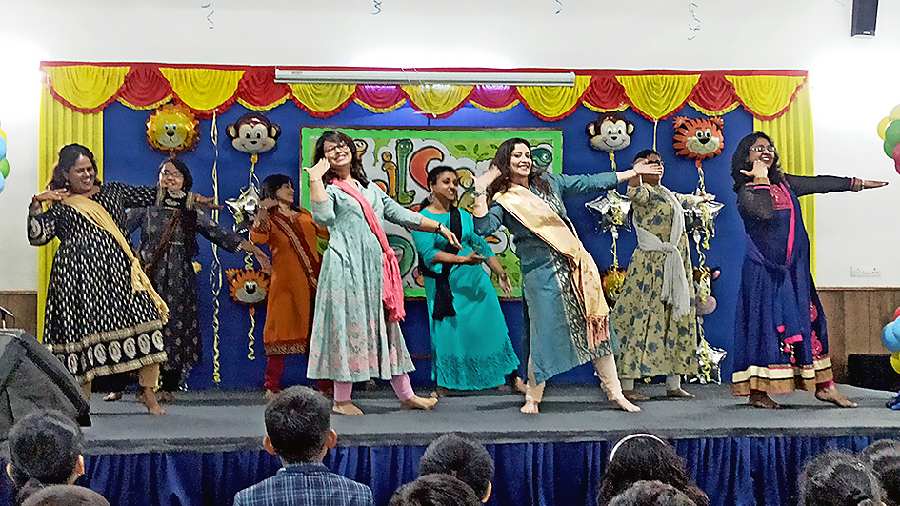 Ruby Park Public School
The tots of Nursery to Upper Kindergarten came dressed in colourful clothes at Ruby Park Public School on Children's Day.
The celebration started with a prayer, followed by games such as Ring the Tower, Simon Says and Musical Chair. The teachers staged a cultural programme.
They sang songs such as Zindagi Ki Yahi Reet Hai, Aashayein, Mitwa and Abhi Mujh Mein Kahin. They danced to the tunes of popular numbers such as Love You Zindagi, Gallan Goodiyaan, Hawa Hawai and Udi Udi Jaye.
A teacher recited the Hindi poem, Zindagi, while another read out the limerick, Irene the Scientist, which made the students put on their thinking caps.
"Children are the future of the country and the way we nurture them will determine the future of the nation. At Ruby Park Public School, we ensure that we work diligently to protect our children and build a better future for them," said principal Joyeeta Majumdar.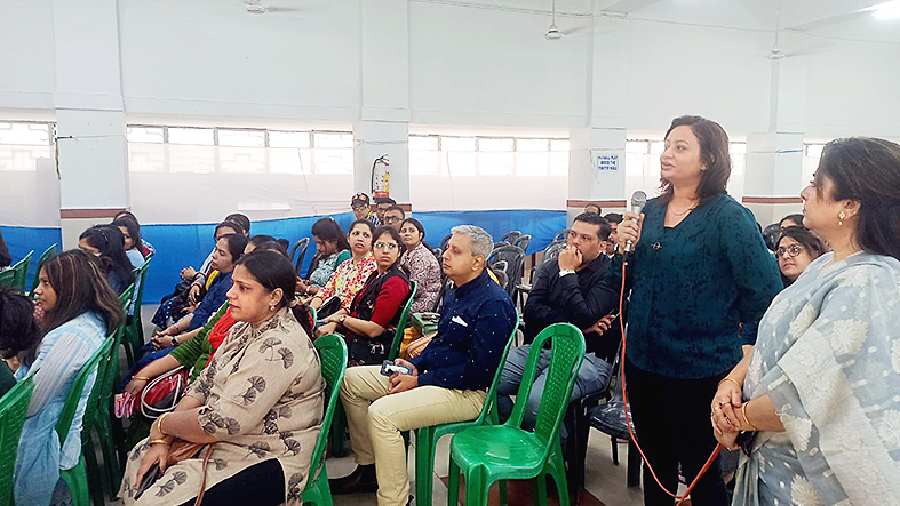 Birla High School
Birla High School hosted the first session of a financial and money learning programme for Class IV to promote financial literacy and help students make informed decisions regarding their financial resources, on November 16.
The school management has tied up with the Investors Financial Education Academy (IFE Academy) for an exclusive financial and money learning programme that will help students become more financially independent.
Their in-house academic experts have crafted and prepared extensive material, study courses and books for the children.
By collaborating with industry experts, the pedagogy aims to engage the children in financial awareness in a simple manner.
One day a month has been marked for the programme, which will be conducted within school hours.
The children were engrossed in the session and had plenty of questions and queries.
"We wanted our students to understand the value of money and the importance of saving it. This programme is the first of its kind being offered to students of Class IV as a pilot project. The team from Chennai holds interactive and engaging sessions with the students to make them understand the relevance of saving," said principal Loveleen Saigal.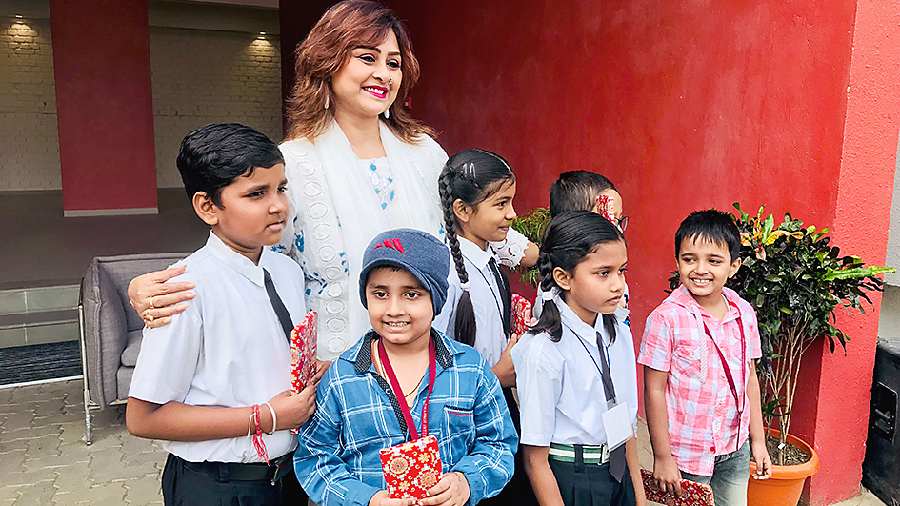 Swarnim International School
Swarnim International School celebrated kindness week from November 7 to 14 to mark Children's Day and nurture empathy and humility in the minds of young learners.
On Day I, many events were lined up with interactive storytelling being the most popular. n Day II, the children were given the responsibility of taking care of stray animals.
The next day, Pre-primary children helped each other and their teachers distribute books to their friends. The tots were shown a video where they learned the importance of being kind to everyone around them.
Classes I and II gave thank you cards to the school's support staff members, and Classes III to VIII wrote secret notes of gratitude to their friends, thanking them for their kindness.
The children from Playgroup to Class VIII engaged in role-play activities. Pre-primary classes enacted day-today kind gestures in the classroom. Senior classes enacted real-life incidents or famous stories reflecting compassion and kindness.
The week-long activities culminated in a celebration on Children's Day when 70 children from NGOs Jeevan Madhur Society and Help Us Help Them visited the school. Swarnim parents and students donate their toys to these children.
Actor Debjani Chatterjee was the special guest on the occasion. Philem Rohan Singh from the Cycling for Humanity, a Manipur-based organisation, addressed the kids and inspired them with the stories of his phenomenal work with differently-abled people in Imphal.
Principal Rumjhumi Biswas said: "The students learnt empathy through fun activities. They learnt the difference between being nice and being kind. It was an important learning experience for them."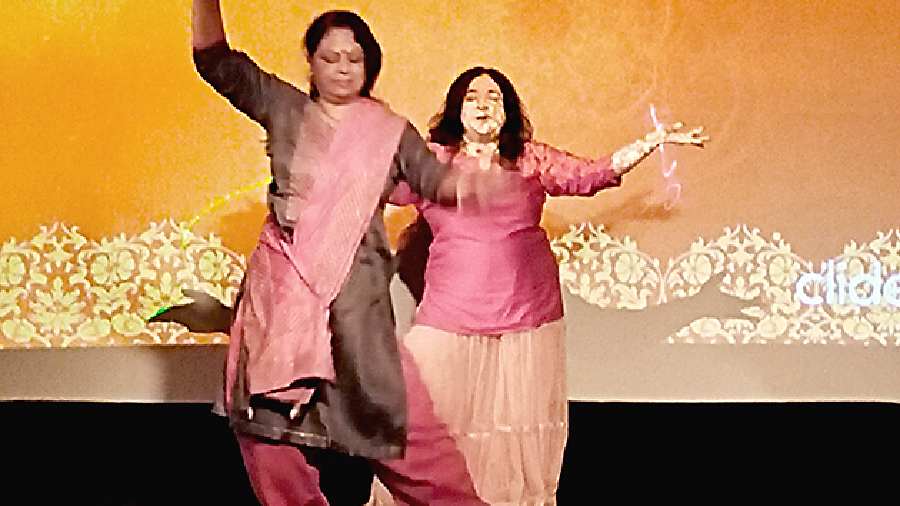 Bhawanipur Gujarati Education Society
A Children's Day programme was hosted for students of Bhawanipur Gujarati Education Society (BGES) School at its college auditorium (Jubilee Hall) on November 12.
The programme began at 10.30am with a classical dance performance by teachers. The audience was the children from Secondary section (Classes V to X), who were enthralled by the back-to-back energetic performances of their teachers.
The teachers presented classical dances, musical performances, a play, western dance and even a fashion show.
"The teachers worked hard to give the children a good time. Their message was — teachers can be fun too, outside the classroom," said headmaster Brij Bhushan Singh, who told the students to never use shortcuts.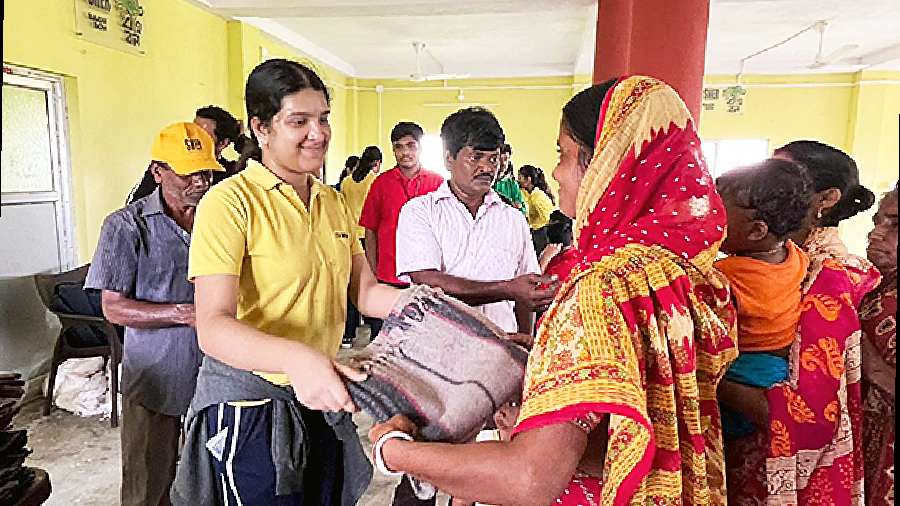 Indus Valley World School
Two teachers and 21 students of Indus Valley World School, all members of the interact club, took part in a blanket donation drive in Sundarbans on November 12.
After a three-hour bus ride, a two-hour ferry ride and a two-kilometre walk, the team reached its destination — a village called Pakhiralay.
Helped by Joydip Kundu of the NGO, Society for Heritage and Ecological Research, the young interact club members distributed 150 blankets to the local villagers.
"This initiative helped our students appreciate their privileges. It was a new learning opportunity for them. It helped the children experience the beauty of the Sunderbans," said director Amita Prasad.
"It is our commitment to service that inspires us to be involved in such drives. It also gives our students meaningful engagement and a deeper connection with the community," said principal Reshma Bhattacharya.