Calcutta Public School, Bidhan Park
Students of Calcutta Public School, Bidhan Park, organised an inter-house cultural programme to commemorate India's 75 years of freedom. Students of classes III to XII put up cultural shows on the occasion.
The celebrations began with an inter-house dance competition by Classes III to VI. It was followed by skits performed by students of classes III to XII. The theme was Nation First, Always First. Through their performance, the school houses paid tribute to the farmers, soldiers, female icons and Covid warriors.
Some dance performances followed to songs such as Lukachupi and Rang De Basanti and other popular beats.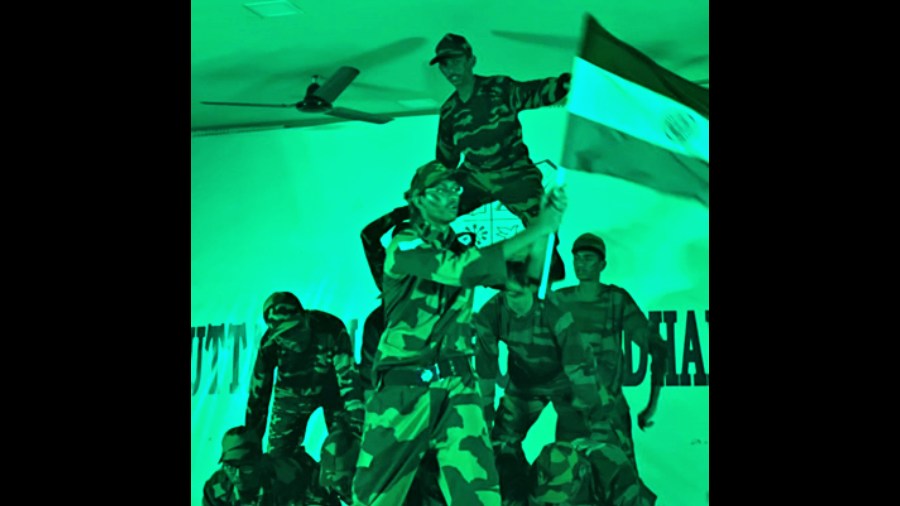 The school's sports team was up next, where the students of classes VII to XII showcased some acrobatics performances.
The guests included principal Protichi Lahiri Sengupta, principal of the school's Kalikapur branch Proma Das, principal of Barasat branch Abhilasha Das and Calcutta Public School group secretary Tathagatha Das.
The chief guest was rotarian Samrat Sengupta.
"We decided to hoist the national flag on the school grounds on Independence Day after two years. We were very happy. All of the houses portrayed their patriotic fervour beautifully. I congratulate the teachers and students for wonderfully capturing the essence of Independence Day through their hard work," said principal Protichi Lahiri Sengupta.
DPS, Howrah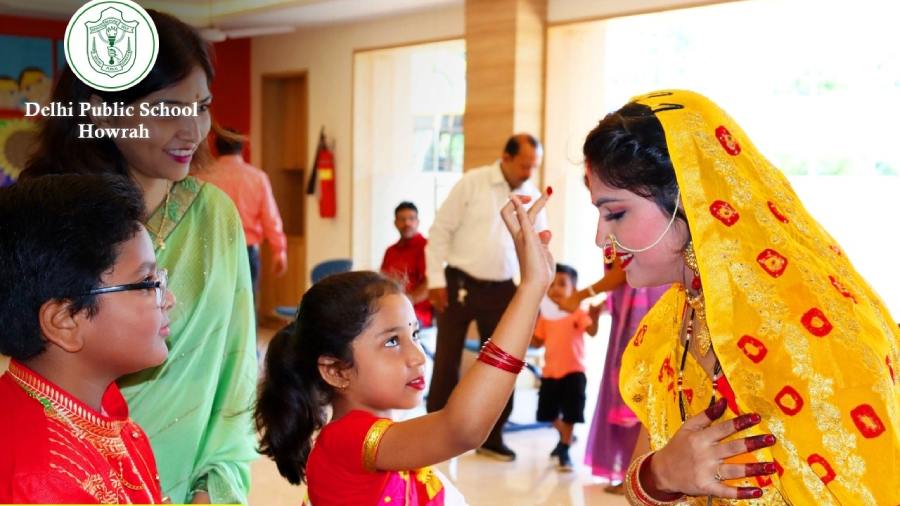 Enthusiastic children of DPS, Howrah, and their mothers celebrated the monsoon festival Teej together on September 2. The programme included kids and parents from Nursery to Class VI.
The event began with a fashion show on, Swadesh and Kala. It was followed by a group dance, Sawaan. Mothers danced to songs such as Aj Jharo Jharo Mukhoro and Teej Aayi Re, Mono Mor Meghero and Megher Palok.
Non-fire cooking was up next. The participating mothers made delicious savouries such as raagi chaat, dry fruit laddoo and pineapple smoothie.
A special performance on Tomay Hrid Majhare Rakhbo by Sukanya Saha, mother of Class VI student Supratik Saha, stole the show.
Sharmistha Paul, mother of Sourjesh Paul of Class V, was adjudged the Teej Queen of 2022.
"Teej 2022 was a grand success. We were delighted to see the massive participation of so many talented mothers. They brought to the school a lot of positive energy," said principal Sunita Arora.
Birla Divya Jyoti School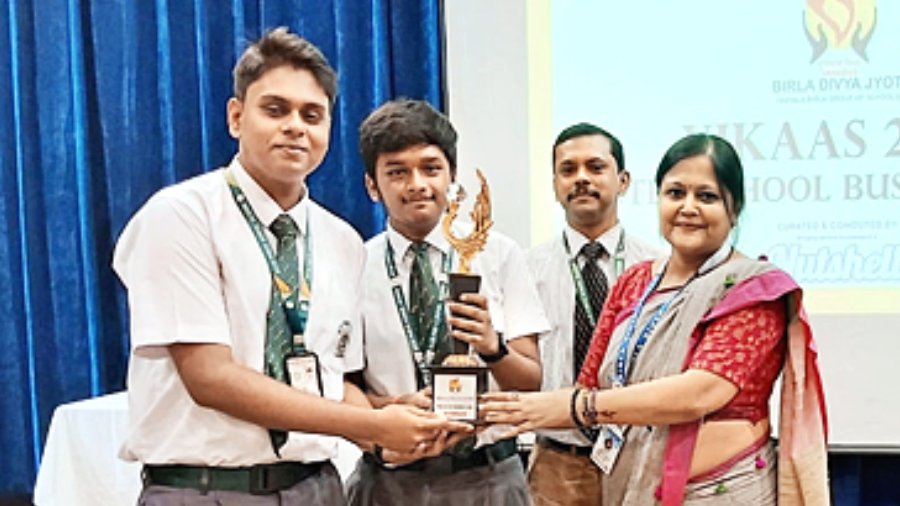 Smart answers, quick thinking and nail-biting finishes were the essence of the inter-school business quiz, Vikaas 2022, hosted by Birla Divya Jyoti School in Siliguri on August 20.
Ten schools from in and around Siliguri took part in the quiz with Delhi Public School, Siliguri, coming first. The host and Nirmala Convent School came second and third, respectively.
The quiz was hosted by Nutshell GK, a school-focused general knowledge venture of Quizzora & Co. The quiz master was Shubham Lahoti.
Principal Shweta Tiwari inaugurated the event. "Quizzing is encouraged as a form of learning outside the classroom. We hold quizzes differently. Children are not allowed to mug up. It is often conducted as a form of storytelling to test the students' aptitude" she said.
Bihani Academy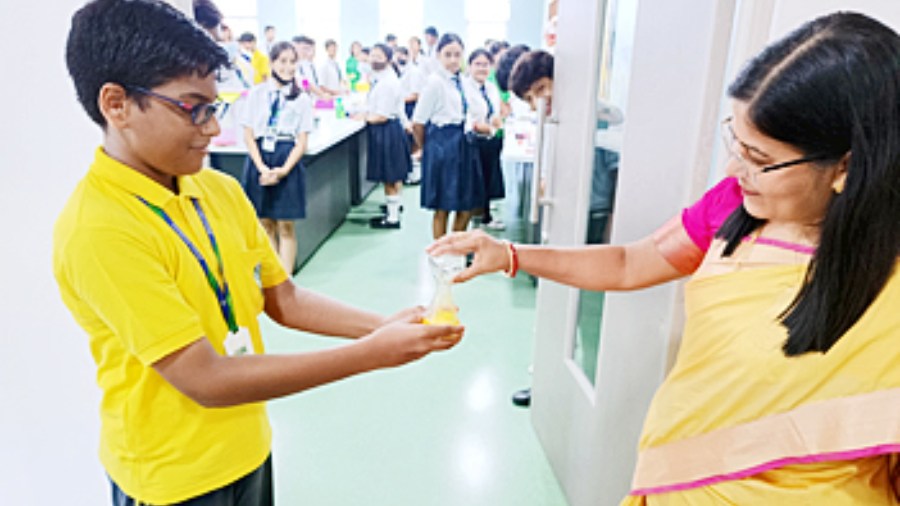 The senior students of Bihani Academy organised a science exhibition on turning waste into something useful on September 2.
The students put on their creative hats for the event, working under the guidance of teachers — Debasish Manna, Nivedita Trivedi, Surajit Barman and Indrani Halder.
The theme for the exhibition was Best out of Waste. There were many creative models on display. Some much-appreciated ones were an automatic sanitisation machine, a robot with used pens, a water dispenser, a rainwater harvesting system with recycled polystyrene foam sheets, a hydra budding model with the recycled sponge, an automatic garbage bin with a used bucket and a human heart prototype made of clay.
"It was wonderful to see students with such creative ideas. I hope to see them shining with their innovative skills," said principal Mousumi Mohapatra.
Mentaid
The special children of Mentaid celebrated both their foundation day and Teachers' Day at St Paul's Cathedral on September 4. It was a break from routine for the students and young adults of the institution as they performed inside the cathedral in the presence of their parents and other guests.
Every year, Mentaid Sunday is held to create community awareness and help build an inclusive society.
Mentaid has been working for the past 36 years for the benefit of children and young adults with intellectual and developmental disabilities, namely, autism, cerebral palsy and multiple disabilities. From two children in 1985, it now educates over 500 children.
The children sang songs and organised an exhibition of products made by the trainees of the vocational training centre. Breakfast items were also on sale, the proceeds of which will go towards the development of the institution.
"Mentaid Sunday is an important step towards inclusion. We hold the event at the cathedral to spread more awareness about disability. The children also enjoy interacting in a social space. The best part is when their performance is applauded in the cathedral. That makes them so proud," said Mentaid founder and chairperson Iona Kundu.
Aditya Academy Group of Schools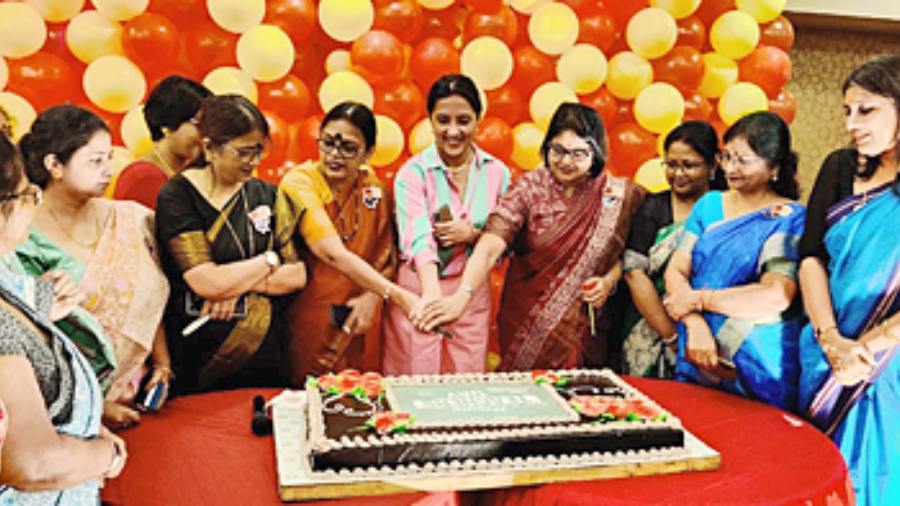 The students of Aditya Academy Group of Schools celebrated Teachers' Day with a cultural extravaganza. Roshni Aditya, managing director of the group, was the chief guest at the event that saw the students singing, dancing and organising different games. The chief guest said how without teachers the world would be a poor place to live in.
The highlight of the event was a fashion show where the teachers took part.
Sabita Saha, director of Aditya Academy Group of Schools, appreciated the faculty for their untiring efforts to reach out to the students during the pandemic. "Teachers make a huge difference when they adopt the role of facilitators," she said.
Senior principal Sonali Sarkar said: "Our teachers are playing an important role in these changing times. Kudos to their effort to reach out to the students."