A smile here, a warm thank you there! The students of DPS, Newtown, stepped into the festive season feeling enriched. They spent September, giving it back to society as part of an initiative — Each One Give One DaanUtsav.
As girls and boys of classes I to V, IX and XI went round the city gifting clothes and other stuff to the marginalised population in various institutions and slums, they learnt to value their lives and be grateful for the privileges they enjoy.
They also performed in some of the institutions they visited. The charity drive had continued from September 19 to 26. During this period team DPS, Newtown, distributed new clothes to children in orphanages and to residents of old age homes.
One lot dropped in at Amra Sobai Raja, a school for underprivileged children in Salt Lake, BH Block, that is entirely supported by local people. Gifts were distributed and new bonds were established.
Some went to Premashree, a shelter for blind children in DLF galleria, New Town, while another lot went to Sukanya Home for Girls in Salt Lake, Sector V.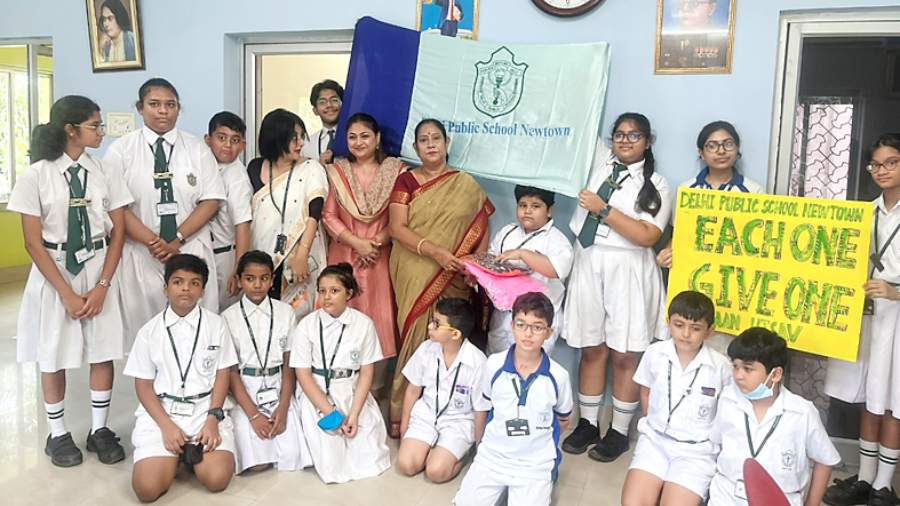 Students and teachers of DPS, Newtown, with Bidhannagar mayor Krishna Chakraborty at her office
"It was a delight to meet the children at Premashree. My heart was filled with joy when I realised how grateful they were for the little things in life," said Trishna Dey, a Class XI student.
On the occasion of Mahalaya, the students met Bidhannagar mayor Krishna Chakraborty and handed gifts to yet another lot of children. They also gifted clothes to kids in a low-income area near City Centre I.
"The experience was an eye-opener for me. I was honoured to be able to contribute to their joy. It taught me to be thankful for what I have," said Ayush Bihani of Class XI.
The kids also paid a visit to a senior citizen's home run by the All Bengal Women's Union at Elliot Road. Here they sang and danced and performed plays to bring a smile on the residents' faces.
"We are thankful that we could make an impact in people's lives," said Class V student Shamoil Wahid.
"DPS, Newtown, believes that charity begins at home. We encourage our pupils to help the less fortunate by contributing and volunteering. Our goal is to educate them on the need for empathy since we want our children to be positive agents of change," said principal Sonali Sen.