Kolkata-based mountaineers and trekkers are worried about the fate of expedition plans even as the Uttarakhand government works against time to evacuate residents from the sinking town of Joshimath.
At 6,107 feet, Joshimath may not be a trekkers' paradise but it serves as an exclusive gateway to several popular trekking routes and peaks such as Changabang, Kalanka peaks and Mount Kamet.
An important gateway
"Joshimath's main town and market area are two major halting points. Mountaineers stop there for a day or two to get permission, arrange for mules, food and other provisions. The place also works as the gateway to several important trekking routes in Chaukhamba and Dhauli Ganga," senior mountaineer Basanta Singha Roy said.
Kolkata-based Everester Malay Mukherjee said, "One can reach places like Bagini glacier, Tapovan, Kuari Pass and Malari only through Joshimath. Then comes the mighty Mount Kamet, the third-highest peak in India. If Joshimath closes down, it will deal a huge blow to trekking tourism and will also affect the inflow of foreign currency."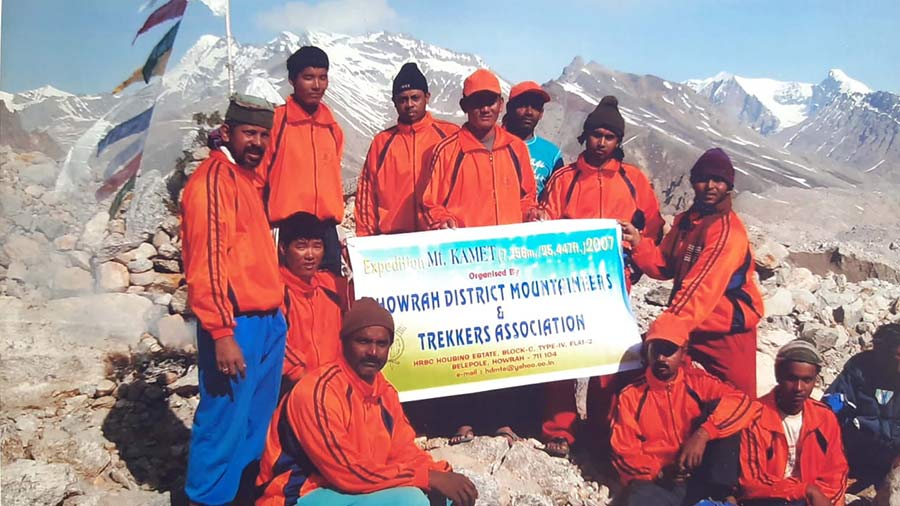 Malay Mukherjee and his team took part in the Kamet expedition in 2007
Malay Mukherjee
Cancelling trips
Crestfallen mountaineers have started rescheduling their expedition plans. In 2023, Mukherjee had planned to visit the region with his team for two expeditions. "I have cancelled both. I don't know when things will normalise and, for now, there's no way we can explore the region," he said.
Tenzing Norgay National Adventure Award winner Debasish Biswas's first expedition was at Mount Kamet in 1997 via Joshimath. "It is a very nostalgic place for me. We were planning to visit the area this year, too, but it won't be possible," Biswas said.
Infrastructure base
For trekking and mountaineering, one needs a lot of equipment and Joshimath serves as an excellent hub for infrastructure assistance. "Several mountaineers and climbers buy important equipment and accessories from there. Following the crisis, getting food and fuel will become a major issue even if we are allowed to go there," said mountaineer Satyarup Siddhanta, the world's youngest mountaineer to have climbed the seven summits and the volcanic seven summits.
Agreeing with Siddhanta, Mukherjee said he has been visiting these areas since 2003 and has an excellent rapport with the local people. "Since last week, I have been getting calls from shop owners and trekking agencies. They are clueless about their future," Mukherjee added.
Hopeful about future
Some mountaineers like Siddhanta and Singha Roy feel if appropriate steps are taken, things might improve. "Whatever happens, I am sure mountaineering and trekking won't stop in the region. We might find some other route to reach there," said Singha Roy.