The state government on Thursday pulled down a wall that was being built around a water body in the East Kolkata Wetlands, but at least three more allegedly illegal structures were still standing a stone's throw away. 
The environment department had on Monday inspected the water body, in the Noortala bheri in Dhapa mouza, that was allegedly being filled and lodged an FIR. 
The FIR did not name anyone as officials failed to locate the owner of the plot, which spreads across 20 cottahs.Thursday's demolition in Ward 108 was carried out by a team that included representatives of the environment department, Kolkata Municipal Corporation and Kolkata police.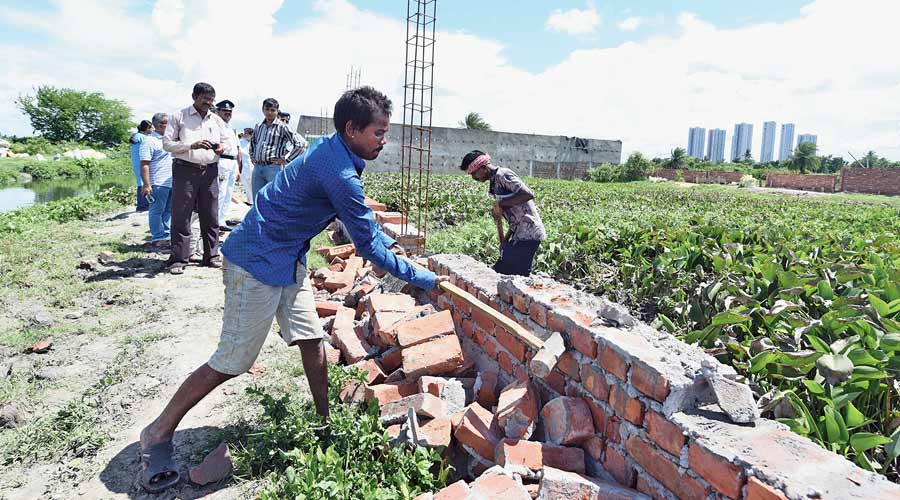 "We received a complaint that the water body was being filled. We inspected the site and found that a wall was being built around it. We have pulled down the wall," said Kaliyamurthi Balamurugan, chief environment officer of the Bengal government. "The records available with the government show the portion that is being filled is a water body."
The East Kolkata Wetlands, he said, has been classified into three parts — settlements, where human habitations are allowed; agricultural land; and water body. Conversion of water bodies is prohibited. 
The FIR also mentioned that "any change of character or mode of use of land within the East Kolkata Wetlands is not permitted".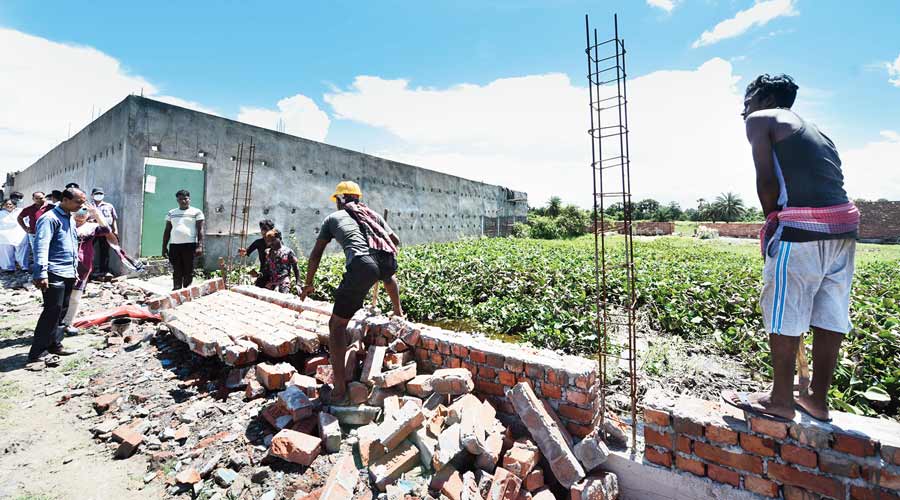 The East Kolkata Wetlands, protected under the Ramsar convention, is spread over 12,500 hectares. The Ramsar convention is an international treaty for protection and conservation of wetlands. 
The National Green Tribunal (NGT) had earlier asked the state government to act swiftly on complaints of encroachment by setting up a task force, said an official of the East Kolkata Wetland Management Authority (EKWMA). The high court, too, has asked the government to ensure that no illegal construction or encroachment is allowed on the wetlands.
A visit to the demolition site revealed how vulnerable the East Calcutta Wetlands were. Three more allegedly unauthorised constructions stood adjacent to the site where the wall was being pulled down on Thursday. To the south of the site was a unit for shredding plastic products. 
An ECWMA official said they had initiated action against the "illegal" unit. It was supposed to be pulled down on Thursday but could not be done. 
"We will wait for the KMC to fix another date for the demolition," the official said. Near the site there were a building and a plot with a structure. "Both structures are illegal," the official said."We have been pursuing the case of the building since 2012, but it has not been demolished yet. We will again push for its demolition. We will also initiate action against the plot with a structure."
"I am happy that the government has demolished the structure," said Bonani Kakkar, of PUBLIC, an NGO that works on the environment.