A group of children, many of whom are engaged in odd jobs, participated in a walk to sensitise men and women to give children a chance to study so that they are not forced into work.
Around 60 children in the age group of 14 to 17 recently walked through vegetable and fish markets in Jinjira Bazar, near Taratala in southwest Kolkata, spreading awareness on the need to let young ones study.
The markets the children walked through are known to hire individuals of their age group as 'cheap labour'. 
Among the participants was a 14-year-old boy who works as a daily wage earner loading and unloading cement. He earns Rs 400 a week and hands a part of the amount to his elder sister.
The siblings' father died years back and their mother does not live with them. Another participant, a 17-year-old girl recently took a job at a factory that produces paint brushes and earns Rs 270 a day.
The girl's father, once a contractual worker, is now too ill to work. He does not have the resources to pay for the education of his daughter, a Class XII student who is determined not to quit studies.
The two students led the walk, organised by the NGO Tomorrow's Foundation, handing out leaflets and spreading awareness about child labour over a microphone.
"The children are forced by circumstances to take up some jobs. They are employed because they are cheap labour," said Sharmistha Chakraborty, area in charge of the NGO.
NGOs working with children have noticed that the number of children forced into work has increased many times since the lockdown necessitated by Covid in 2020. There are many who want to study but circumstances force them to take up work, said Chakraborty.
"The girl (the 17-year-old whose father is ill), for example, is one of our better students and she was also attending jewellery-making and karate classes. But suddenly she stopped coming for these classes. We found that she took a job in a factory to arrange for her admission fees," said Chakraborty.
Awareness against drugs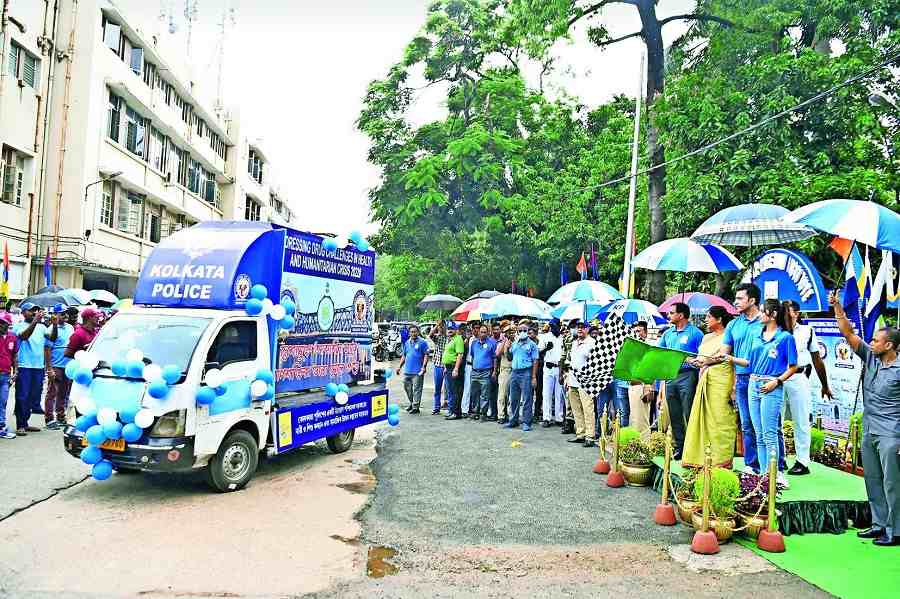 A tableau was flagged off to create awareness against drugs on the occasion of International Day Against Drug Abuse and Illicit Trafficking on Sunday. Calcutta police commissioner Vineet Goyal, joint commissioner (crime) Murlidhar Sharma, minister of women and child development and social welfare Shashi Panja and actors Abir and Nusrat Jahan were present at the event, organised at Alipore Bodyguard Lines.
Picture by Gautam Bose