Three reports on Kolkata's air pollution prepared by as many agencies differ on crucial data and have created confusion about the actual share of automobile emissions in the city's PM 2.5 load, environment department officials said.
The reports — all based on studies carried out in the 2011- 2019 decade — were prepared by the National Environment Engineering Research Institute (NEERI); System of Air Quality and Weather Forecasting and  Research (SAFAR), which functions under the Union ministry of earth sciences; and Bose Institute.
"We are preparing our strategy based on the NEERI report but planning to undertake another detailed air pollution apportionment study," Bengal pollution control board chairman Kalyan Rudra told The Telegraph. Rudra said the disparity in the reports was because of sampling variations.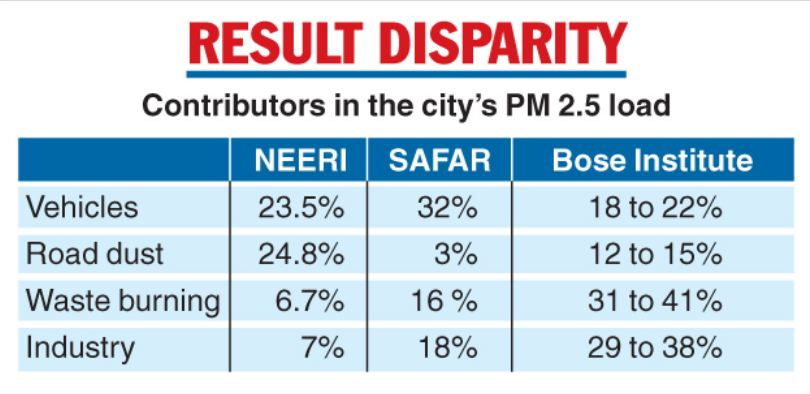 The report prepared by NEERI, which was assigned by the state pollution control board to carry out the study, says vehicles were responsible for 23.5 per cent of Kolkata's PM 2.5 load.
The SAFAR study pegs the figure at 32 per cent, while the one done by Bose Institute estimates that vehicles account for 18 to 22 per cent of the PM 2.5 load. PM 2.5 are ultra-fine and the most deadly pollutants as they can enter the deepest crevices of the lungs and trigger a host of critical ailments.
In the NEERI study, automobile emissions have been found to be the third highest contributor of PM 2.5 in the city's air, after households and road dust. The Bose Institute study, too, has found vehicles the third highest contributor, but after waste burning and industries.
The SAFAR study, however, has found vehicles the biggest culprit.
Similar disparities can also be observed for other sources such as road dust and waste burning. While NEERI has estimated the contribution of waste burning at only 6.7 per cent, Bose Institute has found it to be as high as 31 to 41 per cent. The SAFAR study has pegged it at 16 per cent.
"This is like three different pathological reports for one patient. How you can treat the city with these reports?" wondered environment activist Subhas Datta. "Such discrepancies are adding to the confusion and affecting policy decisions".
Datta said the state pollution control board had been focusing more on minimising pollution from road dust, based on the NEERI report, while vehicle pollution has been put on the backburner.
"There has been hardly any action on scrapping commercial vehicles 15 years or older, despite a 2008 order by the high court," Datta said.
"The disparities are adding to the confusion," admitted an environment department official. "Forget about the three different reports. There were wide divergences between the interim and the final report of NEERI, which have put us in a spot." The interim report had estimated that roadside and other eateries accounted for about 20 per cent of the city's PM 2.5. In the final report, the figure is less than 5 per cent.