Trade and connectivity, ecology, migration and peacebuilding were the focus of an Indo-Pacific Conclave hosted by the US consulate general Kolkata and Asian Confluence think-tank.
The theme of the two-day conclave was 'Reimagine and Reconnect Indo-Pacific synergies through the lens of Culture'. Along with panel discussions, several cultural events were also held.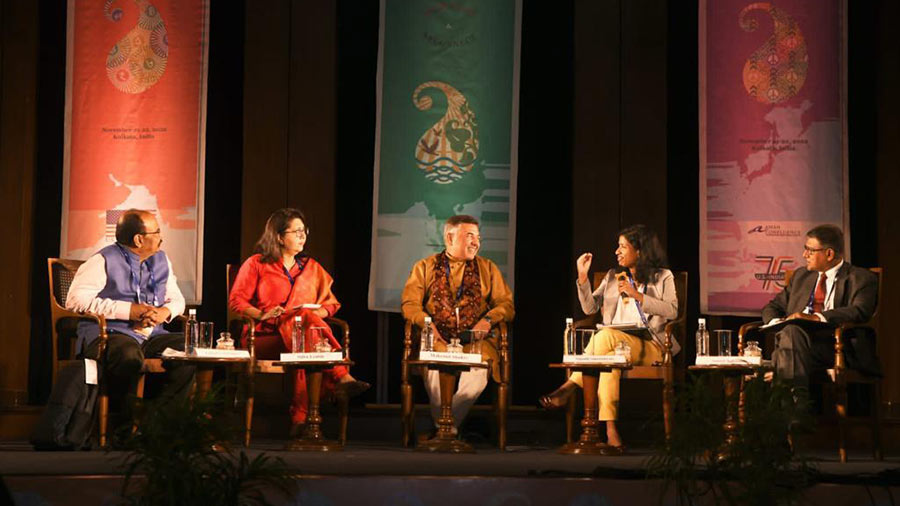 A panel discussion under way
Melinda Pavek, US consul general, Kolkata; Sabyasachi Dutta, executive director of Asian Confluence; Harsh V. Shringla, chief coordinator for India's G20 Presidency and former foreign secretary; Rajiv Bhatia, member, governing council, Asian Confluence; Nakagawa Koichi, consul general, Japan in Kolkata; Shahidul Haque, former Bangladesh foreign secretary; and Minakshi Mishra, regional director, ICCR, Kolkata, were present at the conclave.
"Being a proud Indo-Pacific nation, the United States has maintained and continues strengthening its long-term commitment to an Indo-Pacific region that is free, open, interconnected, prosperous, resilient, and secure. Our commitment is to every corner of the region, from Northeast Asia and Southeast Asia to South Asia, Oceania and the Pacific Islands," Pavek said in her opening speech.
For the past two days, the conclave saw participation from more than 40 speakers and over 75 artists, performers and musicians from across more than 10 countries of the Indo-Pacific, including the United States, Indonesia, Malaysia, Sri Lanka, Thailand, Myanmar, Philippines, Vietnam, Bangladesh, Bhutan, Nepal, and India.
Ambassador Shringla spoke about the critical importance of engaging with the region to ensure that the Indo-Pacific region maintains a rule-based exchange, trade, and connection.
Music maestro Tanmoy Bose and team put up a performance based on the sounds and rhythms of the Indo-Pacific. This was followed by a conversation on the 'Cultural Threads of Indo-Pacific' moderated by ambassador Rajiv Bhatia.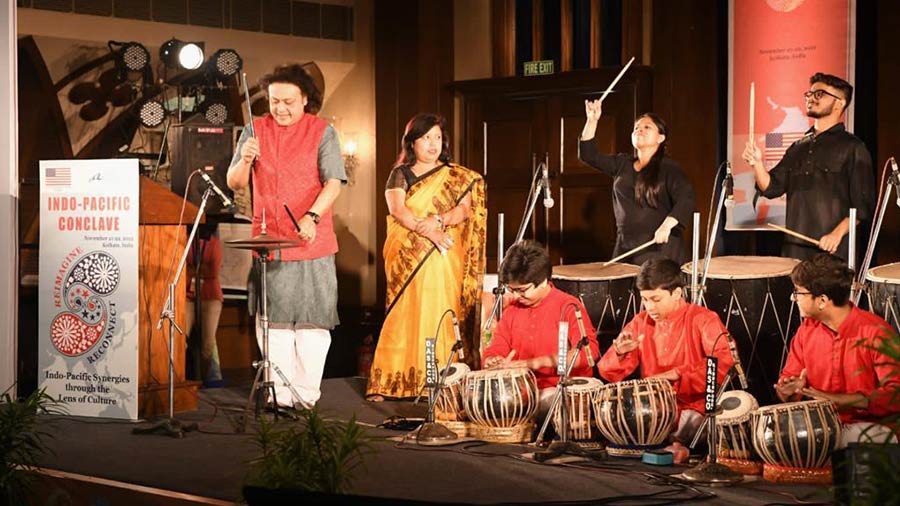 Tanmoy Bose and his team present a performance highlighting the sounds and rhythms of the Indo-Pacific
During the discussion, Daniel Sim, deputy head of mission, Australian consulate general, Kolkata, highlighted how "half of all Australians have overseas roots" and how that influences the Australian foreign policy so far that it is very much oriented towards "expanding pre-existing prosperous ties" with the people in the Indo-Pacific region.