CE Block, New Town
Can patishapta be non-vegetarian? Everyone who tasted Mira Deb's Gondhoraj Chicken Patishapta at the Pithe Puli Utsav of New Town's CE Block would respond in the affirmative.
The savoury item served by the 65-year-old resident was the fastest selling item at the third edition of the event that has become a fixture in the block's calendar by popular demand ever since it was initiated in 2021 on a suggestion from Hidco managing director Debasish Sen.
A total of nine stalls had been set up by some enterprising residents of the neighbourhood as the block celebrated Poush Sankranti in the last weekend of the month of Poush, associated with the consumption of traditional sweets.
Sen inaugurated the festival this year as well. "Bengali culture needs to be upheld, but it should introduce innovations to suit the needs of the current times. New Town must create new traditions," he said.
Most of the popular items on sale fitted his expectations. After Deb's Gondhoraj Chicken Patishapta, Athyaree Das's Gur-er Mousse, another item high on novelty value, was next to sell out.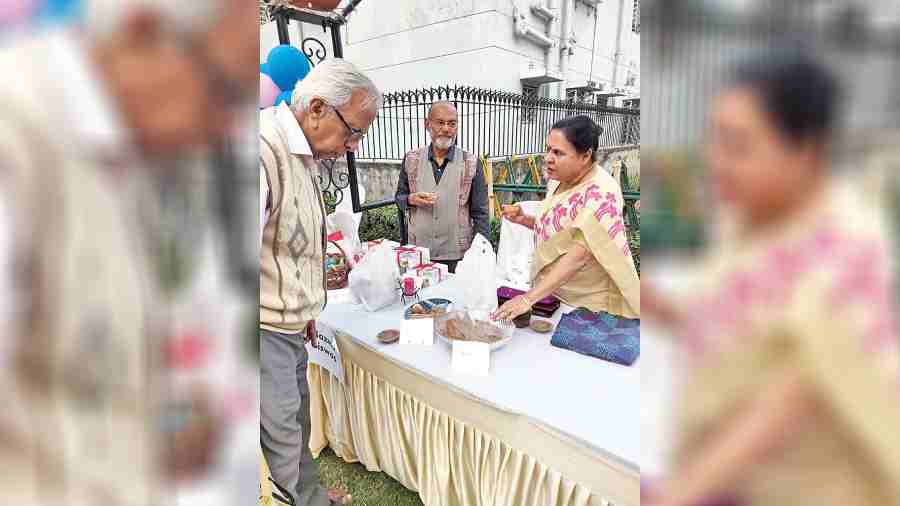 A resident checks out the sweetmeats at one of the stalls in CE Block.
Picture by Madhurima Sen
Both women had their children to thank for the success. "The organizers had urged me to prepare something new. It was my son Ranadeep who handed me the recipe after I decided on a savoury item. His job is in the US but he is working from home now," said the lady, ruing that she made just 35 pieces.
Athrayee, participating in the event for the third time, also attributed her success to her 21-year-old daughter Adrita who helped her mother by piping the mousse into the cups for this eye-catching dessert. Topped with molten jaggery, it was not only a treat for the taste buds but also to the eyes. Athrayee had prepared 70 pieces which vanished within minutes.
Another interesting dish on sale was Gur Phirni by Sikha Ghosh. That again was a mother-daughter enterprise, the two spending three days in perfecting the dessert. "It is different from traditional Phirni, which contains sugar. We used jaggery instead, to add a fun twist," said Ghosh, a retired school teacher.
Shyamoli Sengupta had received requests for ghughni from her husband's friends. "And that became the highest selling item at my stall." Taking the cue to prepare salty options to soothe the taste buds after an overdose of sweetmeats, she also served patisapta with a filling of mixed chowmein, alongside the traditional Coconut Patisapta and Gokul Pithe. And there was her trademark kebab too. "I make kebabs for every neighbourhood event." This time it was a vegetarian one of kabli chana, coconut, beetroot and green peas," said the lady who is used to preparing snacks after hosting kitty parties in Bokaro for 36 years before she settled in New Town.
The success of the event has made the participants so enthusiastic that a Mughlai food festival is being planned in February, said Alok Das, an association member.
Madhurima Sen
SWAPNOBHOR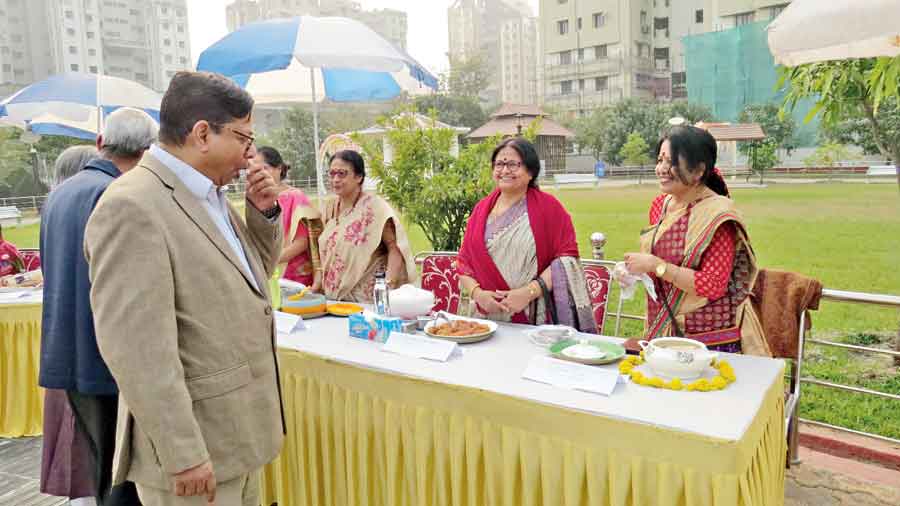 Hidco managing director Debashis Sen interacts with participants at the Swapnabhor Pithe Puli competition.
Sudeshna Banerjee
A cake with mini replicas of a harmonium and bnaya-tabla was kept on the table on stage at Swapnobhor senior citizen's park on Saturday but the stars of the afternoon were traditional Bengali desserts. The occasion was a pithe puli utsab held for members of the senior citizens' club in New Town, and the tastiest of the lot were to be awarded.
About 19 members had occupied the tables set up on the ground, bringing a range of sweetmeats prepared at home. The judgment was done by officials of Cafe Ekante.
After a round of tasting, Lily Sarkar of BC Block in New Town was named the winner. The ?? old had prepared Kheer Chitoi Pithe. Rebeca Begum came second for a clutter-breaking savoury item - Pantaras Pithe. The BF Block lady had got third place in the two earlier editions of the contest, with Gola Ruti and Shahi Tukda. "One has to keep offering newer things to stay ahead of the competition. So this year I decided to go for an item we normally make during Ramadan," she said.
In third place was the supremely traditional and tasty Ranga Alur Puli of Ratna Roy Choudhuri. A resident of Greenwood Park Extension, she makes pithepuli around every Poush Sankranti at home. "I thought of making bhapa puli, that is served with gur, for the contest. But since I would not be able to serve it hot, I changed plan," she said.
No sooner were the prizes declared than people swarmed the tables of the winners. Sarkar was apologetic in having to refuse those who came late. "Wish I gave out smaller portions rather than full pieces to those who came earlier," she said. Ray Chaudhuri tried to save the last few pieces for Swapnobhor administrator Prasanta Maji. "It is he who suggested two days ago that I take part in this contest," she said.
Earlier, while the judges were deliberating on the results, prizes were handed over to the winners of the yearly contests at the club. The categories included both indoor sports played at the club and hobbies that are commonly practised, like music. The winners are regular presences at the club's ground floor activity room. Ajit Biswas, a joint winner in auction bridge along with Prasanta Kumar De, had started playing cards in school but it was after finishing college that he learnt the ropes of contract bridge. "I used to play at our local club in Chakdah, Nadia," he recalled.
Sujit Sengupta too had started playing carrom in college and continued through his service life in banks. "I retired eight years ago but started playing again on coming here," said the BE Block resident, who won in carrom doubles with Ratan Mitra.
Winning the carrom singles trophy was underperformance for Abhijan Gupta. The resident of Power Tower had got three prizes last year, in carrom and table tennis. "I started playing at Swapnobhor after a gap of three decades," he smiled.
The most decorated player was Abul Kalam Azad of BC Block who took home the winner's trophy in chess and the runner-up trophy in auction bridge.
Sudeshna Banerjee
Winning recipes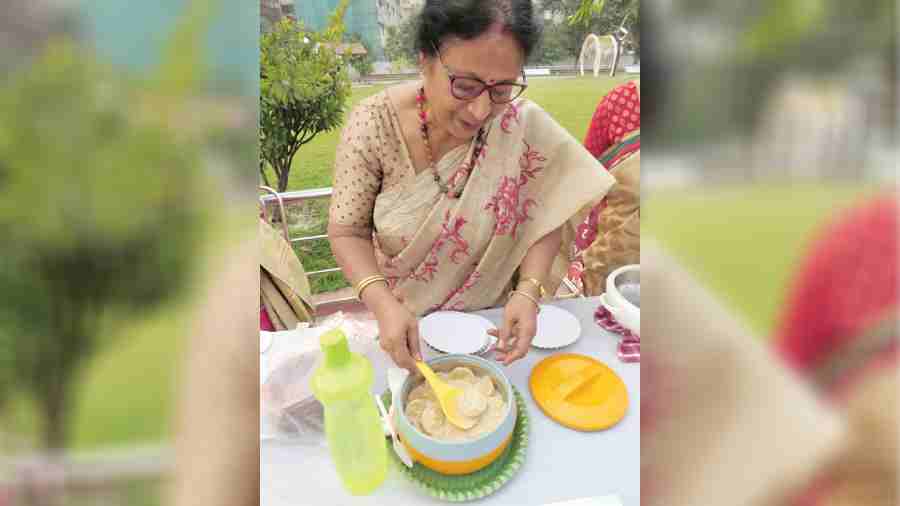 Lily Sarkar
1st By Lily Sarkar
Kheer Chitoi Pithe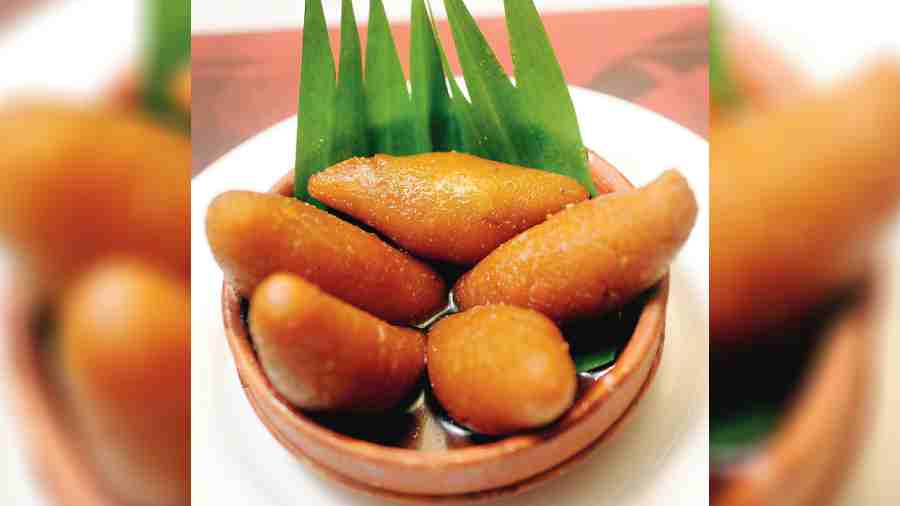 Makes: 25 pieces
Ingredients
Rice powder: 300g
Milk: 1.5l
Patali girl: 500g
Khoya kheer: 200g
Raisins: 50g
Pithe-maker: 1. Made of clay and sold at any Dashakarma Bhandar. With five or seven scoops at the base. Those of rust iron are more suited as the heat is better distributed when placed over gas oven flames.
Preparation:
Make a thick batter by mixing the rice powder with 1 litre tepid water. Add a pinch of salt and leave it to rest for 30 minutes with a lid on. If the batter is found to be too thick, then add a little hot water and mix thoroughly. Place a pithe-making container on the fire after brushing the base of each scoop with any kind of edible oil.
Once the container heats up, pour the batter uniformly in each of the scoops of the container. After three minutes, take a knife and carefully separate the pithas from the scoops and take them off the fire and let them cool.
Heat the milk in a big container and bring to a boil. Add patali gur to the boiling milk over five minutes. Then add the cold pithes to the milk and let it boil for 10 minutes.
Finally, add the ground khoya kheer and raisins to the mix of boiled condensed milk and pithe. Keep on for five minutes and then switch the oven off.
Cover the container with a lid and let it rest for 8-10 hours. Kheer Chitoi Pithe is ready to serve.
2nd By Rebeca Begum
Pantheras Pithe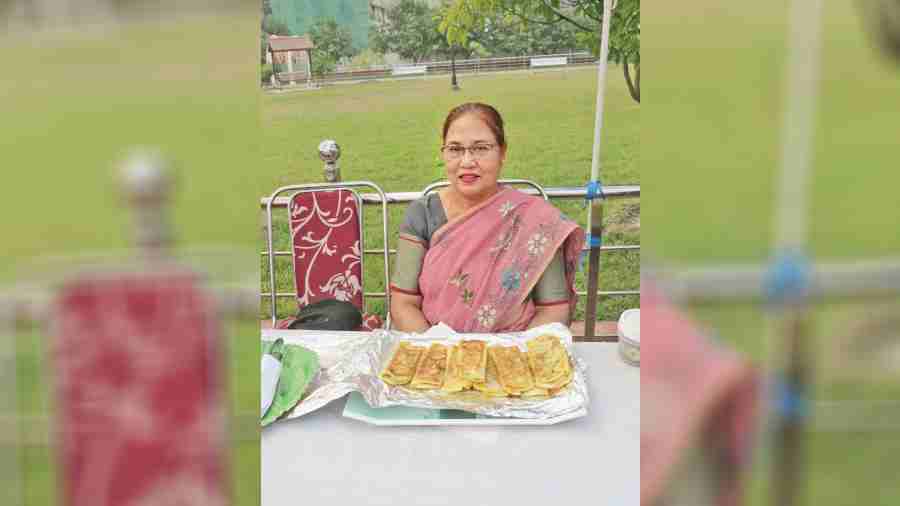 Rebeca Begum
Ingredients
Mutton keema: ½ kg
Chopped onion: 4 (big size)
Ginger paste: 2 tsp
Garlic paste: 2 tsp
Turmeric powder: 1 tbsp
Red chilli powder: 1 tbsp
Cumin powder: 1 tbsp
Coriander powder: 1tbsp
Black pepper powder: 1tbsp
Garam masala powder: 1 tbsp
Salt: According to taste
Mustard oil: 5-6 tbsp
Green coriander leaves: few sticks
Green chilli chopped: 5-6 nos
For the batter:
Flour: 3-4 tbsp
Egg: 3-4
Salt: ½ tsp
Water: 1/3 to ½ cup
Procedure
Add 5-6tbsp oil in kadai and place the oven on medium to high heat. Add chopped onion and sauté for 2 minutes. Then add ginger and garlic paste and saute for two minutes. After that, put turmeric and other masalas mentioned above and cook for 1 minute. Add mutton keema and cook for 10 minutes. Stir frequently. Cook till it gets almost dry. Add coriander leaves and green chillis and take off the flame so it gets cool.
Prepare the batter by adding the above-mentioned ingredients. It should not be thick.
Brush a frying pan with oil. Take ½ to 2 tablespoons of the batter and pour it evenly in a thin sheet so that it makes a thin crepe. Now place 1½ tablespoon of the cooked keema filling on the crepe and fold both sides in. Add a bit of oil and keep it on the flame till gets brown. The pithe is then ready.
3rd By Ratna Roy Chaudhuri
Ranga Alur puli
Ingredients
Sweet potato: 1 kg
Atta: 1 cup
Sugar: 500g
Patali gur: 250g
Khoya kheer: 200g
Cardamom: 5-6 pieces
Coconut: 1
Oil: 250l
Ghee: 50g
Preparation:
Boil the sweet potatoes in six cups of water and peel them. Then mash them while mixing with atta. Grate the coconut. Saute the grated coconut, patali gur and khowa kheer in the heated kadai and prepare a filling. Take the mashed sweet potato, make small balls out of it and bring each ball to the shape of cups. Fill each cup with the coconut mix and seal the sides. In the kadai, pour oil and a bit of pure ghee to fry the filled mashed potato balls. Then leave the fried pulis suspended in the boiling oil. Be careful while turning over the pulis with a spoon as they are prone to crumbling. Leave them suspended in boiling syrup over a fire. Serve hot.