A six-year-old abandoned on a railway platform in Howrah station was picked up, taught, trained and mentored and the 35-yearold is now a cyber security analyst in a multinational corporation.  
A 10-year-old who sold cigarettes in a roadside shop in Esplanade had enough of it and decided to find a school on his own. A decade later, the 22-yearold is a physical trainer.
Girls and boys, many of whom were left abandoned on the streets or their parents were too poor to get them educated, found a home in Future Hope, a school that gave them hope and a better future. 
On Friday, some of the alumni shared their stories at a fundraising event and also made a promise to help the school. 
It was in 2010 that Juman Ali, now a fitness specialist was selling cigarettes and the customer had a bill of Rs 70. Instead of returning Rs 30 the 10-year-old boy handed over Rs 70 to the customer and the owner of the shop slapped him.
"I had enough and I thought I need to study. I found a government school in Kalighat but I could not stay there. The guard of the school told me about Future Hope and I went there. I who did not know A B C...in seven months I could write an essay about myself," he said.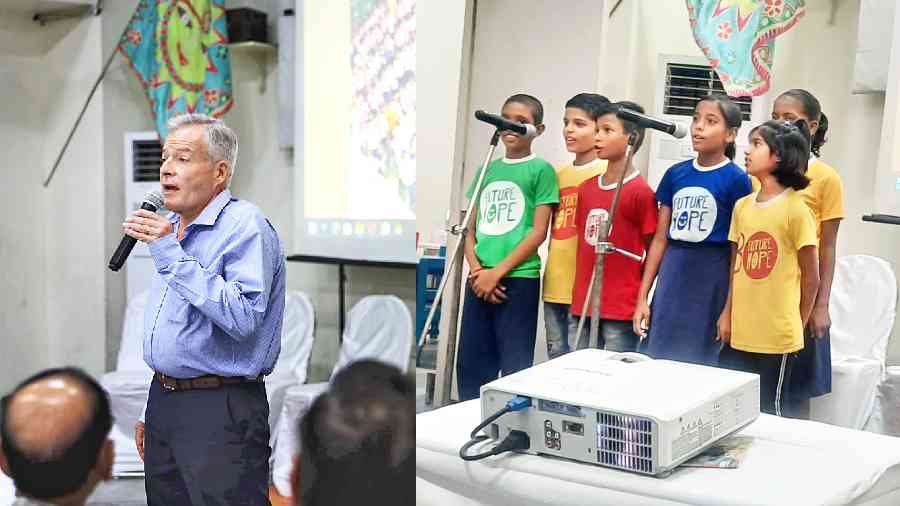 Tim Grandage, founder, Future Hope, speaks at the event and (right) children of Future Hope perform during the programme
Raju Tital, a cyber security specialist who was rescued from a railway platform, recounted his story of going to Wimbledon to toss a coin for a match between Lindsay Davenport and Venus Williams. 
The founder of Future Hope, Tim Grandage spoke about the "incredible journey" and equally incredible success stories of the institute that started in 1987.
Tim was a branch manager with HSBC who came from Hong Kong and "fell in love with Kolkata."
He started by helping out a street child who needed to be taken to a doctor and then started off by giving home to the street kids in his two-bedroom flat.
In the course of the journey, he had to convince parents and sometimes children themselves who disappeared and he would go back to the slums to find them. One among them was present on Friday — Sagufa Hossain — who ran away twice from one of homes of Future Hope as her mother wanted to get her married.
The girl is the first lawyer from Future Hope.
There are those who could not attend the programme but found mention in Grandage's speech.
Among them one of the students have become a deputy tea manager in a plantation in Assam, another is working at a hotel in Bangalore and another is a banker in London.
"What I love about the journey is that we have children who have succeeded incredibly well... and they all want to give back. In life, it is important to give back and all our children are wanting to give back," said Grandage.
During the two-hour programme, there were moments of silence after hearing the heart-wrenching stories and there were moments of re-sounding applause to see how much they had achieved.
Future Hope has been working with street and slum children in Kolkata for 35 years.
They have a project to build a school in Rajarhat.
"Our annual budget is about Rs 8 crore. ... We want the support from the people of Kolkata for the children of Kolkata," said Sujata Sen, chief executive officer, Future Hope.