West Bengal's recent sharp slide in Covid positivity rate has been the quickest in the country.
A section of public health experts has expressed an opinion attributing it to the high percentage of rapid antigen tests (RAT) being carried out during the January 10-25 fortnight.
According to the Union health ministry, West Bengal's share of RAT is currently around 54 per cent, the highest among the eight states having maximum Covid infections in the country.
Based on a seven-day average till January 27, West Bengal's proportion of RAT stands much higher than 40 per cent in Maharashtra; 36 per cent in Kerala; 21 per cent in Delhi; 39 per cent for Uttar Pradesh and even less for southern states like Karnataka, Tamil Nadu and Andhra Pradesh.
West Bengal's Covid positivity rate plummeted nearly five times during between January 10 and 25 during which the RAT number had almost trebled.
According to the state health department, on January 10, West Bengal's Covid positivity rate was 37.32 per cent, one of the highest in the country at that point of time. The ratio of RT-PCR to rapid antigen tests stood at 72 to 28.
However, on January 25, as the state's positivity rate slipped rapidly to 7.12 per cent, the RT-PCR to rapid antigen test proportion made a complete U-turn — 28 per cent to 72 per cent.
The data suggests as the rapid antigen tests increased, the RT-PCR number slid by almost 20,000, if figures from the start and end of the fortnight are compared.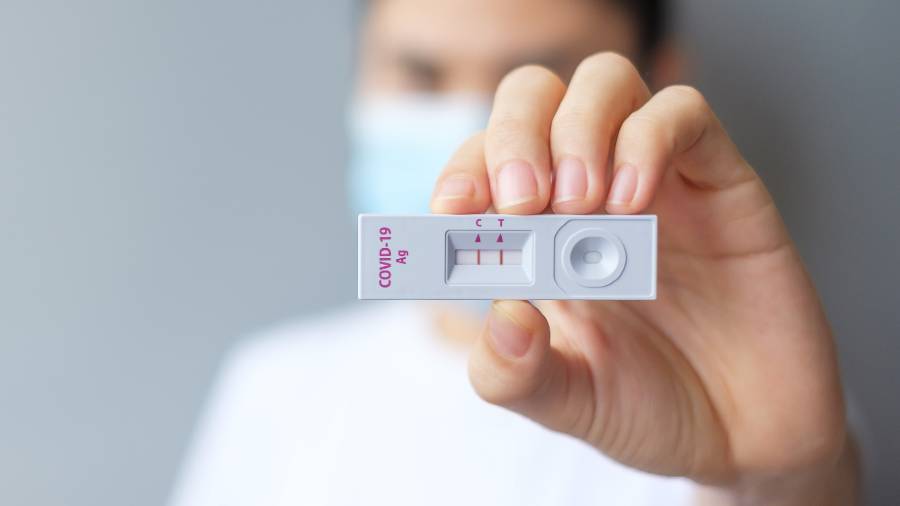 Representational image.
File photograph
Public health experts, while acknowledging the importance of RAT in testing people quickly while a pandemic is raging, pointed out that RAT should not be taken as a conclusive test for being 'negative' and any symptomatic person found negative in RAT, should follow up with an RT-PCR test.
"Any symptomatic person, found negative in RAT, should repeat it with RT-PCR, as it is more sensitive than RAT and considered the golden test," said Ajoy Sarkar, a Covid expert associated with a private hospital, while accepting its importance in mass testing during a surge.
"RAT cannot confirm true negative like RT-PCR, as the latter has less sensitivity and specificity. But most people, in general, take it as a definitive test in Bengal. Hence, many people may be actually evading the monitoring net and continue spreading the infection," said Alok Ghoshal, a pulmonologist and a Covid expert.
Ghoshal reminded that it was quite common to find that a person Covid-negative in RAT but subsequently found positive through RT-PCR test.
A scientist of Indian SARS-CoV-2 Genomics Consortium (INSACOG), the national umbrella body to monitor genome sequencing and virus variation within Covid-19 strains in India, observed that "while RAT is important, one has to ensure that the balance should be maintained".
The scientist warned that West Bengal should be careful not go the Kerala way, where a high proportion of rapid tests at one point of time was considered as one of the reasons why community transmission was refusing to abate.
"Symptomatic individuals identified negative by RAT should be linked with RTPCR test facility and in the meantime be urged to follow home isolation and treatment" stated an ICMR communication dated May 4, 2020.
As per Union government data, South 24 Parganas currently has the highest RAT proportion among all Bengal districts — 92 per cent, while Kolkata has the least RAT within the overall test mix, 8 per cent.
Incidentally, while South 24 Parganas district has the minimum positivity rate - 1.48 per cent - in the state, Kolkata has recorded 22.17 per cent — one of the highest positivity rates in Bengal.
Similarly, all other districts with high positivity rates — Kalimpong (36.9 per cent), Malda (26.48 per cent), Birbhum (23.22 per cent) — had higher RT-PCR proportion, around 60 to 76 per cent.